Please carefully read our health security protocols below. We would appreciate your understanding that the museum might be closed without prior notice under certain circumstances. Thank you for your cooperation.
(Information update May 12, 2021)
For visitors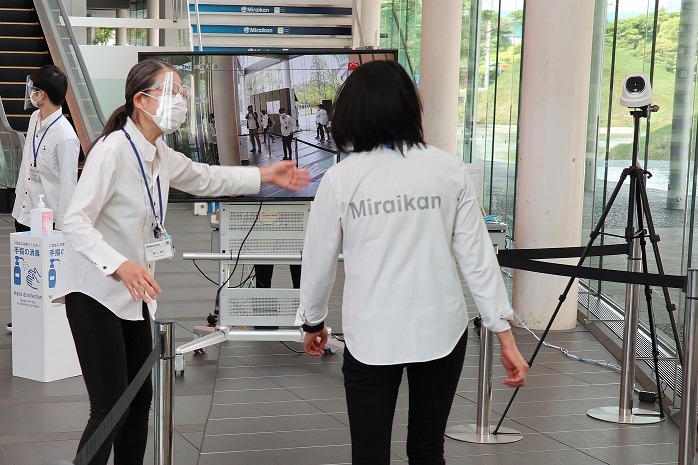 Please refrain from visiting the museum if you are in poor physical condition.
The admission ticket is sold on our advanced booking website in order to limit the number of visitors for each time zone.
We will measure your temperature by thermography before entry. If you have a fever over 37.5 ℃, we will prohibit your entry.
Please wear a face mask during your visit to the museum.
For those who take advantage of Group Visits and Facility Rentals, please confirm the detailed information on each website.
At the exhibition floors
We install hand sanitizer dispensers on every floor. Please use sanitizer and wash your hands regularly during your entry, visit and exit.
Please keep a social distance from other visitors when waiting in line. You may be requested to do so by staff for your health safety.
All staff will wear a face guard or mask when meeting visitors.
To prevent the infection, some exhibits and facilities are suspended or subject to change in operation. Please refer to the following information.
Exhibit and facility list to be suspended or change operation
Suspended
Curiosity Field
Permanent Exhibition "Geo-Prism", etc.
Sofa bench, etc.
Alteration
・Dome Theater
The seats are limited.
Click here for details about Dome Theater
The tickets are sold on Dome Theater advanced booking website.
・Permanent Exhibition "A Hands-On Model of the Internet"
This exhibition is open only on weekends and holidays (reception time 11:00–16:00) with limiting the number of people.
・Other
The layout of rest space and sofa will be partially changed. We apologize for any inconvenience.