Miraikan - The National Museum of Emerging Science and Innovation, in cooperation with external organizations such as research institutes and film production companies, have produced original large-scale films, some of which it will be distributing.
Distributed works
3D dome theater film "The Man from the 9 Dimensions"
Overview of the film
A 3D dome theater film on the "Theory of Everything", the ultimate goal of physics to describe all natural phenomena by a single consistent theory. Directed by Shimizu Takashi of "The Grudge" and "Kiki's Delivery Service", the movie seamlessly fuses live action scenes, mesmerizing CG, and latest techniques of scientific data visualization and guides you through the esoteric world of theoretical physics in a way you have never seen before.
(Run Time: Approx. 30 min.)
Inquiries about the works/distribution
GOTO INC
4-16 Yazakicho, Fuchu-shi, Tokyo 183-8530, Japan
Tel: +81-42-362-5320
Fax: +81-42-362-4376

The Man from the 9 Dimensions: GOTO INC
Konica Minolta Planetarium Co., Ltd.
3-1-3 Higashi-ikebukuro, Toshima-ku, Tokyo 170-8630, Japan
Tel: +81-3-5985-1711

The Man from the 9 Dimensions: Konica Minolta Planetarium Co., Ltd.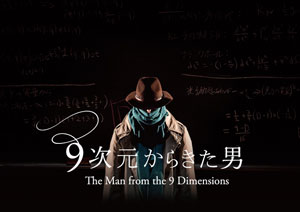 ---
FURUSATO - World Heritage Sites Viewed from Space -
Overview of the film
By harnessing ultra-high definition 3D images, this film features a realistic enactment of the beautiful patterns on Earth as seen from the Earth observation satellite "DAICHI." It features natural heritage sites created over the span of the Earth's history, cultural heritage sites left behind by human civilizations, and world heritage sites that reflect the workings of life and Earth over 4.6 billion years.
The film presents three world heritage sites through the eyes of the local children, based on an original story written for the film.
Inquiries about the works/distribution
TBS SPARKLE,Inc.
TBS Hoso Center 18F, 5-3-6, Akasaka, Minato-ku, Tokyo 107-8471
TEL: +81-3-5571-5131
FAX: +81-3-5571-5138