Miraikan Free Wi-Fi
Please register and enjoy the Internet for free.
If you have the application "Japan Wi-Fi auto-connect", you can connect to "Miraikan Free Wi-Fi" from the app.
How to use the Service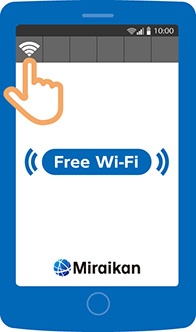 Step 1
Turn on the Wi-Fi setting of your device.
Select SSID "_Miraikan_Free_Wi-Fi" and connect with it.
---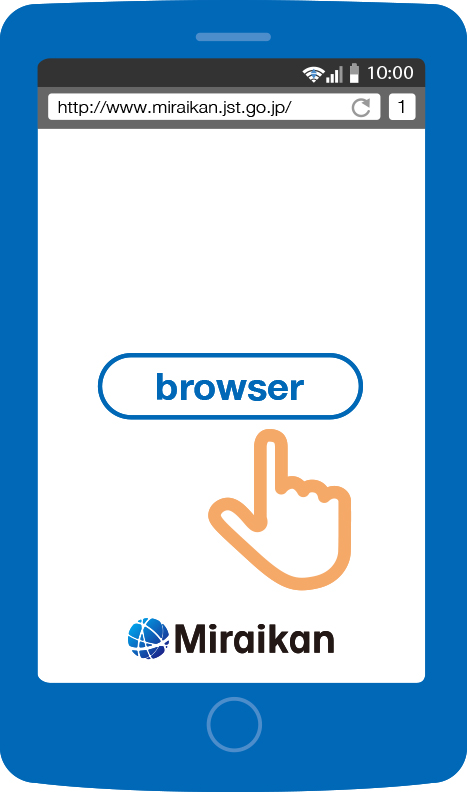 Step 2
Open your browser and follow the instructions on the screen.
For the first time, you must agree with the terms Of use and regist your e-mail address or SNS account.
Frequently Asked Questions
Communications in the wireless zones (from your devices to access points) are not encrypted in this service. It is possible that a malicious user may intercept your communications. Please refrain from sending or receiving important information, and take responsibility for necessary security measures before using the service.
If you use the service for the first time, you need to register your e-mail address or SNS account; ID of "Twitter, Facebook, Google, and Yahoo Japan" are available. The internet is temporally connected to complete your registration.
Please make sure that SSID "_Miraikan_Free_Wi-Fi" is "connection" on your device. If the "_Miraikan_Free_Wi-Fi" SSID is not connected, tap the "connect." If your Wi-Fi is gotten off frequently, please check the signal statement of "_Miraikan_Free_Wi-Fi" If the signal is weak, please move to the zone which has higher signal.
Network congestion may occasionally limit your access.