This exhibition has ended.
Exhibition Outline
Japan is blessed with being the "only one" and "number one" in the world in various aspects, from its rich yet harsh natural environment, to its tradition, technology, cuisine, and popular culture. It boosts a culture and monozukuri (manufacturing) technology that is elaborate, detailed, and exudes the spirits of Japanese hospitality.
Although Japanese companies may be facing some financial difficulties, Japanese manufacturers are riding higher and higher on innovation. In terms of manufacturing digital cameras, endoscopic instruments, and electronics-related parts, for instance, these companies have almost 100% of the world share. On the other hand, in the fields of the foods and the entertainments, Japan has kept on producing products unique to Japan which are getting attention from all over the world.
In this exhibition, first we can look back in this exhibition at the roots of Japan's technological culture that has been handed down through from generation to generation from ancient times. You will discover that the roots of innovative monozukuri such as "transmission of technology" and "co-existence with nature" can be found in technologies that support our daily life and that a wide variety of technologies. Japan's monozukuri technology have been refined through a long history can lead to new technologies that create the future. You can run through a thousand and several hundred years in a short time, from traditional technologies to most-advanced big projects.
From the ancient traditional technologies through forerunning big projects in over the last 1000 years in Japan, it will help you to draw the pictures of what we will produce or what kinds of cultures we will build next for the future. During the exhibition, invited craftsmen and engineers will take part in do-it-yourself or talk events.
Contents
This exhibition is divided into five zones. It starts with monozukuri (manufacturing) 1300 years ago. It then moves onwards to innovations that were created as those roots were passed on, to sekai-ichi (world number ones) in our daily lives, then to the front lines of monozukuri, and finally to big projects that will lead us to the future.
This exhibition will consider the roots and future of our technological culture through the presence of many talents and achievements of over 200 products and pieces of technology. Inside the area, there are also experiential corners in which visitors can touch clothes and raw materials for industrial use, and get a feel for their functions.
Origin
Monozukuri has surprised the world, but how did its power come about? This zone returns to ancient times, bringing us closer to the roots of the technologies and sensibilities that grew through coexistence with nature.
Innovations That Have Changed Japan and the World
There are many products that have greatly changed Japan, and the world, by proposing new values and technologies. The creativity behind these has been continually passed down, and leads to new innovations.
Discover Life Surrounded by Unique Inspirations "Made in Japan"
Even items that we use casually in our daily lives may actually be world No. 1 technologies. This zone introduces hidden, world number ones that support our affluent lifestyles in the areas of clothing, food, housing, beauty, and play.
Sneaking into the Factory Filled with Unique Inspirations "Made in Japan"
Japan's high-quality monozukuri is supported by exceptionally fine and detailed technology. Japan's world-leading industries are overflowing with "ultra-technologies," the manufacturers of which pay attention to the smallest details. This zone introduces the front lines of the world's No. 1 monozukuri, which you would not normally see.
Big Projects Lead Us into the Future
Grand projects are made possible through the combined power of world No. 1 technologies and people. They give people dreams and hopes, and connect culture and wisdom to the future.
Venue Scenery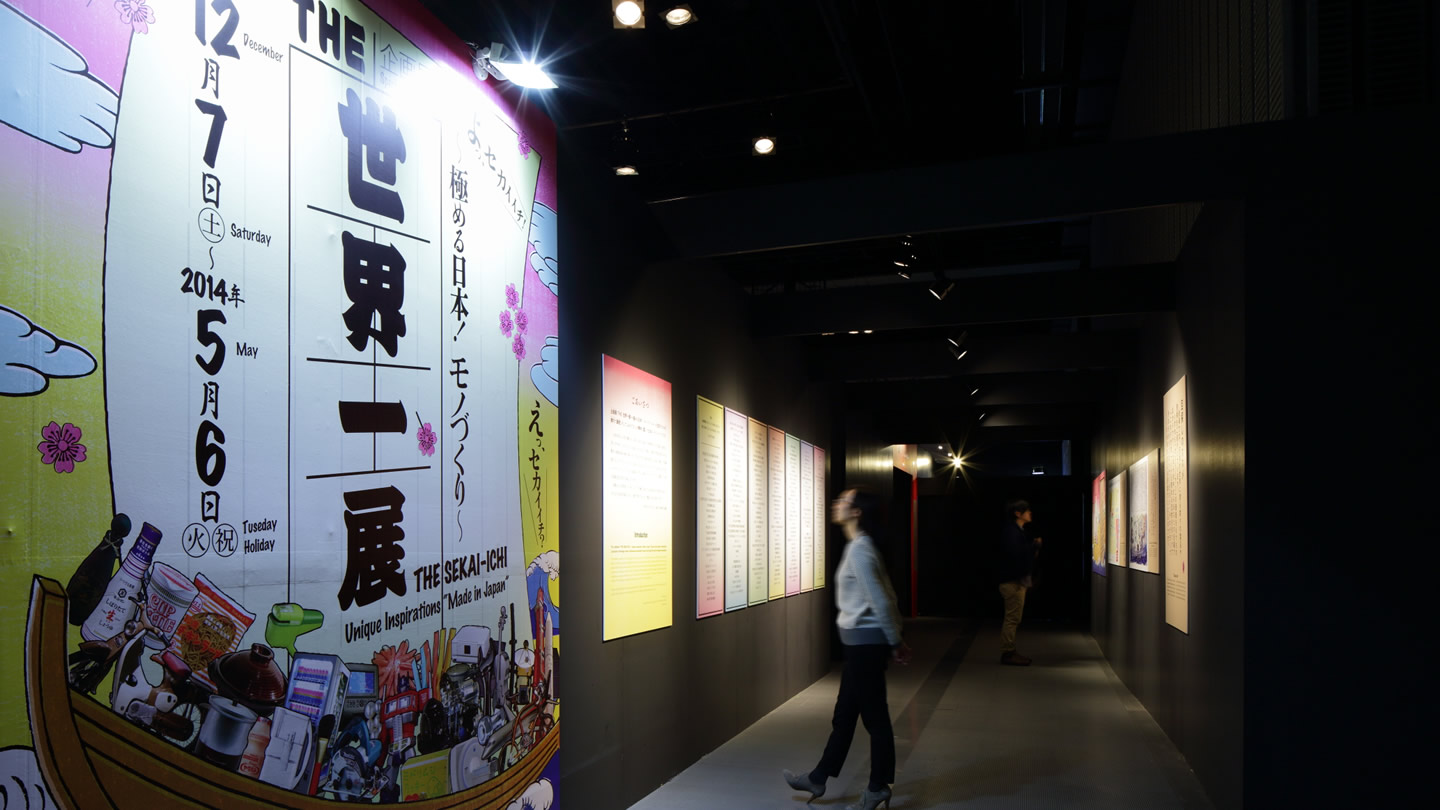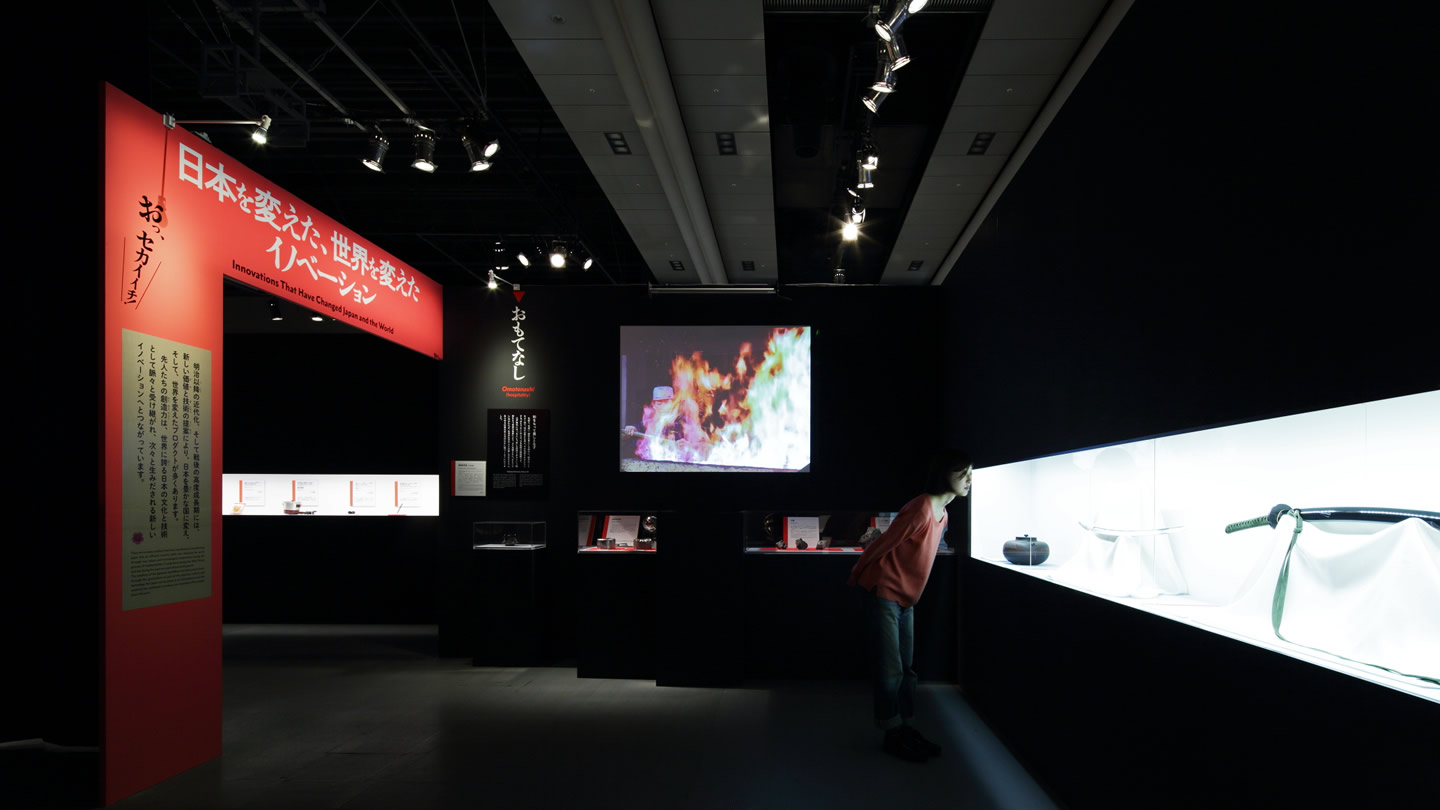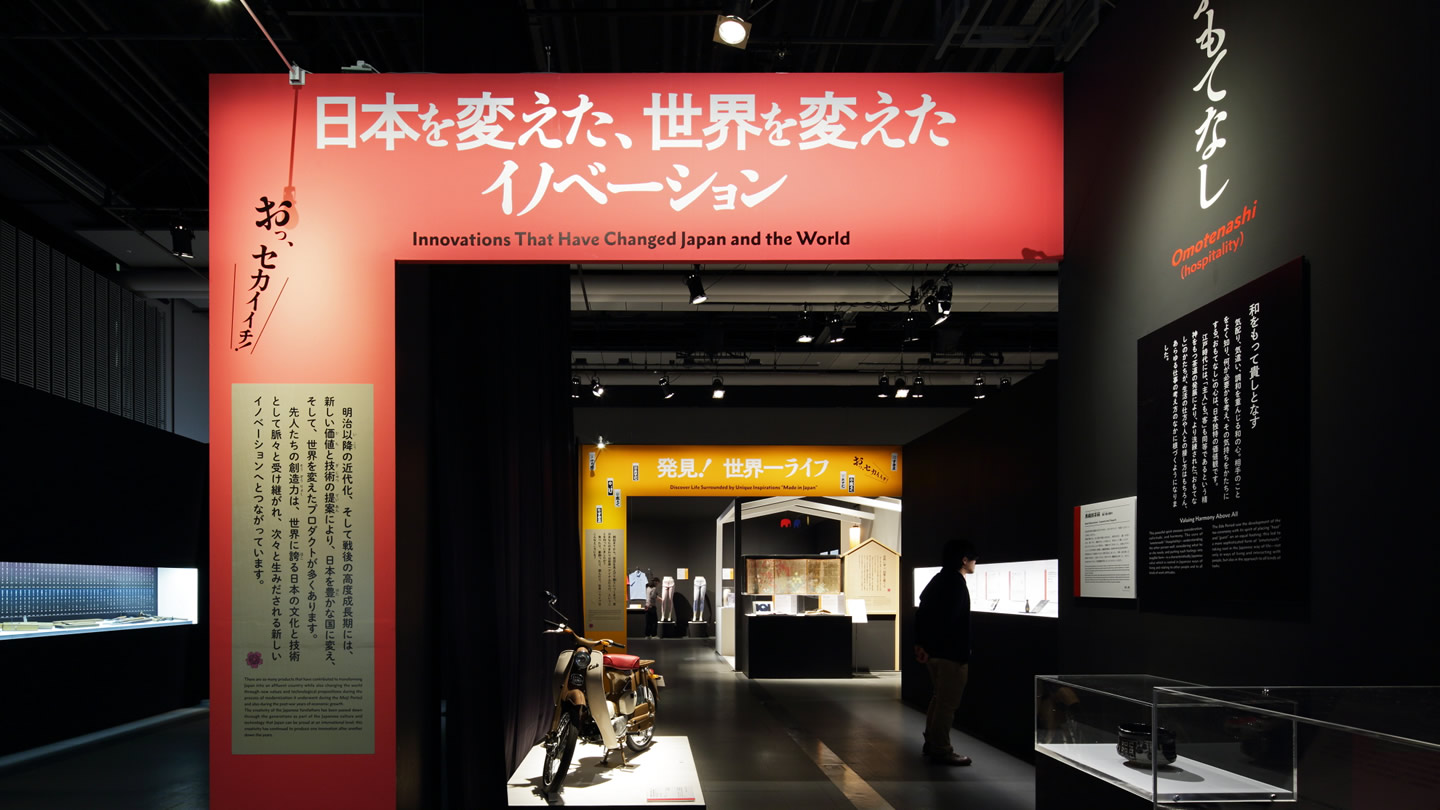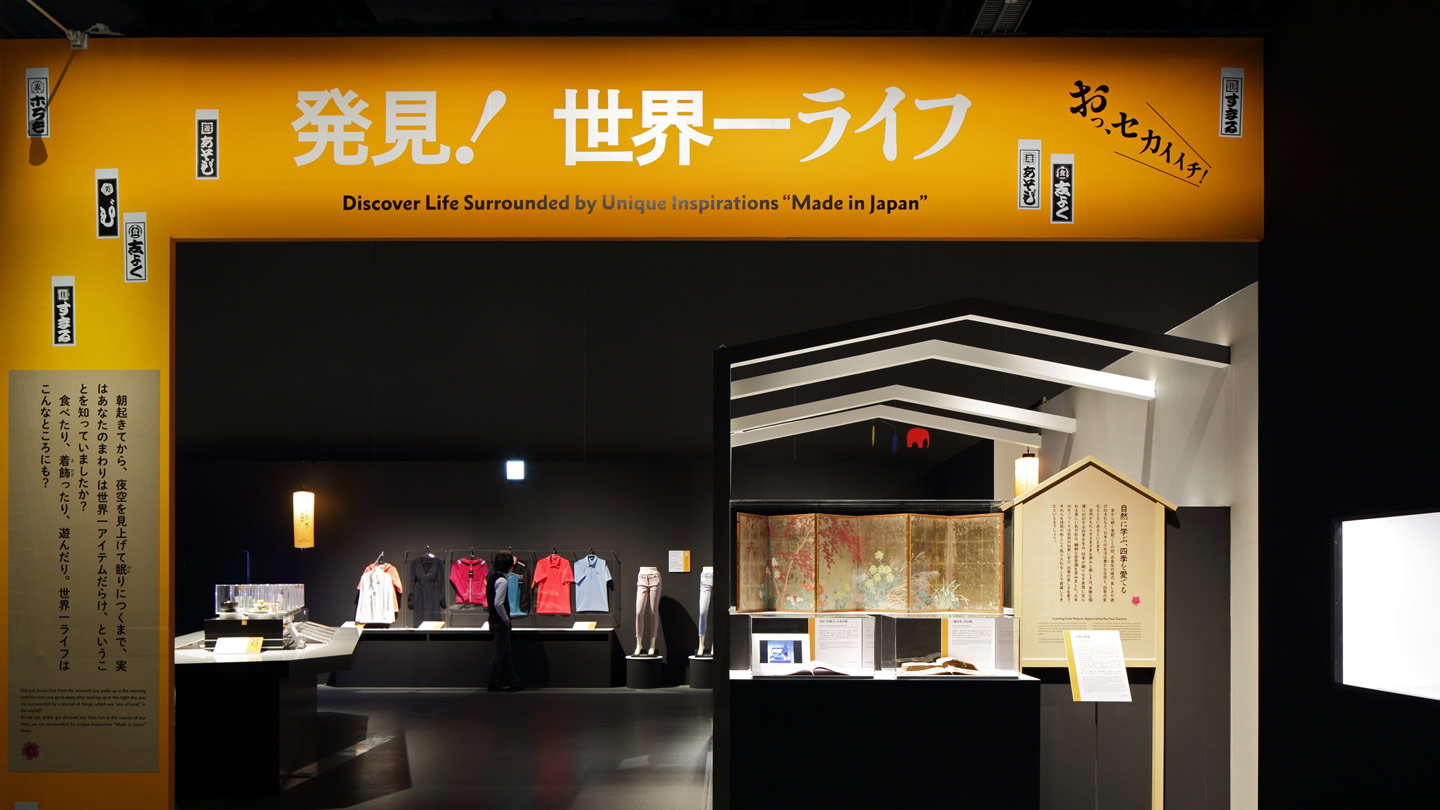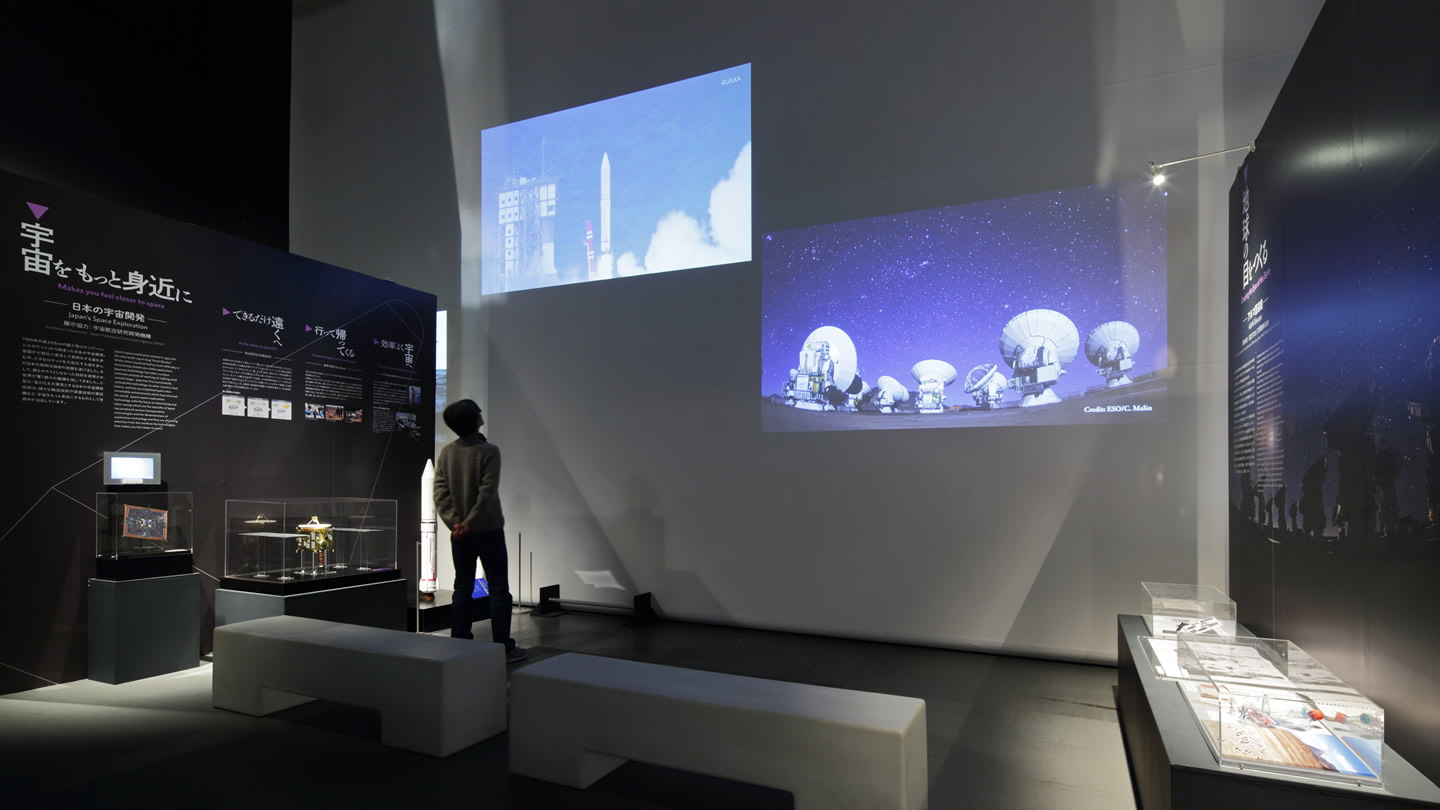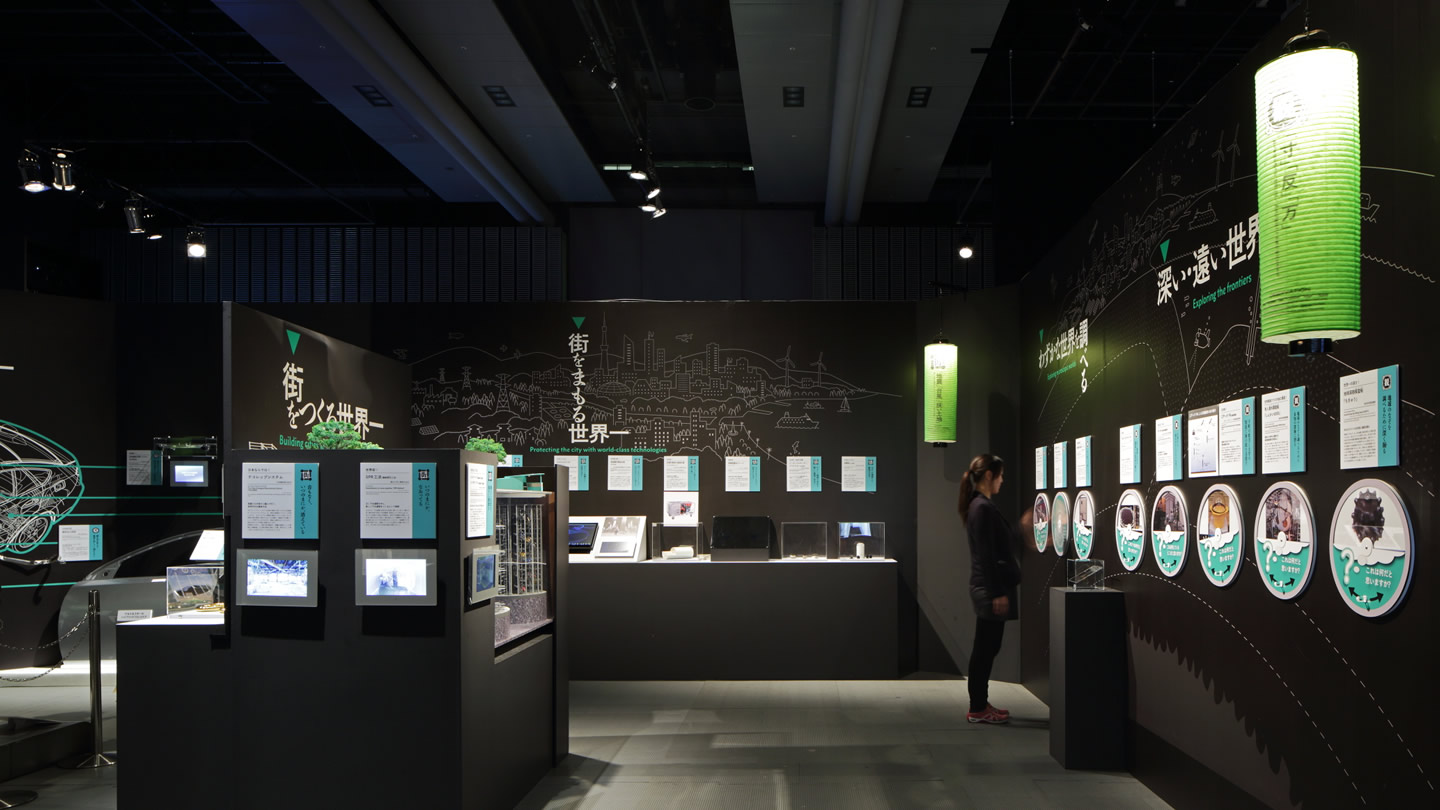 Overview
Title

Special Exhibition THE SEKAI-ICHI - Unique Inspirations "Made in Japan"
Term

December 7 (Sat), 2013 to May 6 (Tue), 2014 (May 6 is a national holiday).
Venue

The National Museum of Emerging Science and Innovation (Miraikan), 1F, Exhibition Space b.
Closed

Tuesdays
(except national holidays, spring and winter holidays), New Year's holidays (December 28 to January 1)
Admission Fees

Adults: 1,000 yen, 18 years old and under: 300 yen / Groups: (more than 8 people) Adults: 800 yen, 18 years old and under: 240 yen.
*Permanent exhibition may also be viewed.
*Free admission for preschoolers 6 years old and under.
*Free admission for those in possession of a Disability Book and one accompanying person.
Organizer

National Museum of Emerging Science and Innovation (Miraikan)
Planning cooperation

Knowledge Capital
General supervision

Kazuyoshi Suzuki, National Museum of Nature and Science, Tokyo
Supervisory cooperation

Tokyo Metropolitan Industrial Technology Research Institute; Mitsubishi Research Institute, Inc.
Cooperation

Japan Construction Material & Housing Equipment Industries Federation; the Japan Food Machinery Manufacturers' Association; Japan Packaging Institute; Japan Chemical Fibers Association; Japan Cosmetic Industry Association; MOBIO(Monodzukuri Business Information-center Osaka)
In special association with

Nikkei Inc.
In association with

Ministry of Education, Culture, Sports, Science and Technology; Ministry of Economy, Trade and Industry; Ministry of Foreign Affairs of Japan; National Institute of Information and Communications Technology