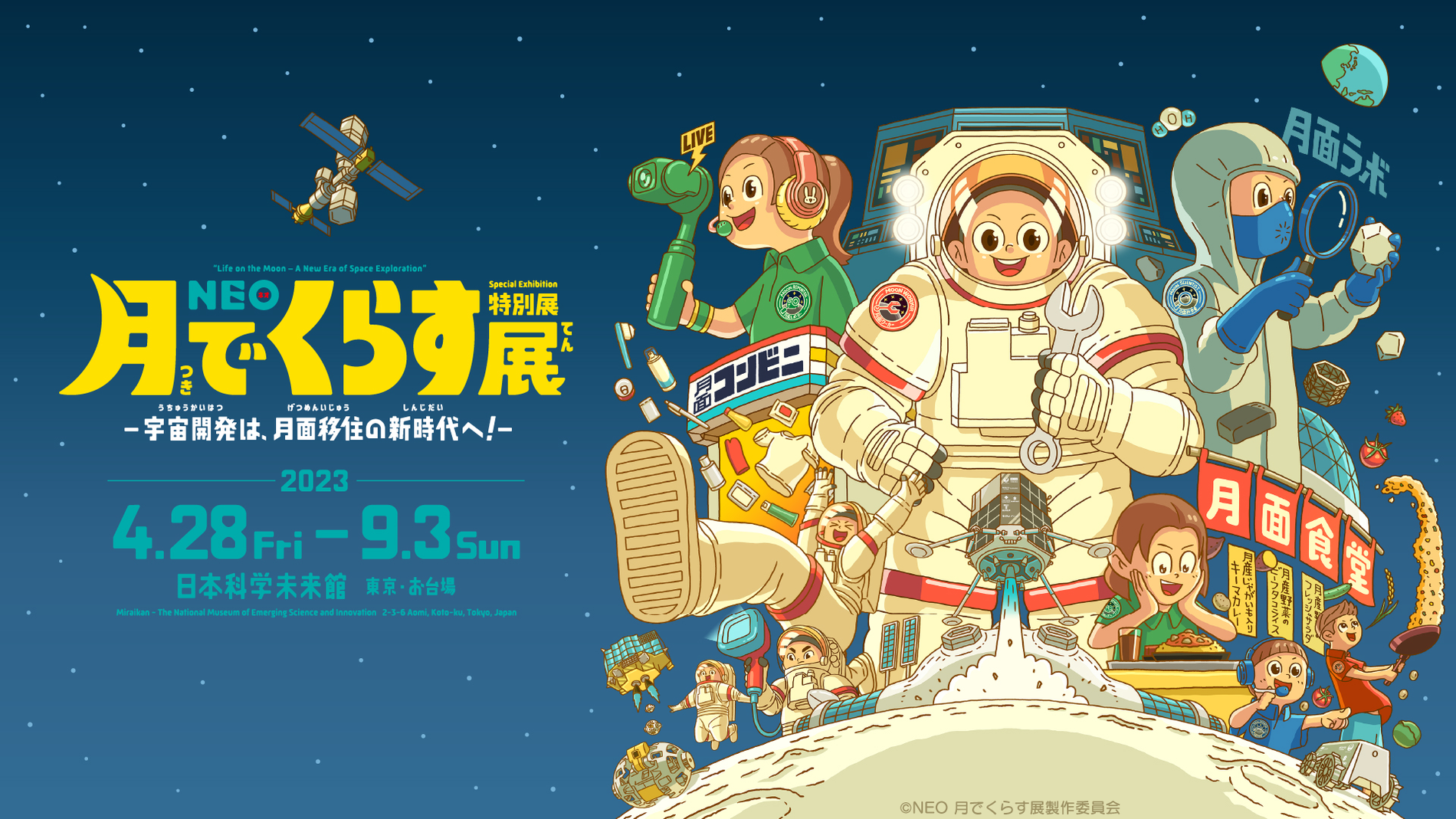 Exhibition Overview
Evidence that water exists on the moon has been found, and in part due to that, a variety of research and development to enable humans to actually live there is currently being planned. This exhibition draws on scientific knowledge to depict a world in which humankind's dream of "settling on the moon" has been realized. It provides a fun way for viewers to learn about space while immersing themselves in what life on the moon will feel like, and experience the "lifestyle" there. It offers opportunities for children to perceive the moon as a familiar presence, via a new, interactive approach to learning about space. Get a hands-on sense of the future of humans and the moon, which is a hot topic right now! 
Miraikan has collaborated with companies such as Shogakukan Inc., which publishes the NEO illustrated book series, to bring together knowledge about space and the power to imagine the future. Enjoy the world of moon settlement that we have created!
Exhibition concept
If you were to go and live on the moon from tomorrow, what sort of lifestyle would await you there?
You may be surprised, and thinking: "What? Can people live on the moon!?", but living on the moon is no longer science fiction!
Currently, countries around the world are competing, and collaborating on full-scale moon probes and development.
They know that "if water is discovered on the moon," or "the moon's resources can be utilized," or if people can live outside Earth or can travel to more distant stars, human space forays will rapidly accelerate.
So, why don't you, too, get a head start at trying out life on the moon?
Discover the enormous possibilities that the moon has to offer!
Overview
Title

Special Exhibition "Life on the Moon – A New Era of Space Exploration"
Period

Friday, April 28 to Sunday, September 3, 2023
Closed

Tuesdays (open on May 2, July 25 to August 29, 2023)
Venue

Special Exhibition Zone 1F, Miraikan
Admission fee

Adults (19 and older): 2,400 yen (2,100 yen)
Junior (elementary school students to 18) 1,700 yen (1,400 yen)
Preschool Children (4 or older, not yet elementary school student) 1,100 yen (900 yen)
*Admission is free for children under 3 years old
*For advance tickets and group of 8 people or more, admission fees in ( ) are applied
*Permanent exhibitions are included in admission
*The Dome Theater costs extra (reservations required)
*Admission is free for holders of a disability certificate, and for one companion
Organizers

Miraikan, Shogakukan Inc., Life on the Moon, Exhibition Production Committee