This exhibition has ended.
Exhibition Overview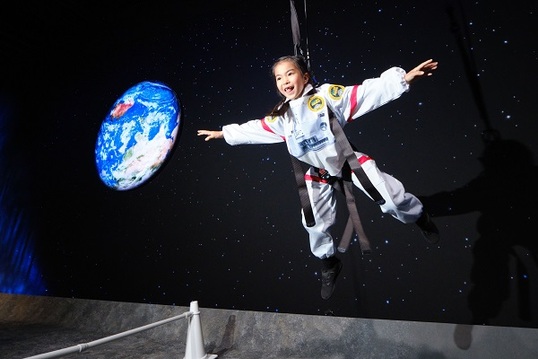 Exhibition Overview
This hands-on exhibition offers a new sensation that allows you to experience a simulated, future life on the surface of the moon, while inspiring the infinite potential of the moon and its impact on humankind, and above all, the dream of space development. Evidence that water exists on the moon has been found, and a variety of research and development to enable humans to actually live there is currently being planned. This exhibition depicts how moon pioneers will stay over long periods based on a scientific perspective. It provides a fun way for viewers to learn about space while immersing themselves in what life on the moon will feel like, and experience the "lifestyle" there. It offers opportunities for children to perceive the moon as a familiar presence, through  a new, interactive approach to learning about space. Get a hands-on sense of the future of humans and the moon, which is a hot topic right now!
Miraikan has collaborated with companies such as Shogakukan Inc., which publishes the NEO illustrated book series, to bring together knowledge about space and the power to imagine the future. Enjoy the world of moon settlement that we have created!
Exhibition concept
Enjoy taking on three different roles in this exhibition
"Life on the Moon" offers  a variety of exhibitions and experiences to show what it would be like to live on the moon based on the assumptions of life on the moon in 2040. You'll also take on the role of a moon-life pioneer: a Moon Reporter, communicating to Earth about the situation on the moon; a Moon Worker, working on the moon; or a Moon Scientist, doing research on the moon. Taking on one of these roles as you enjoy the exhibition will provide a greater sense of realism as you learn about the future of life in space, and let you think about a  life on the moon from a unique perspective. You'll receive a unique Mission Badge and Mission Sheet depending on which role you choose.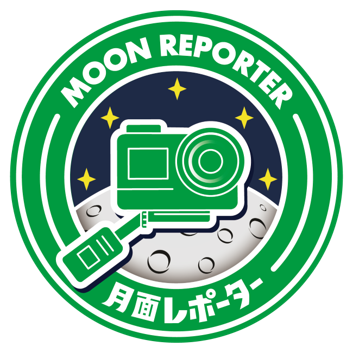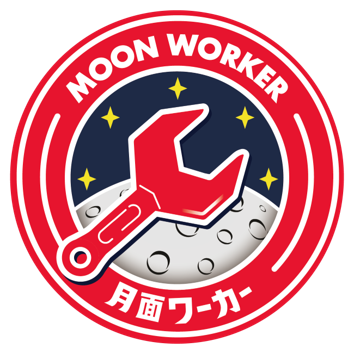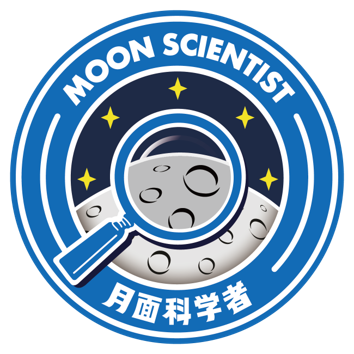 Exhibition structure
The "Life on the Moon" exhibition consists of two zones
The "Life on the Moon" exhibition consists of  two different zones that show life inside and outside a lunar base: the Lunar Base Zone (base interior) and the Lunar Surface Zone (outside the base). Through mission experiences and by studying the panels inside and outside the base, you can enjoy imagining what it would be like to live on the moon.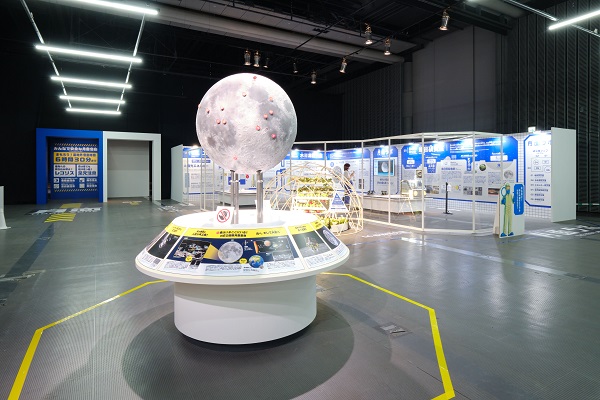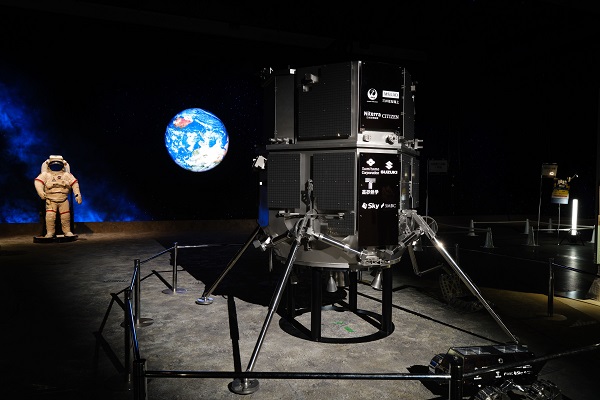 1. A Foundation for Life on the Moon (Lunar Base Zone)
The Lunar Base Zone is composed of three parts: the Living Area, where you can experience what normal exsitence would be like on the moon; the Control Room Area, that supports the operations to protect all life; and the Lab Area, where you can learn about the moon through experiences in six different research labs covering topics like geology and water resources. At this lunar base, experience everything from basic necessities to the work needed to live on the moon.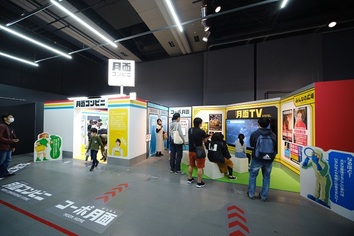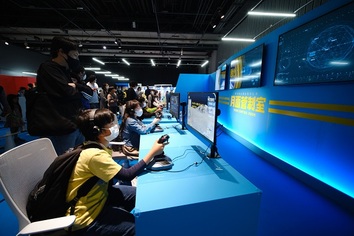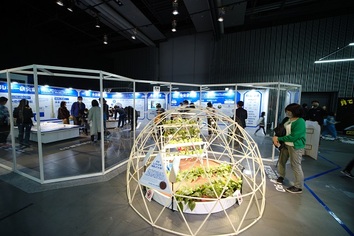 2. Landing Outside the Lunar Base (Lunar Surface Zone)
The Lunar Surface Zone recreates the surface of the moon, including the lunar sand (regolith) that covers it, and the beautiful view of Earth. In addition to activities outside the lunar base that let you experience moon gravity and lunar exploration, there are full-scale models of a lander (uncrewed lunar lander) and rover (lunar exploration rover), as well as other content to bring you closer to lunar exploration happening right now.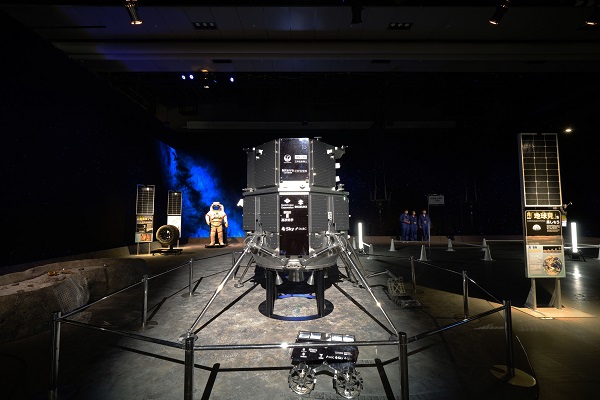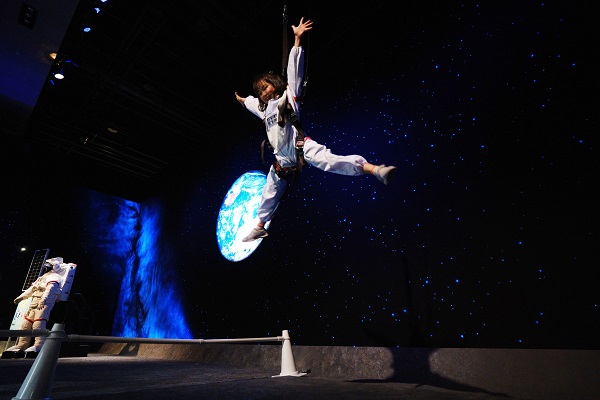 [Experience life on the moon] Special exhibition "Life on the Moon"
Official PV / Highlights
Exhibition contents
Experiences on Offer (*not a full list)
We have prepared a variety of unique experiences for the "Life on the Moon" exhibition, including a moon gravity experience and a mission to find water on the moon. Enjoy learning about the moon through experiences that simulate lunar activities.
Moon Gravity Mission
With gravity on the moon only 1/6th of that on Earth, this is the biggest difference you'll notice between life on Earth compared to the moon. In Moon Gravity Mission, you'll change into some special clothes (with a harness attached) that will let you experience a simulation of the moon's low gravity. *1
Jumping high as you experience the moon's low gravity, take on the challenge of completing your assigned mission.
*1: This moon gravity experience requires an additional fee (500 JPY/advance reservations accepted)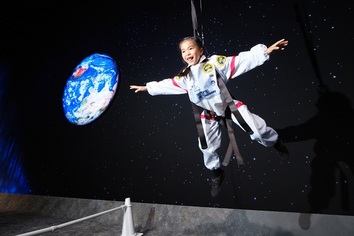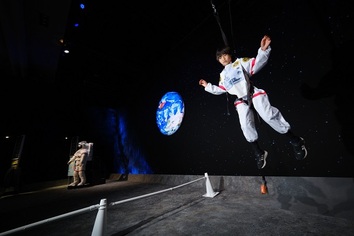 Water-finding Mission―Collecting water from the regolith
Securing water resources is critical for life on the moon, not only for drinking but also to obtain oxygen for breathing and rocket fuel. Your goal in this mission is to find and procure the water, which is indispensable for activities on the moon. Relying on information from ground-penetrating radar that reacts to water, you will recover water resources buried in the moon's sand (regolith) using a scoop. (Not actual regolith)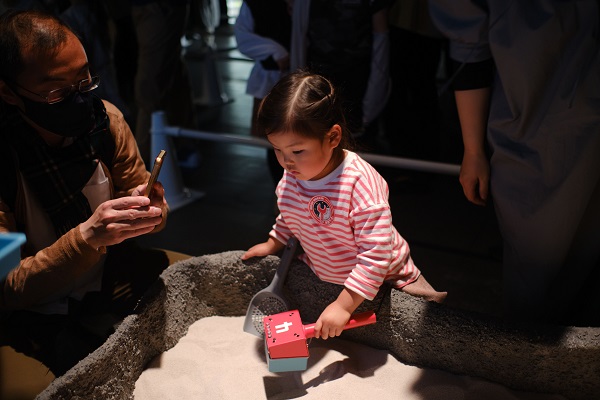 Meteorite Recovery Mission―Let's find a fragment of Earth!
In Meteorite Recovery Mission, you'll take on the role of a control room crew member, and remotely operate a moon rover, or play a game to recover a meteorite on the moon—a key clue that will shed light on the mysterious history of Earth and the universe.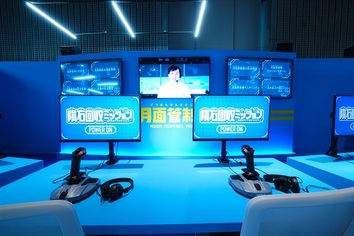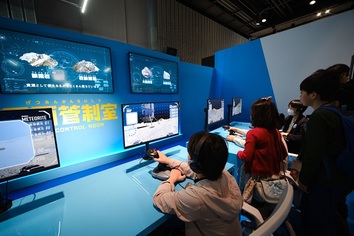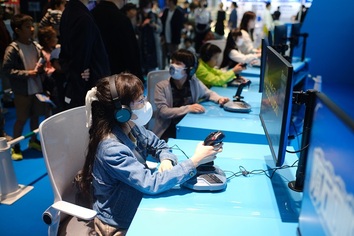 Lunar Explorer Photography Mission
A transformable lunar robot (nicknamed "SORA-Q") that will actually go to the moon aboard the Smart Lander for Investigating Moon (SLIM). In this mission, you'll pilot TOMY's SORA-Q Flagship Model to go out and photograph the lunar lander as a safety check. You can enjoy an experience close to the actual mission.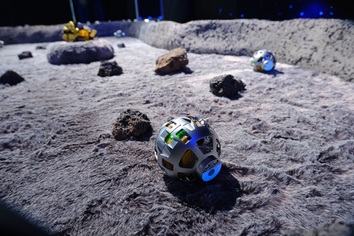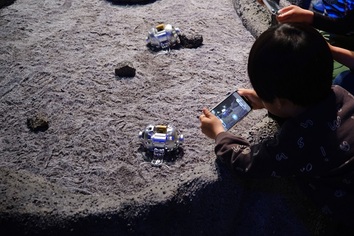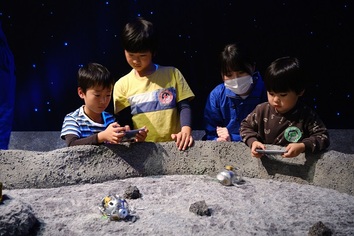 ---
Other Exhibitions on Offer (*not a full list)
Other exhibitions give a glimpse of daily life on the moon, including a lunar cafeteria and convenience store, as well as a range of other fascinating content to watch and learn from. Through these exhibitions, you can discover the clear differences between life on the moon and on Earth—as well as some surprising similarities.
Lunar Cafeteria
This exhibition is based  on the idea of a lunar cafeteria at a moon base in the 2040s, where about 100 crew members live. You can see eight samples of foods which are planned for cultivation on the moon (lettuce, tomatoes, cucumbers, strawberries, rice, soybeans, potatoes, and sweet potatoes), cooking processes for moon-made ingredients, a weekly menu, and more. There's also a photo spot where you can take a picture of yourself as a moon chef. *2
*2: No food is provided, and no actual cooking is involved.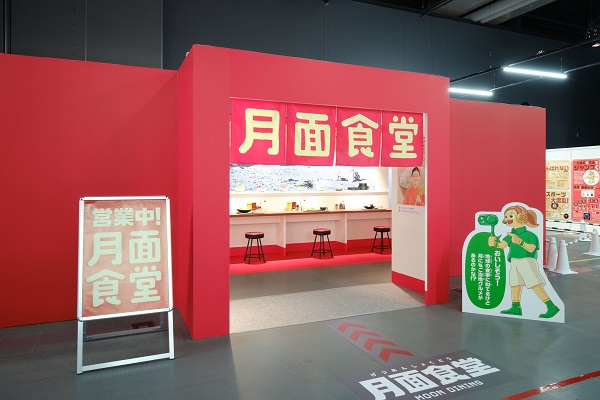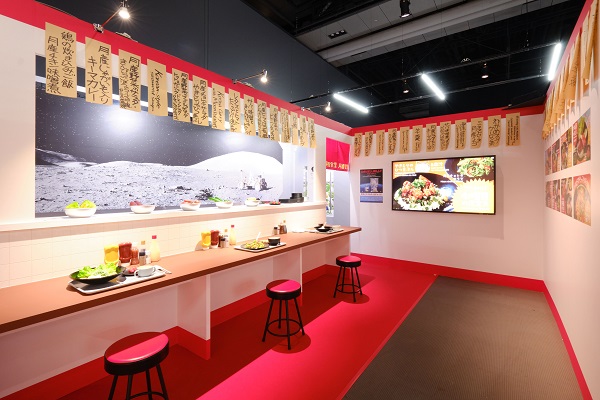 Lunar Convenience Store
At the Lunar Convenience Store, in a single spot, you can see everything needed for life on the moon, from foods and daily necessities to fashion items, including dental-care goods, cosmetics, apparel, and space foods, as well as items that have actually been developed or envisioned by companies for use in space. *3
*3: Items at the Lunar Convenience Store are not for sale. Selected items may be purchased in the gift shop area.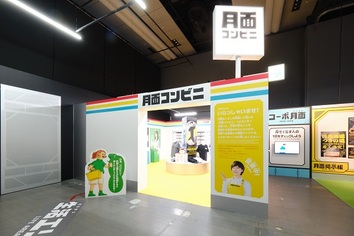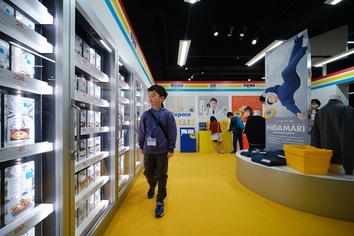 Full-scale Models of the HAKUTO-R Lander, Rover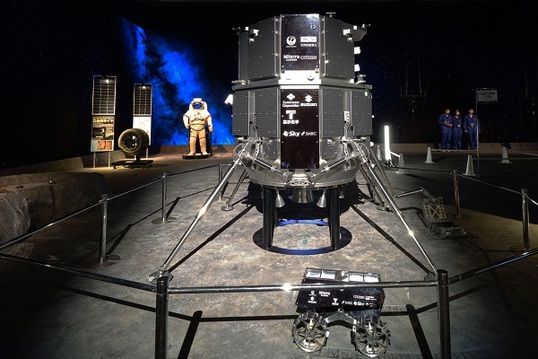 At the center of the Lunar Surface Zone is an exhibition with full-scale models of the "HAKUTO-R" Lander (uncrewed lunar lander) and Rover (lunar exploration rover), where you can study their different roles as well as their construction.
For "Life on the Moon"
Supervisor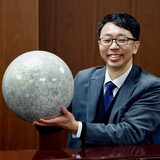 Saiki Kazuto
Professor at Ritsumeikan University.
Professor Saiki is a planetary geologist who loves volcanoes on Earth and in space. He is a development leader of the geological observation spectroscopic camera for Smart Lander for Investigating Moon (SLIM) project and Lunar Polar Exploration (LUPEX) project. He is noted for his calm and easy-to-understand commentary and book writing that conveys the latest science of the moon.
For "Life on the Moon"
SNS Ambassador
Kuroda Arisa
Ms. Kuroda is a space entertainer who spreads the charm of space. The series on the YouTube channel "Space Talent Arisa Kuroda -U-TUBE (Space Club)-" answers familiar questions about space and is a must-see for both adults and children!
Overview
Title

Special Exhibition "NEO Life on the Moon – A New Era of Space Exploration"
Period

Friday, April 28 to Sunday, September 3, 2023
Closed

Tuesdays (open on May 2, July 25 to August 29, 2023)
Time

Weekdays 10:00-15:00 (April 28 to May 2, July 19 to September 1 until 17:00)
Saturdays, Sundays, and holidays 10:00-17:00
*Last Admission 30min. before closing time
Venue

Special Exhibition Zone 1F, Miraikan
Admission fee

Adults (19 years or older): 2,400 yen (2,100 yen)
Junior (elementary school students to 18 years old): 1,700 yen (1,400 yen)
Preschool (4 years or older, not pre-elementary school child): 1,100 yen (900 yen)
*Admission is free for children under 3 years old
*For group of 8 people or more, admission fees in ( ) are applied
*Permanent exhibitions are included in admission
*The Dome Theater costs extra (reservations required)
*Admission is free for holders of a disability certificate, and for one companion
*If you are looking for a ticket, please purchase it fromthe official website of special exhibition.
Organizer

Miraikan, Shogakukan, NEO Life on the Moon Exhibition Production Committee
Sponsorship

Takara Tomy, JGC Global, NGK SPARK PLUG, Mitsui Sumitomo Insurance, Taisho Pharmaceutical, Citizen Watch, Ritsumeikan University
Patronage

Tokyo Waterfront Area Rapid Transit, Yurikamome
Cooperation

JAXA, ispace, SPACE FOODSPHERE, Tokyu Corporation, Tokyo Monorail
Contact

050-5541-8600 (Hello Dial/Available daily, 9:00–20:00)