This exhibition has ended.
Exhibition Outline
When we hear the word "love," each person has a unique reaction.
We are human, and at the same time we are individual organisms that are embedded in a single biological system. If we look at an individual in more detail, we find that they are a collection of substances. What does it mean to a "human" to like another person, to find a partner, and to live their lives with them?
We have taken these considerations, and attempted to reframe "love" from a scientific perspective. In so doing, we have come to see that love is a mystery of life, and, at the same time, an extremely distinctive act of the human species.
We believe that by experiencing this exhibition, you will rediscover yourself as a single living being, and as a "human" who thinks, communicates, and feels.
So, here or somewhere in the future, you might discover a new perspective on the person next to you.
Please enjoy these stories of the search for a partner living on this planet —this exhibition of love stories —. from times before people became people.
Contents
Prologue — Why Can't We Stay Alone?
Stories about various couples will unfold through pictures taken by a young photographer, Yoichi Nagano. Visitors will experience contemporary love through photos taken from a radical perspective.
Chapter 1: The Story of Life Forms in Love
This chapter examines gender diversity by looking at examples of how environments change gender, such as in reptiles whose gender is determined based on differences of temperature. In clown fish, for example, when a larger female clownfish leaves its smaller male partner, the male transforms into a female. Visitors will also learn about how gender comes about, as well as "love strategies" organisms use to hunt for partners.
Chapter 2: The Story of Homo Sapiens in Love
This reflects on the relationship between reproductive function and lifespan, as well as the love Homo sapiens experience. The interesting thing about the relationship between reproductive function and lifespan is the "Grandma Effect" hypothesis of evolutionary anthropologists. The hypothesis states that in the long span of human history, the remarkable increase in the percentage of elderly people has played an important role in human evolution. This chapter cites this hypothesis and examines love as experienced by Homo sapiens who, unlike other life forms, have acquired language and can pass on their culture.
Chapter 3: The Story of Human Beings in Love
This chapter unravels the trials and errors humans have made in trying to convey messages of love through such means as spoken language, text, literature, arts, and even databases as further communication methods have developed.
Epilogue: The End of the Beginning
Visitors will confront the "present" from both the perspective of a life form and as a human being passing on culture. A demonstration using cutting-edge technologies will cast light on such questions as "can both men and women give birth?", "can we control their emotions?", and "can we fall in love with someone who does not exist?". And from the scientific perspective of gossip-centric "love chats," we will also attempt to explain such things as the relationship between genotypes and preferences.
Venue Scenery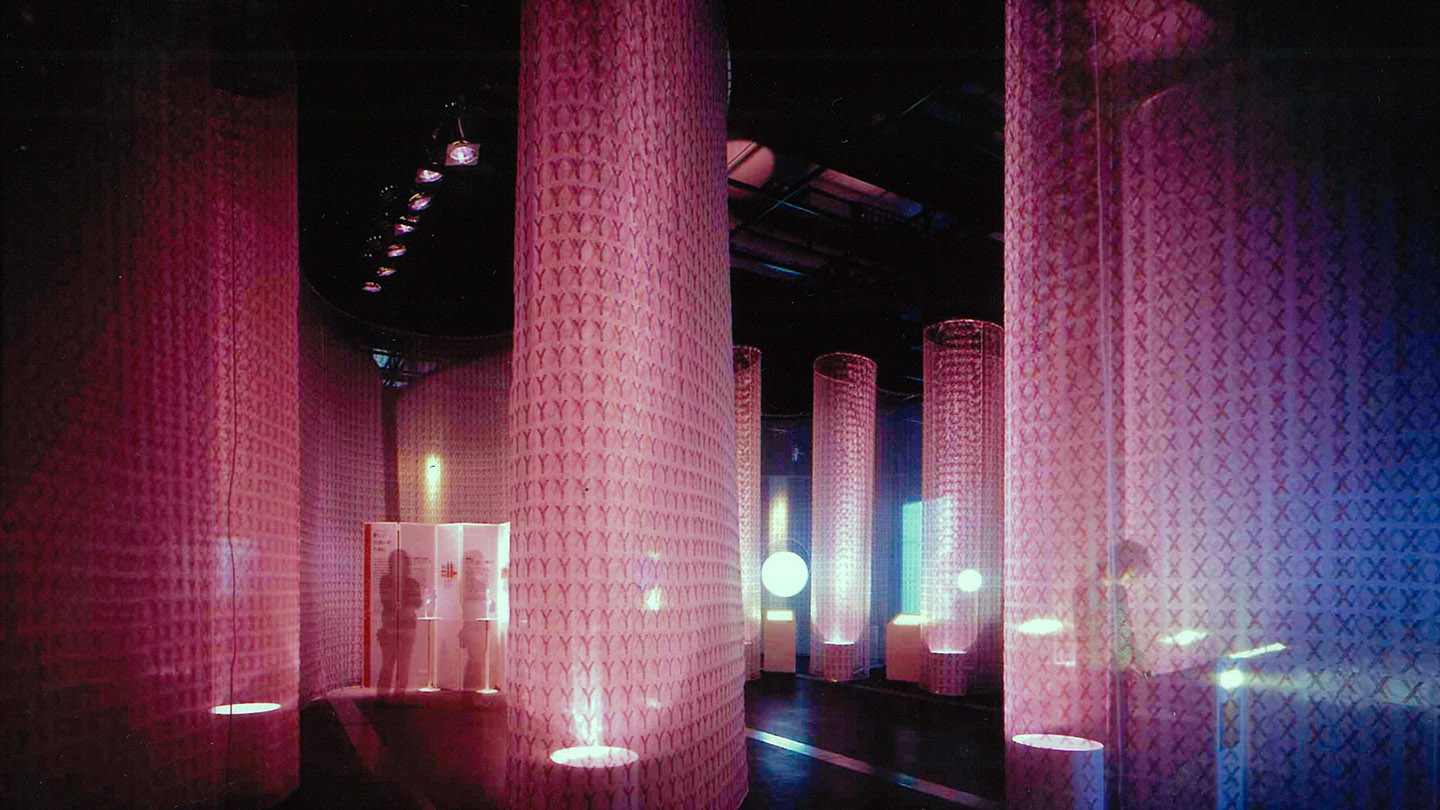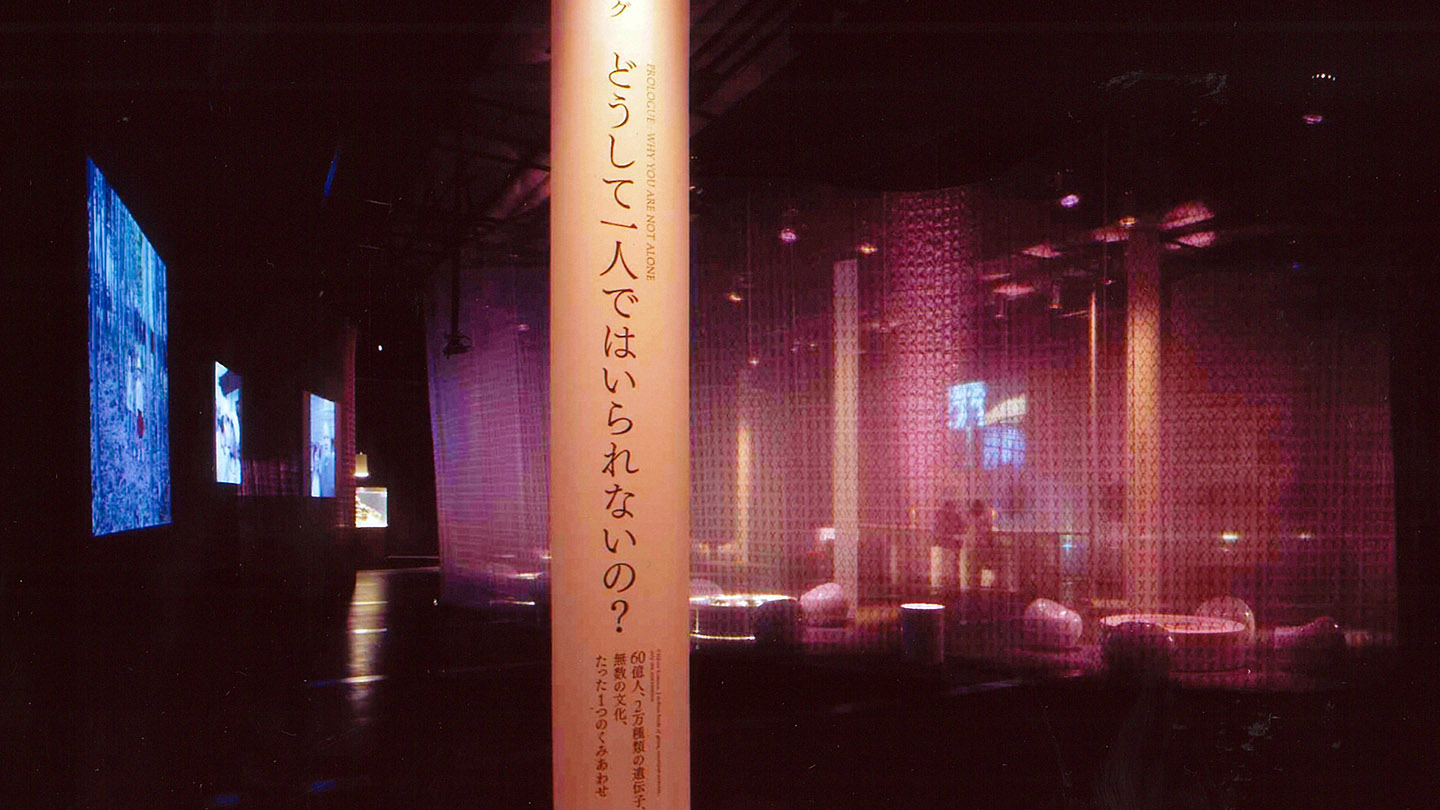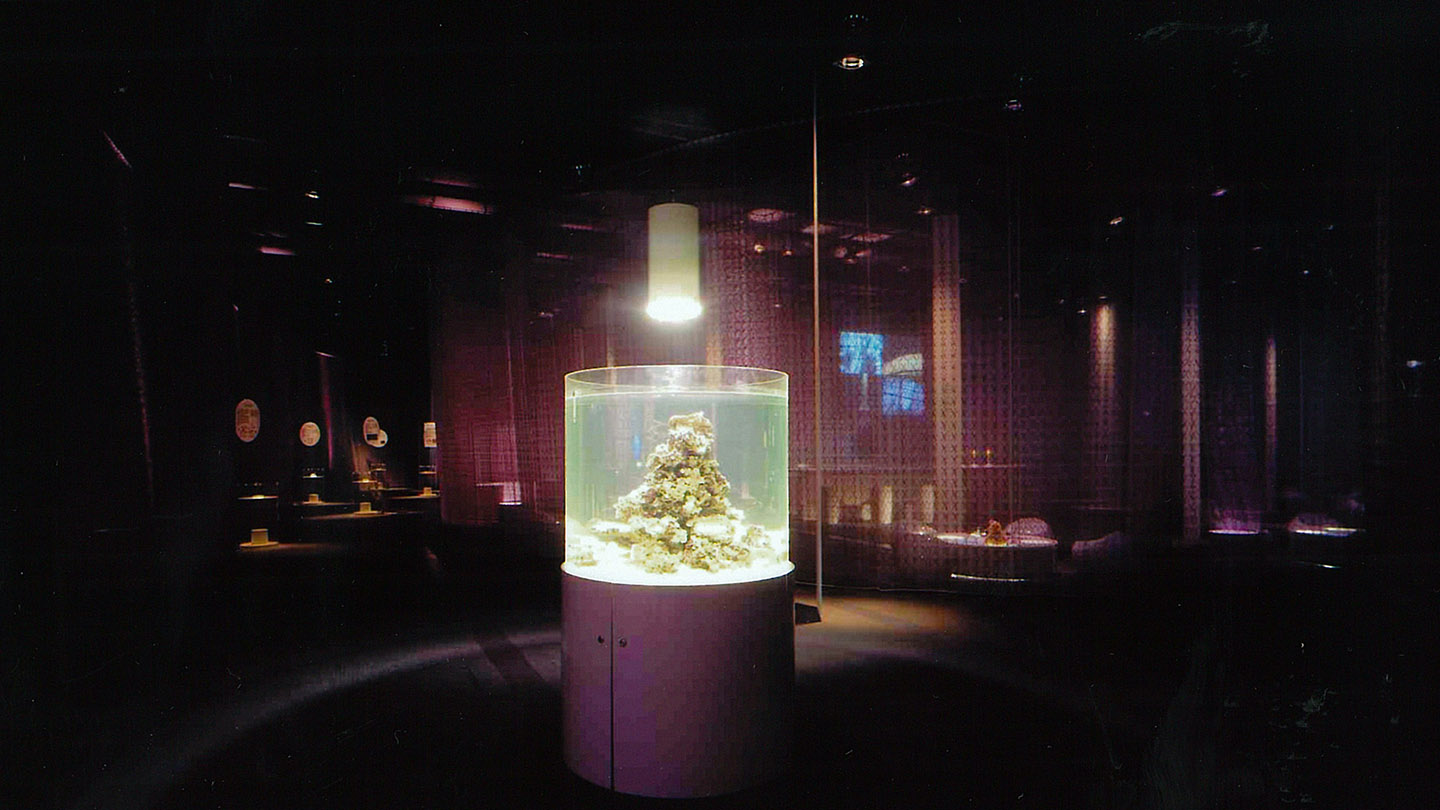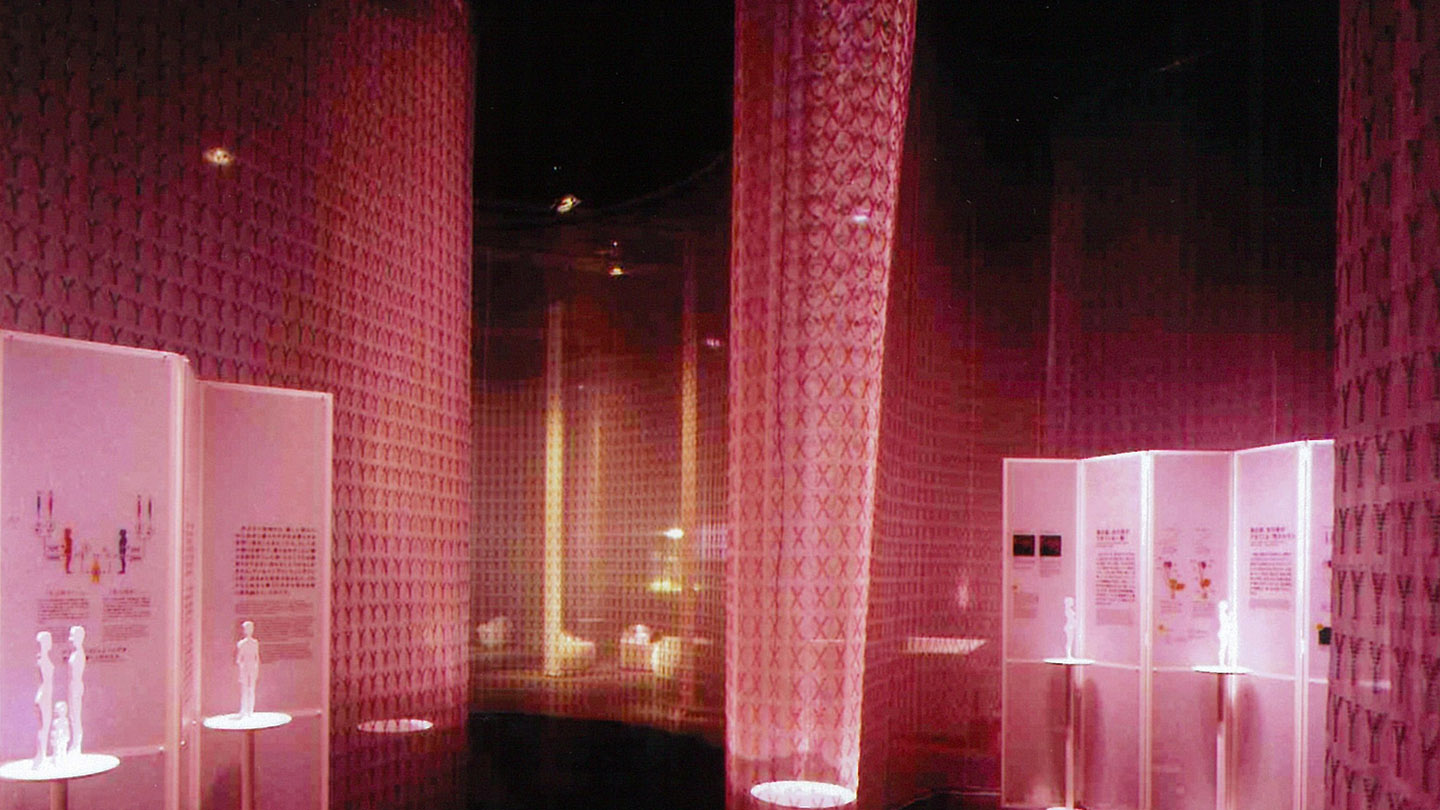 Overview
Title

LOVE STORIES -Why you are not alone.
Period

April 23 - August 15, 2005
Venue

1F Event Zone, Miraikan
Admission Fee

Adults: 900 yen, 18 years old and under: 350 yen
(Groups 800 yen/ 300 yen
Planning and Producing

Scientific Advisors: Fumitoshi Ishino (Professor of the Medical Research Institute of Tokyo Medical and Dental University), Yasuo Sakuma (Professor of the Department of Physiology and Behavioral Neuroendocrinology Program of the Nippon Medical School), Mariko Hasegawa (Professor of the School of Political Science and Economics of Waseda University), Daisuke Yamamoto (Tohoku University, Graduate School of Life Sciences, Professor)
Space Designed by: Hashimoto Yukio Design Studio
Art Direction & Designed by: Tatsuya Ariyama
Photograph: Yoichi Nagano
Art products: Takeshi Ishiguro
Music: Michiharu Shimoda (Silent Poets)
Fabric design by: Yoko Ando (NUNO)
Lighting direction by: Masanobu Takeishi (ICE)
Image and interface design by: Takashi Yamaguchi
Animation: 6nin
Sponsored by

Miraikan