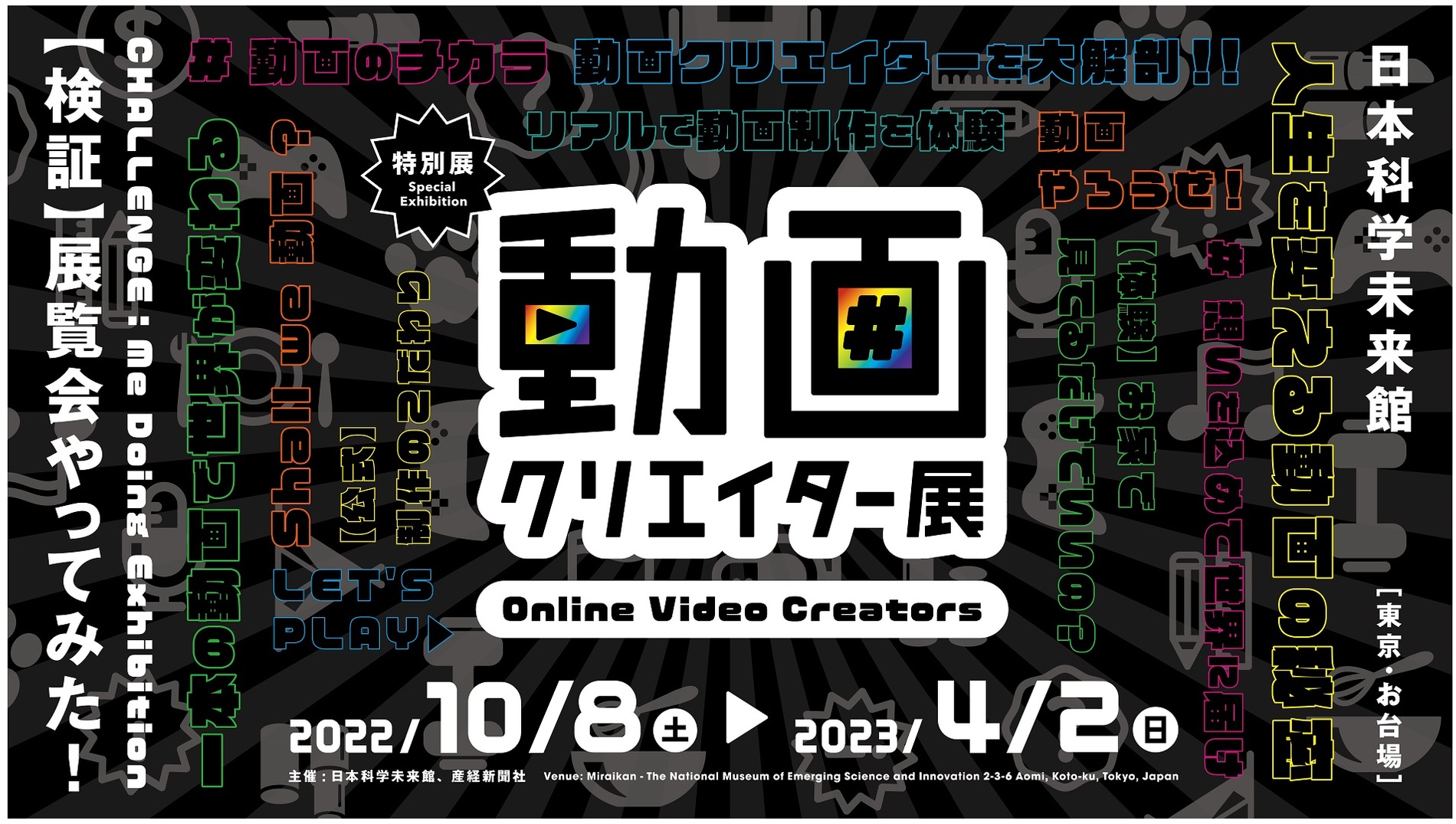 Exhibition Overview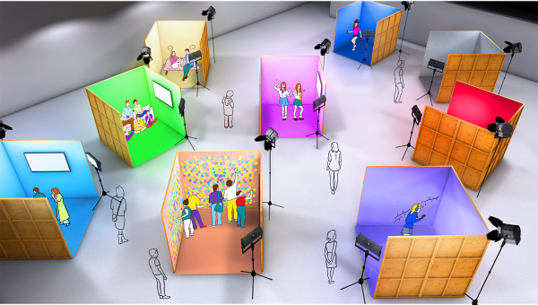 Video platforms such as YouTube wield tremendous influence and can rightly be described as "a new culture." Video platforms are a steadily growing presence as tools that empower individuals to dispatch their ideas anytime, anywhere, and to anyone.
Online Video Creators is an exhibition that explores the power that videos possess. Focusing on around 10 video creators (YouTubers) who are actively posting videos currently, the exhibition offers a major behind-the-scenes look at elements that cannot be seen in their public videos, such as the hidden ideas and effort that go into producing a single video, and the ingenious ways the creators attract viewers.
In addition, the venue features a corner that recreates a YouTuber's filming studio, and a booth where guests can try their hand at producing videos. Guests can get a feel for what it is like to "become" a YouTuber through interaction in a range of fields, including by moving freely in front of a green screen, and having a go at being VTubers. An exhibition where you will discover clues for "projecting yourself. Videos could change your world!
Video creators to participate
Approximately 10 video creators will participate, and others will be released one after another.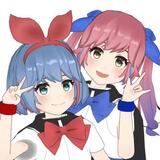 Omega Sisters
Virtual YouTuber twins. Known as "Omesis" for short. Omega Ray, the older twin, wears a red ribbon and Omega Rio, the younger twin, wears a blue ribbon. They have been posting videos in a wide range of genres, including song videos, on YouTube since 2018 based on a unique plan to capitalize on virtual reality. In 2019 they were appointed as YouTube Contributors – individuals who showcase ways of utilizing the platform. The Omega Sisters also served as VR ambassadors for the Tokyo Game Show 2021.
[Omega Sisters (Ω Sisters) – YouTube]
Haichi
Educational YouTuber. After graduating from Tokyo Gakugei University Haichi worked in sales and as a teacher at a cram school before venturing out on his own. He launched a YouTube channel known as "Virtual School Lessons by an Ordinary Guy" in 2012. He posts instructional videos and videos that respond to students seeking advice about things that are troubling them. His channel has 1.7 million subscribers. Haichi has authored books such as "Boost your results without going to cram school! A guide to studying better at home" (Forest Publishing Co.)
[Virtual School Lessons by an Ordinary Guy – YouTube]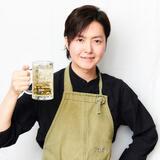 Ryuji
Culinary researcher. Involved in a large number of fields including supervising recipes for TV and manga, developing recipes in collaboration with food makers and large supermarkets, and making presentions to local governments. Cumulatively his books have sold 1.1 million copies. His "simple and explosive recipes," that he updates constantly on Twitter and based on the concept of "Let's make today what we want to eat today!" have attracted attention and garnered around 6.6 million social media followers. His YouTube channel, where he posts cooking videos, has over 2.8 million subscribers.
[Cuisine researcher Ryuji's Buzz Recipes – YouTube]
Overview
Title

Special Exhibition: Online Video Creators
Period

Saturday, October 8, 2022 to Sunday, April 2, 2023
Venue

Special Exhibition Zone 1F, Miraikan
Opening hours

10:00-17:00 *Last admission 30min. before closing time.
Closed

Tuesdays (open on December 27, 2022, January 3, March 21, 28, 2023), New Year holidays (December 28 to January 1)
* Depending on the circumstances, in some cases the exhibition period and other details may change.
Admission fee

To Be Determined
Organizers

Miraikan, Sankei Shimbun