This exhibition has ended.
Exhibition overview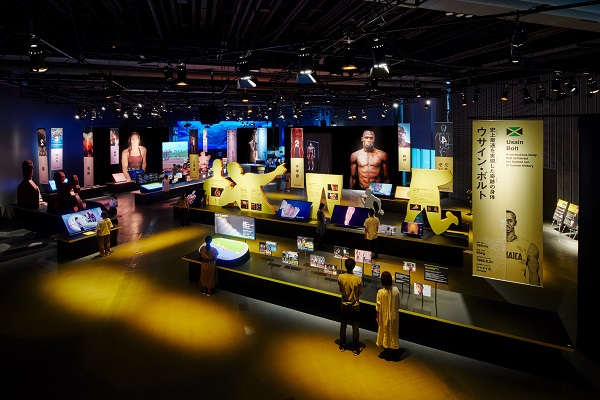 This exhibition provides a palpable sense of the amazing mechanisms and beauty of the bodies of athletes who have reached the top of their fields worldwide, and the greater possibilities of our own bodies.
Athletes at the top of their fields have used their miraculous physical abilities to set various sports records that were once thought unbreakable. In this exhibition, the inner-workings of the bodies of top athletes Usain Bolt (Jamaica; track and field), Tatyana McFadden (America; Paralympic track and field) and Caeleb Dressel (America; swimming) have been captured using a magnetic resonance imaging scanner (MRI), to offer views of their muscles and brains with unprecedented high-resolution images. Visitors to the exhibition will get to see and experience these superhuman individuals' performances and physical beauty, and the astonishing physical features that lie behind them. Through interactive activities that actually move the body, visitors will also get a glimpse of the hidden potential of one's own body and those of superhuman individuals.
You, too, may be superhuman… Unlock the miraculous abilities that lie within your body, at Miraikan.
Incidentally, in collaboration with this exhibition, an upcoming NHK Special that explores the superhuman abilities of world-class athletes, that also pursues the mysteries of the human body that produce those abilities, is scheduled to be broadcast.
Exhibition highlights
When it comes to world record-breaking athletes, what is the nature of the bodies that support such superhuman performance? Here, we present three athletes: Usain Bolt (Jamaica, track and field), Tatyana McFadden (USA, Paralympic track and field), and Caeleb Dressel (USA, swimming).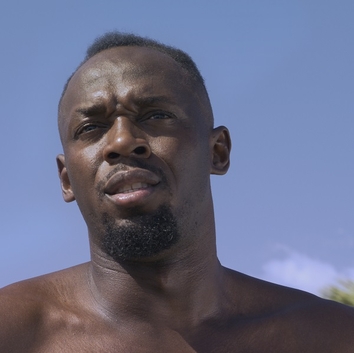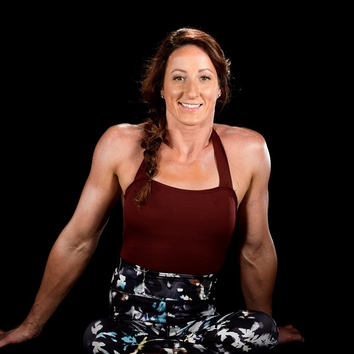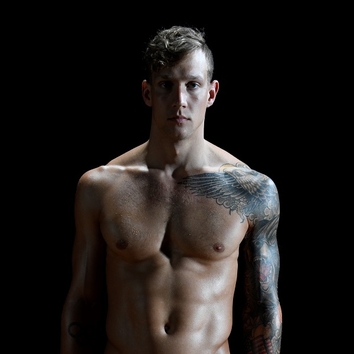 Section 1: Usain Bolt – The miracle body behind the fastest time in history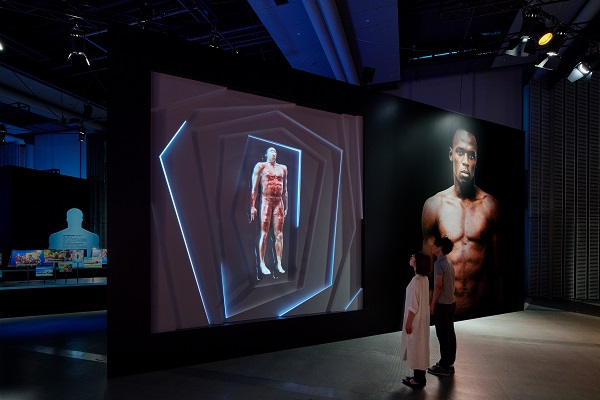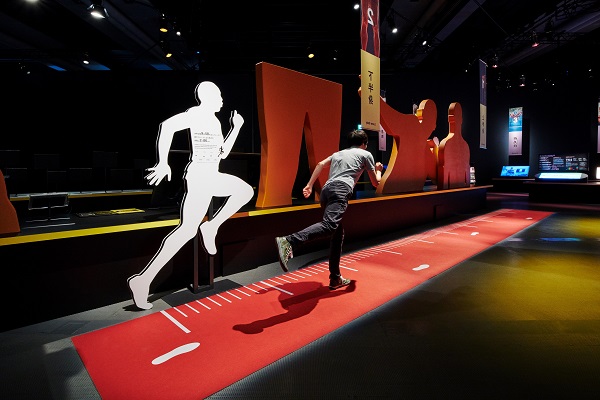 Usain Bolt achieved a never-before-accomplished feat of running 100 meters in 9.58 seconds, even while suffering from a long-standing condition known as scoliosis, a curvature of the spine. This section searches for the mysteries of a human body that is also described as a "miracle" of training.
Exhibit: Life-size MRI projection
In addition to various high-resolution images of Bolt's entire body that were taken with an MRI, projection mapping has been used to recreate a life-sized image of his body. Visitors can view unseen images of the fastest man in human history.
Interactive corner: How do your legs measure up against Bolt's?
Here you can measure the strength of your own legs. Compare it to the power of Bolt's. See his physique and performance for yourself with a life-size model of his legs and see the stride he achieved when he broke the 100m sprint world record.
Usain Bolt (Jamaica; track and field)
Born August 21, 1986. Height: 195 cm. Weight: 95 kg.
2008: Reebok Grand Prix – ran a world record 9.72s in the 100m. Beijing Olympics – set world record in 100m for second time with 9.69s. Set world record at Beijing Olympics for 200m, running in 19.30s.
2009: Berlin World Championships in Athletics – ran the 100m in a record 9.58s (the first time a human has run under 9.6s). Set new world record 19.19s for the 200m.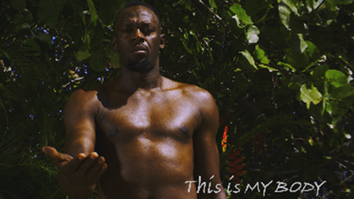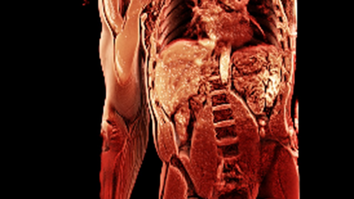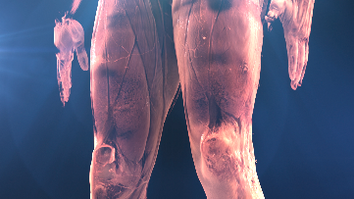 ---
Section 2: Tatyana McFadden – "hyper-adaptability" that awakens unknown abilities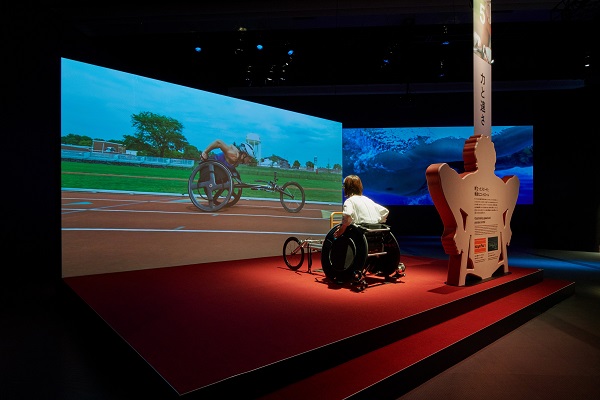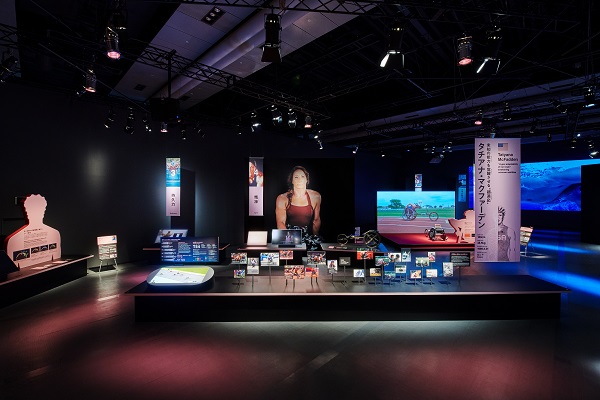 Tatyana McFadden holds medals for all distances in wheelchair racing, from 100 meters to the marathon in Rio Paralympics. McFadden was born paralyzed from the waist down, but has powerfully developed the muscles of her upper body through training. Major changes have also taken place within her brain, which moves those muscles.
Exhibit: The "McFadden model" wheelchair
The same model of wheelchair racer as that used by Tatyana McFadden is on display. See its build and materials up close.
Interactive corner: Try to race the wheelchair as fast as McFadden!
Exhibition visitors will get to experience firsthand the speed of McFadden's wheelchair, which she propels at speeds of up to approximately 40 kilometers per hour by drawing on the strength of her entire upper body.
Tatyana McFadden (USA, Paralympic track and field)
Born April 21, 1989. Height: 160 cm. Weight: 48.5 kg.
2004: Athens Paralympics – won a silver medal in the women's 100m – T54 event, and a bronze in the 200m.
2012: Won gold medals at the London Paralympics in the 400m, 800m, and 1500m.
2013: Won gold in all six events she competed in at the IPC Athletics World Championships in Lyon. She also won the Boston, Chicago, London, and New York marathons in one year, achieving the grand slam.
2014: Won a silver medal in the 1 km sprint sitting cross-country skiing event at the Sochi Paralympics.
2016: Won four gold medals at the Rio Paralympics, together with two silver medals.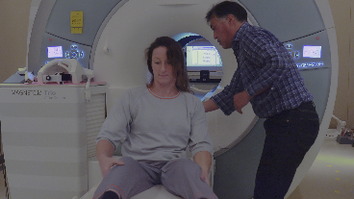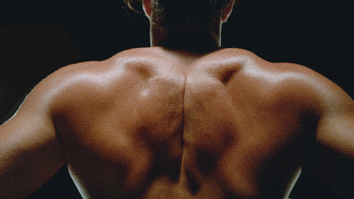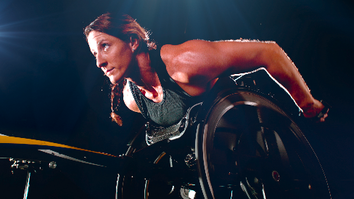 ---
Section 3: Caeleb Dressel – Speed born out of ultimate beauty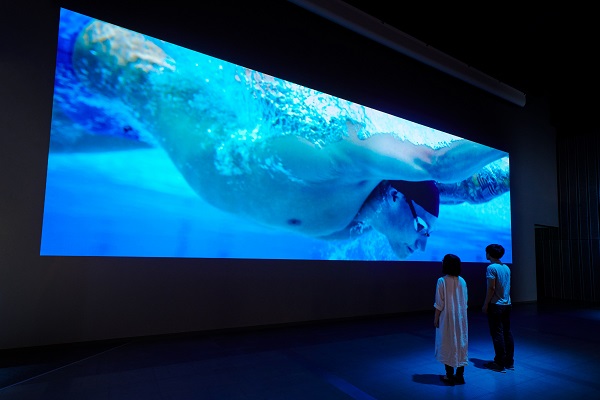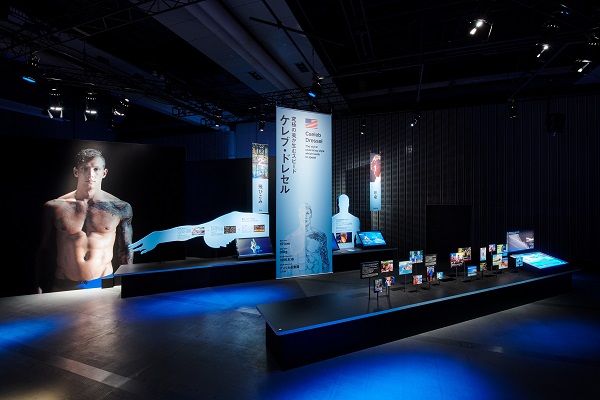 Caeleb Dressel set the world record for the 100-meter butterfly for the first time in 10 years. His swimming, which combines both overwhelming speed and beauty, is achieved not only as a result of his muscles, but also the workings of his distinctive respiratory functions. In the last 15 meters, Dressel holds his breath to overtake rivals.
Exhibit: Large-format images "Motion in the Water"
Dressel swims as if he is creating a work of art, and exhibition visitors can admire the dynamic sight of his extraordinary body control, including through large-format images of him that were captured using underwater cameras.
Interactive corner: See the diving power of Dressel for yourself
Dressel's weapon is his incredibly fast dive. His jumping ability is on a par with top high jump and long jump athletes. Measure your vertical jumping ability and compare it with Dressel.
Caeleb Dressel (USA, swimming)
Born August 16, 1996. Height: 191 cm. Weight: 86 kg.
2016: Sixth in the 100m freestyle at the Rio Olympics, and achieved gold with his team in the 400m relay and the 400m medley relay.
2017: Won seven gold medals at the World Aquatics Championships in Budapest, Hungary – the 50m freestyle, 100m freestyle, 100m butterfly, 400m relay, 400m medley relay, 400m mixed freestyle relay, and 400m mixed medley relay.
2019: Broke the world record in the 100m butterfly in a time of 49.50s at the World Aquatics Championships held in Gwangju, South Korea.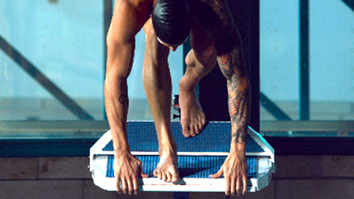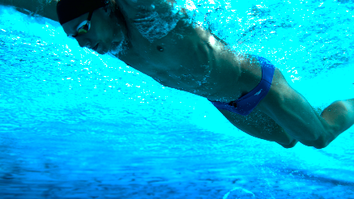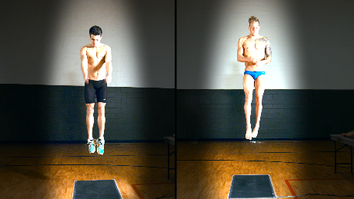 ---
Section 4: Theater images – "Moment of SuperHuman"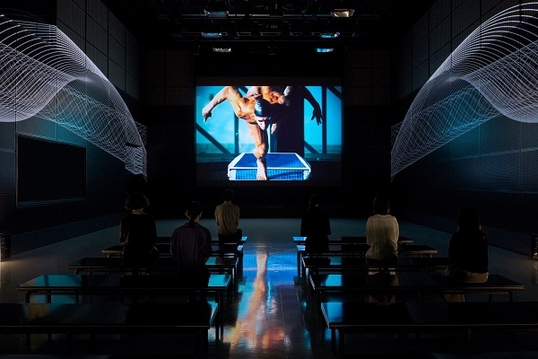 Three world-class athletes who have built astounding bodies. Combining gorgeous images and sound, this section allows visitors to experience the split-second dynamism that enables these athletes to transform into superhuman individuals for a matter of seconds in the midst of competition.
---

This event has been certified by the Tokyo Organising Committee of the Olympic and Paralympic Games as an official program of the Tokyo 2020 Participation Programme, based on an application by NHK.
Please read before booking or purchasing
Book on an external site (online ticketing site operated by etix Data Farm).
If you use the online ticketing service, you will be asked to present a QR code ticket on your smartphone screen (or you can print out the ticket at home and bring it along).
Once purchased, it is not possible to change, refund or re-issue the ticket.
Separate booking is required for special exhibitions and Dome Theater. Payments can only be made using credit cards (VISA/Mastercard/JCB) or d BaraiTM.
Overview
Title

SuperHuman "This is my body"
Period

Saturday, July 17 to Sunday, September 5, 2021
Opening hours

10:00-17:00 *Last admission 30min. before closing time.
Venue

Special Exhibition Zone 1F and Innovation Hall 7F, Miraikan
Admission fee

Free / pre-booking system (pre-booking online is required)
Organizers

NHK (Japan Broadcasting Corporation), Miraikan - The National Museum of Emerging Science and Innovation
Virtual Reality - SuperHuman "This is my body"
*This Virtual Reality has ended.