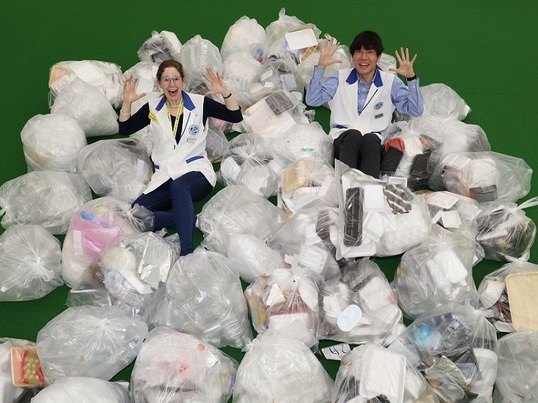 An art object created from collected plastic waste has appeared in front of Miraikan's "Geo-Cosmos" Earth display. Let's examine the problem of plastic waste together. This is Volume 4 of the "Mirai can NOW" series.
"My regular café switched to paper straws."
"The bags at the register used to be free, but now they've started charging for them."
Recently, there's been a lot of activity to reduce the amount of plastic waste, and we are encountering more and more of these changes in our daily lives. Reducing plastic waste is more than taking action against climate change. For example, the problem of marine plastic waste—plastic waste that is not disposed of properly and ends up in oceans and rivers—has been attracting global attention as a source of environmental pollution and a threat to ecosystems.
What can you and I do, as individuals, to help solve this problem? At this event, we join forces with some of those who have hands-on experience combatting the issue, and together, we will come up with ways to help. The five people we will introduce here are all from companies that play a part in our daily lives. Throughout our activities, we will also display some questions that we would like everyone to think about, together, in order to solve the problem. Join us in solving the plastic waste problem by considering the ideas submitted by others and offering, in writing, your own ideas.
Exhibition Structure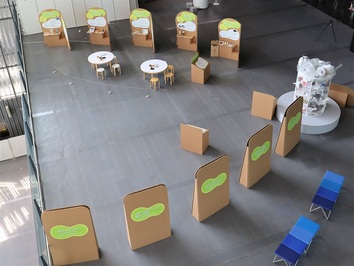 "Ready to Act?! Plastic Waste" is divided into three sections.
This much plastic trash!?
An art object created from 32 kilograms of plastic waste is now on display. Thirty-two kilograms is the weight of all the plastic containers and packaging waste that the average person in Japan throws away in a single year! This art object will give you a real sense of just how much plastic waste we throw away in our daily lives.
Plastic everywhere!?
Why do we use so much plastic? How is plastic waste a problem, and what specifically is the issue? This section consists of 5 panels that will help you understand the current situation we face with plastic waste. Part of the plastic waste we throw away ends up as environmental pollution in oceans and rivers. For example, marine plastics that have washed into the ocean not only have a negative impact on turtles, fish, and other marine life, and recently there have also been concerns about their effects on human health as well. There are also some tips here aimed at helping to fix the problem.
A plastic waste free Earth!?
Let's join forces with people who have practical experience in dealing with the issue of plastic waste and consider the problem together.
We use products and services of many companies on a daily base. People at some of these companies have started to take action to realize a future in which the plastic waste problem is solved. To reduce the use of containers and packaging, they sell containers and packaging "by measure" so people can use only as much as they need, they collect used plastic clothing and containers for recycling, and they are making it easier to pick up litter, as well as creating new materials to replace plastic. In this section you will find the activities of five people with hands-on experience, and the questions they would like you to think about as we work toward a sustainable future.
We have set up an idea board where everyone can share their ideas. Each person might have different ideas, since each person has a unique point of view. By gathering a wide variety of ideas, we may be able to uncover a path toward solutions. The ideas will be compiled by Miraikan's Science Communicators and will be shared on a regular basis. We hope everyone here will participate as well.
About special page
If you don't have time during your visit, or are unable to visit the museum during the event, you can also post your ideas online. Let's think of ways to solve the plastic waste problem together!
Special page: "Ready to Act?! Plastic Waste"
Overview
Period

Saturday April 1 to Thursday August 31, 2023
Venue

Permanent Exhibition Zone 3F, Miraikan
Admission fee

Permanent exhibition admission fee only
Viewing assistance

We have made the webpage with a text summary of the exhibition panels as a viewing assistance for those who need it.

Cooperation

Takada Hideshige (Tokyo University of Agriculture and Technology)
Iwamoto Michihiko (JEPLAN, INC.), Takahashi Yukiko (Package-free shop Nono), Seto Keiji (Kao Corporation), Tsuchiya Akiko (Pirika, Inc.), Nakatani Kazushi (KANEKA CORPORATION)
*Honorific titles are omitted.
Organizer

Miraikan - The National Museum of Emerging Science and Innovation