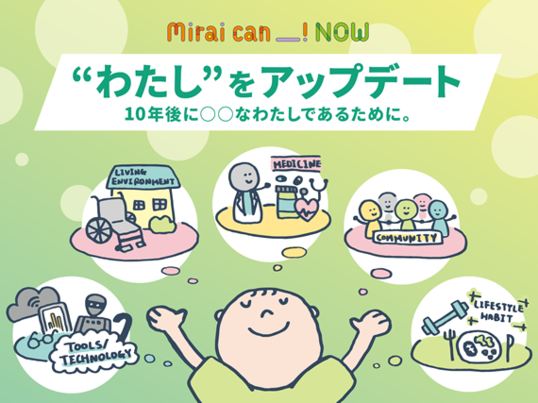 As we arrive at the time, which is "now", when people live to be 100 years old, or older, our image of "senior citizens" and "the elderly" is changing. So, it is time for us to rethink the concept of "aging". By facing our own individual physical and mental condition and its changes, it will be possible for you to live in a way that can open up a new stage of life.
This event will use a variety of technologies to measure body functions, providing participants with a science-based snapshot of their current physical and mental condition. There will also be exhibition tours and talk events to consider health from diverse perspectives, not only from humans, but microorganisms and the Earth, too. Participants will be given an opportunity to understand where they are "now", and will be challenged to think about how they want their minds and bodies to be, in order to update to the "me" of tomorrow.
Based on the "Miraikan Vision 2030", announced April 2021, the National Museum of Emerging Science and Innovation (Miraikan) has established four key themes as "entrance points" for considering the future: Life, Society, Earth, and Frontier. 
"Mirai can Now" is a series of events that allows people to encounter, and experience the "Now" of research and development for the future, and engage with people working to achieve that future. This event, focused on the theme of "Life", is the second in the series, following the first event of "Imagination ⇔ Implementation: Creating Your Future with Robots".
Event Introduction
"Physical measurement" - To be who you want to be in 10 years.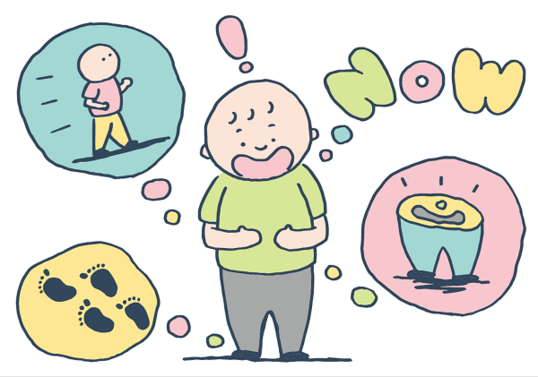 What is the definition of "good walking" for you? And what kind of food is "the ideal" for you to eat?
The key to have a "good daily life" for yourself ten years in the future, is to look at yourself as you are right now.
These experiences aim to help you understand your own physical condition, take stock of your day-to-day lifestyle habits, and then envision what you want to become.
Measurement of Basic Walking Ability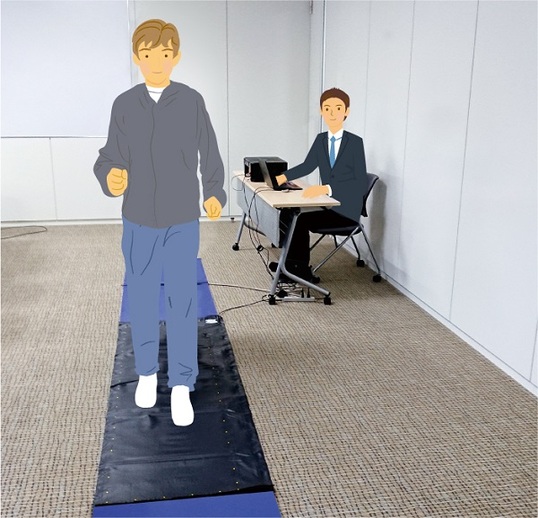 What kind of walk do you have? What is a "good gait"?
This measurement device instantly analyzes your gait, based on scientific evidence. Just by walking on the pressure sensors, your "walking balance age" and "walking speed age" will be calculated. In addition, the measurement results sheet, that is printed out, also includes your "foot pressure trajectory," a "foot pressure graph," and "similar tendencies for gaits to yours."
A "good gait" varies, depending on what kind of body you want to achieve. Let's consider the best way to walk for the body you want ten years down the road, based on the snapshot of your "gait" as it is today.
Measurement of Visceral Fat level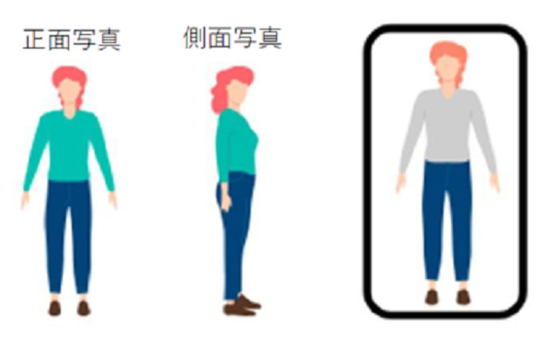 While we know that having too much visceral fat causes lifestyle-related diseases, it is more difficult to understand how much is "too much."
This measurement device can estimate your level of visceral fat by simply taking two photos of you without taking off your clothes.
As it makes it easy to visualize the volume of visceral fat, it can be a good opportunity to review your lifestyle habits.
Demonstration of the Musculoskeletal Model* and Detailed Gait Analysis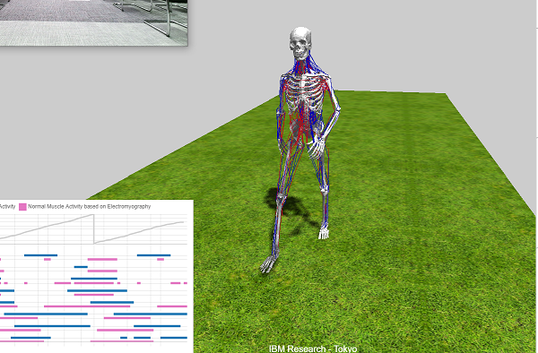 The way you walk provides a wide variety of information about your health. First, a camera captures your body's movements, and then various elements such as the stress placed on your joints, and the way your muscles move, are visualized in a CG model created out of virtual muscles and bones. This provides a good opportunity to think about your physical condition.
*The skeletal model in this system uses data from the National Institute of Advanced Industrial Science and Technology (AIST): Yoshihiko Nakamura, Katsu Yamane, Akihiko Murai, Gen Suwa, Osamu Kondo, Makiko Kouchi, Katsuaki Kawachi, Masaaki Mochimaru, 2008: Adult male skeletal shape data (AIST h30PRO-905) 
"Smart Japanese cuisine®" boxed lunches on sale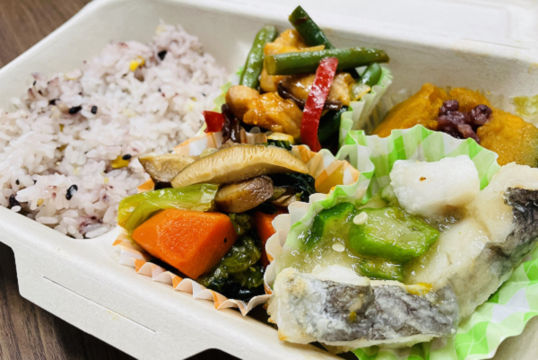 You can eat all this, not gain weight, and get healthy!
Starting on October 15, a limited number of "Smart Japanese cuisine®" boxed lunches, packed with food to build a healthy and steady body, will be available for sale on Saturdays, Sundays, and national holidays until the end of the event at the "Miraikan Kitchen" restaurant on the 7th floor.
"Smart Japanese cuisine®" is a diet offered by Kao Corporation that focuses on visceral fat and prevents weight gain while allowing people to eat enough.
Let us enjoy a good meal, and update our bodies for tomorrow.
Event overview
Period: Wednesday, October 5, to Monday, November 28, 2022
Opening hours: 10:00-17:00 (Last admission is 16:30)
Closed: Tuesdays
Admission fee: Free admission  
  * Additional fees required for the permanent exhibitions, special exhibitions, and dome theater.
Venue: Communication Lobby, 1F, Miraikan
Who can enter: Anyone (some experiences are recommended for ages 20 and up)
Supported by: Kao Corporation
With cooperation from: IBM Japan, Ltd
Overview
Title

Mirai can NOW Vol.2 " Update yourself"
Period

Wednesday, October 5 to Saturday, December 3, 2022
*Workshops, etc. related to the event will be held in December (held in Japanese only)
Venue

Communication Lobby, 1F, Miraikan
Admission fee

Free admission
* A ticket is required for the permanent exhibition, special exhibition, and dome theater.
Organizer

Miraikan - The National Museum of Emerging Science and Innovation