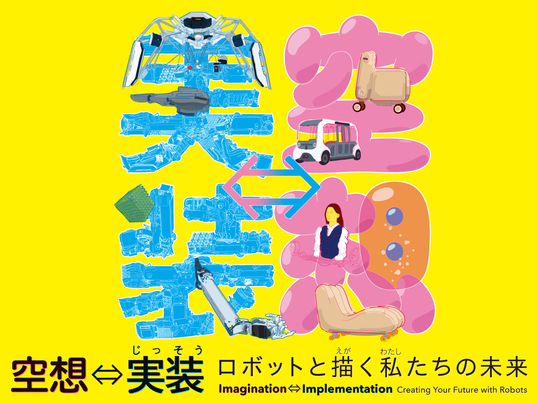 What makes the future come true? By continuing the cycle of "imagination" and "implementation," we are able to create our desired future. At this exhibition, Miraikan unveils robot technologies currently being researched and developed by companies and universities. This includes a sofa-type mobility robot "poimo", and a dialogue robot that provides tourism information just like a customer service representative at a travel agency. Furthermore, during the exhibition period, the latest model of a table tennis robot that utilizes artificial intelligence (AI) technology will be displayed for a limited period. Plus, workshops and talks with researchers and experts will be held on the theme of technologies and ideas that create the future, such as a digital clone that uses AI, robotics and other technologies to replicate humans. Get a glimpse of a future society in which robots are an integral part of our lives, by experiencing the joy of shifting between imagination and implementation and the possibilities of the future.
Miraikan will begin "Mirai can NOW," a new series project that displays the "Now" of research and development. The project sets four themes as "entrance points" for considering the future – Life, Society, Earth and Frontier – and gives visitors the opportunity to contact, feel, and experience the topics at the forefront of the research and development taking place in each of those themes. "Imagination ⇔ Implementation: Creating Your Future with Robots," an event that focuses on the theme of "Society," is the first part of the series.
Exhibit line-up
The shape and operation are up to you! "poimo" test rides
"poimo" is a new personal mobility robot whose shape can be freely customized according to the purpose of its use. The poimo is designed to be inflated with air, and is notable for having a body that is light, strong, and soft. Research aimed at making it possible for users to operate poimo, as they please, is also moving ahead. Take a test ride at the venue, and imagine a future in which poimo is your own personal mode of transport.
Period: Friday, July 8 to Wednesday, August 31, 2022
Cooperation: mercari R4D; Yasuaki Kakehi Lab. (xlab), The University of Tokyo
Project on the creation of a novel service with autonomous driving technology at Tokyo Waterfront City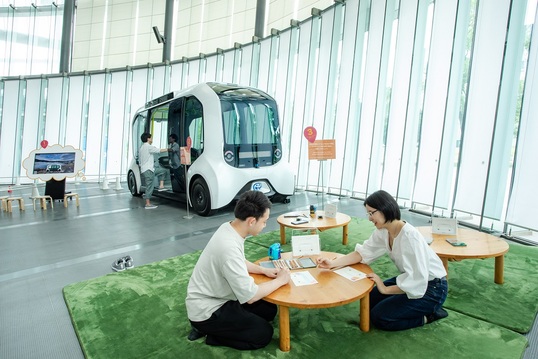 A novel mobility service using TOYOTA's e-Palette was piloted from February to March 2022 in the Odaiba area. In the course of that trial, e-Palette demonstrated the potential for future mobility. The next-gen vehicle, or the "moving space", serves as a mobile platform for goods and services as well as people. For instance, when you feel like reading books, the "e-Palette" may not only take you to a library but bring the library to where you are. How will the e-Palette change the way we live?
Period: Friday, July 8 to Wednesday, August 31, 2022
Cooperation: Tokyo Metropolitan Government; Mobility Technologies Co., Ltd.; Nippon Koei Co., Ltd.; Toyota Motor Corporation
Manufacturing that combines our individuality and sensitivity: The "tactile metamaterial" experience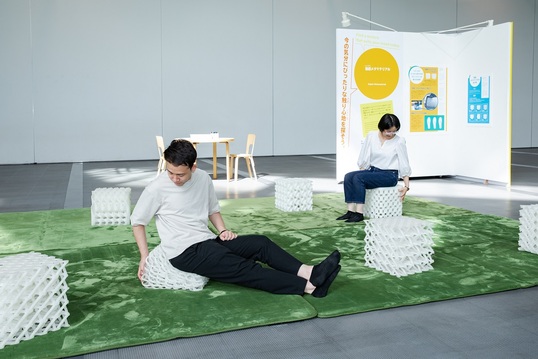 A material whose structure is intentionally changed to give it a property it did not possess originally is known as a "metamaterial." This chair is made out of a tactile metamaterial that draws on the idea of having free command over the firmness and tactile feel of playground equipment, chairs, and other day-to-day objects. Experience the sensation of sitting in a chair that is matched to your preferences.
Period: Friday, July 8 to Wednesday, August 31, 2022
Cooperation: Digital Manufacturing and Co-Creation Design Lab for Emergent Circularity, Keio Research Institute at SFC; JSR CorporationRapithela Corporation
Our physical bodies integrated with robots and AI! The "Jizai (adjustable) Body Project" experience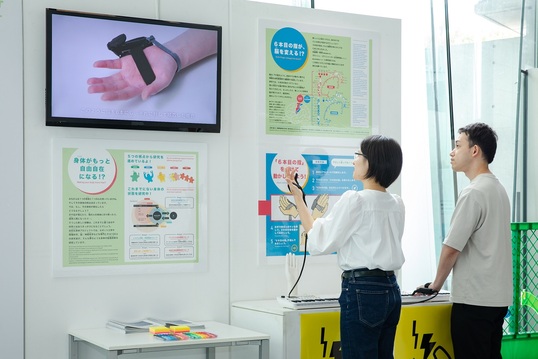 Add extra hands or fingers, or see what it feels like to have the body of an animal: research is advancing that attempts to fulfill these visions using the latest robotics and information technology. What impact does it have on a person's mind to try out a new body by adding a "a sixth finger," or using "a body that can be worn and removed"? At the venue, you will be able to operate a "sixth finger," and on days when workshops are held, you will also be able to take part in experiments in person, including getting to take home a "sixth finger" made with Lego.
Period: Friday, July 8 to Wednesday, August 31, 2022
Cooperation: JST ERATO JIZAI Body Project; University of Electro-Communications, Center for Neuroscience and Biomedical Engineering (CNBE), Miyawaki Lab.; Centre National de la Recherche Scientifique, LIRMM, Montpellier, France, Ganesh Gowrishankar's team Keio University, Sugimoto Lab.; Waseda University, Iwata Lab.; Toyohashi University of Technology, Kitazaki Lab.
Is this the travel agency of the future? Dialogue Robot Competition 2022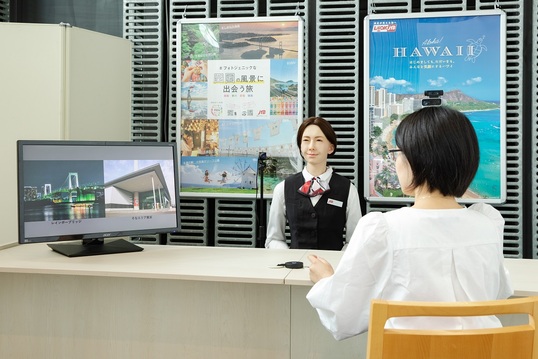 It may be that in the future customer service duties at travel agencies and elsewhere will be performed by robots. The preliminary round for the competition, in which teams compete over how naturally their robots can converse, began in 2021, and the second preliminary round will be held at this event. At the venue, visitors will be able to select a travel destination while talking to an android sales representative, in a setting that replicates a travel agency.
Period: Friday, July 8 to Sunday, July 10, 2022 (Demonstrations that employ the dialogue system from the previous competition) Thursday, August 11 to Wednesday, August 31 (Preliminary round for the Competition 2022)
Cooperation: Dialogue Robot Competition 2022 Committee JSPS KAKENHI Innovative Areas "Communicative intelligence project"; JTB Corp.; JTB Publishing, Inc.
How to experience: Timed tickets are distributed at the exhibit place on the day.
Engaging the FORPHEUS table tennis robot in a doubles game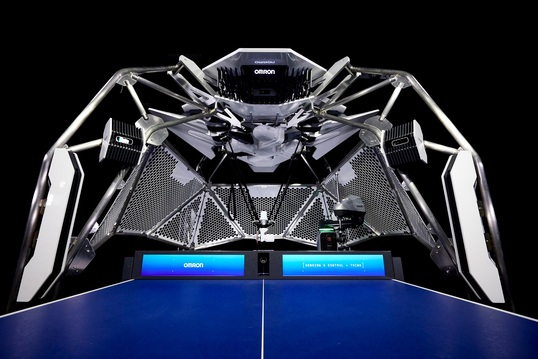 The latest model of FORPHEUS, a table tennis robot, not only reads a player's feelings and body movements to guide the player to improve, it also measures and enhances a doubles team's degree of empathy and degree of interaction to bring about improvement as a pair. Consider a future in which AI and robots are an integral part of our lives with FORPHEUS, which helps people to enhance their skills through table tennis rallies.
Period: Friday, July 29 to Thursday, August 4, 2022
Cooperation: Omron Corporation
How to experience: Timed tickets are distributed at the exhibit place on the day. About 5 minutes per person.
* In some cases, visitors whose clothing is the same orange color as the table tennis ball will not be able to participate.
Overview
Title

Mirai can NOW Vol.1 "Imagination ⇔ Implementation Creating Your Future with Robots"
Period

Friday, July 8 to Wednesday, August 31, 2022
* Please note that workshops and other events related to this exhibition will be held in September.
Venue

Symbol Zone, 1F, Miraikan
Opening hours

10:00-17:00 (Last admission is 16:30)
Closed

July 12 and July 19
Admission fee

Free admission
* A ticket is required for the permanent exhibition, special exhibition, and dome theater.
Organizer

Miraikan - The National Museum of Emerging Science and Innovation