Exhibition "energy.transitions" [January 17 - March 29, 2020]
Miraikan – The National Museum of Emerging Science and Innovation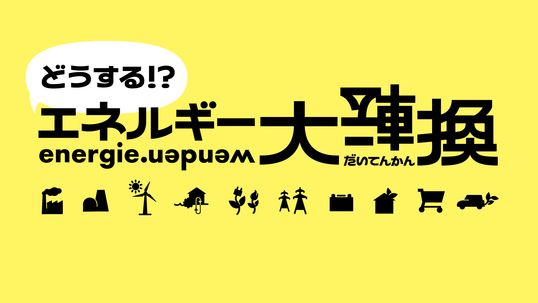 Miraikan – The National Museum of Emerging Science and Innovation (commonly known as Miraikan; Mamoru Mohri, Chief Executive Director) will hold an exhibition "energy.transitions" from Friday January 17 to Sunday March 29, 2020. This exhibition is the touring version of the special exhibition "energie.wenden" (energy transitions), which was held at the Deutsches Museum (Munich) in 2017 and was visited by around 680,000 people. This is the first time the exhibition will be on display outside of Germany – in addition to a newly added content that introduces the energy situation in Japan, it will consider the future of the energy that is indispensable to our lives.
Up until now it was the large amount of cheap energy obtained from fossil fuel resources such as oil, coal, and natural gas that supported our social development and wealth. However, if we continue to use fossil fuels in this way, global warming will accelerate and a great risk of large-scale climate change will be left for future generations. Plus, fossil fuels will eventually run out.
The "energy.transitions" refers to a great turnaround in the energy we use, freeing ourselves of the current situation in which we are dependent on fossil fuels and turning to sustainable energy sources. The Paris Agreement formed by countries around the world in 2015 set out the goal of reducing the greenhouse gases emitted around the world to zero in the shortest time possible in the second half of this century. The realization of energy turnaround is a vital issue that all of humanity must quickly focus upon so we can meet this goal. What is the best way to push energy turnaround forwards?
In this exhibition, each visitor will consider energy policies while being given information about Japan and the world concerning 10 energy-related themes. The energy policy choices made by visitors will be collected during the exhibition, then counted and compared to those gathered from when the exhibition was held in Germany – from this we expect to examine the differences in approaches to energy policies between Japanese and German people.
Overview of "energy.transitions" exhibition
Visitors act as members of the government and make decisions about policies that will push "energy turnaround" forwards. They pick up ballot papers provided at the entrance, and choose energy policies after going around the 10 energy-related themes displayed at the venue.
Ten energy-related themes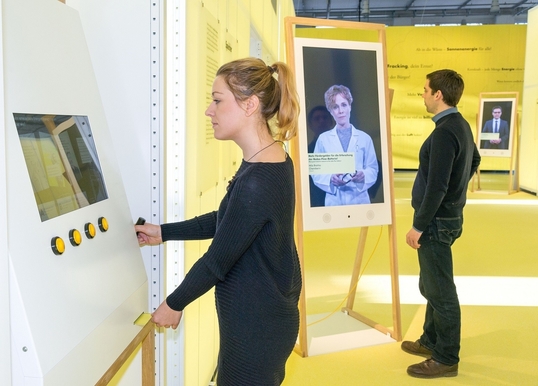 Each theme is made up of three parts: display panels, videos that introduce the opinions of stakeholders with diverse standpoints, and machines where visitors chose their policy. Three policies are suggested for each theme. For example, in response to the question, "What should we do about nuclear energy?" the nuclear energy-themed corner presents the policies of A) Build more nuclear power plants, B) Shut down nuclear power plants, and C) Aim for nuclear fusion. Visitors insert their ballot paper into the machine and choose their optimum energy policy after listening to opinions from diverse standpoints. The policy chosen is recorded on the ballot paper.
Ten themes
①Fossil Fuels ②Nuclear Energy ③Sun and Wind ④Hydropower and Geothermal Energy ⑤Plant-Based Raw Materials ⑥Grids ⑦Storage ⑧Construction and Homes ⑨Production and Consumption ⑩Mobility
Miraikan content: "Time to think: Japan's energy transitions"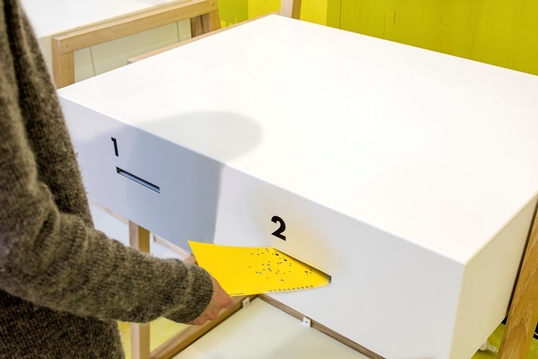 Miraikan – The National Museum of Emerging Science and Innovation has prepared special panel displays that introduce information about Japan relating to each theme to complement the exhibition. These offer important hints as to the way energy turnaround is to advance in Japan, such as the current situation of high reliance on fossil fuels, and the great potential of renewable energy.
Ballot reader: "Vote your decision here!"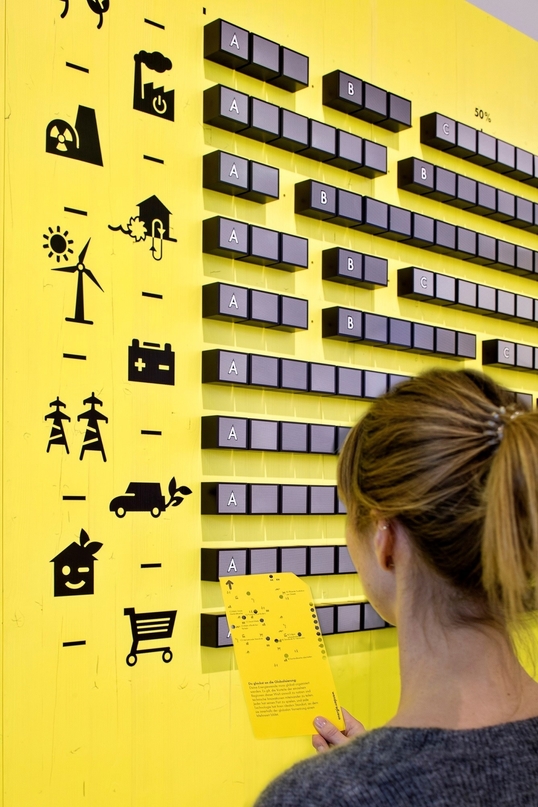 Once they have chosen policies for four or more themes, visitors can vote at the ballot reader. When they insert their card into the machine, visitors find out which of the six profile types their chosen energy policies fall under, e.g. a market economy type (moving forwards with energy turnover based on energy pricing) or a science and technology type (realizing energy turnover based on science and technology research). The result is printed on their card.
Six types
①You believe in the market economy ②You have a social conscience ③You believe in globalization ④You believe in science ⑤You want to protect the environment ⑥You want to regulate the world
Next to the ballot reader is a display that helps visitors understand their chosen ballot results for each theme in a visual manner. By comparing their choices with those of other people, visitors are given a chance to understand that many different value systems exist in society. They will also likely come to recognize the importance of discussing the direction society should take with people who have diverse values in order to advance energy turnaround.
Exhibition details
Title

"energy.transitions"
Period

Friday January 17 to Sunday March 29, 2020
Opening times

10:00 - 17:00 (entry until 30 minutes before closing)
Venue

Miraikan – The National Museum of Emerging Science and Innovation, 1F Communication Lobby
Closed

Tuesdays (open on February 11 and March 24)
Admission fees

Free *A separate admission fee is required for the permanent exhibitions
Organizers

Miraikan – The National Museum of Emerging Science and Innovation, Deutsches Museum
Co-organizer

German Centre for Research and Innovation Tokyo (DWIH Tokyo)
Concept and Content

Deutsches Museum
Kindly supported by Linde AG, Federal Ministry for Economic Affairs and Energy, Bavarian Ministry of Economic Affairs, Regional Development and Energy, innogy Stiftung für Energie und Gesellschaft
(Miraikan contents)Supervisors: Yoh Yasuda (Kyoto University), Kazuya Matsuo (Matsuo Architects Office), and Keiichiro Sakurai (National Institute of Advanced Industrial Science and Technology)
Special website
---
Inquiries from the general public

Miraikan – The National Museum of Emerging Science and Innovation
2-3-6 Aomi, Koto-ku, Tokyo 135-0064
TEL: 03-3570-9151
FAX: 03-3570-9150
Inquiries about this press release

Public Relations section, Miraikan – The National Museum of Emerging Science and Innovation
TEL: 03-3570-9192
FAX: 03-3570-9150
Contact Us