New Permanent Exhibition "Digitally Natural - Naturally Digital" [November 14, 2019]
Miraikan – The National Museum of Emerging Science and Innovation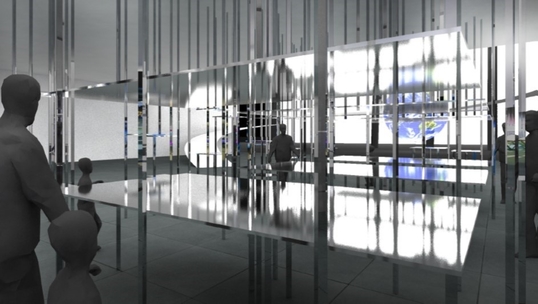 Concept image of new permanent exhibition (provided by noiz)Miraikan - The National Museum of Emerging Science and Innovation (commonly known as Miraikan; Mamoru Mohri, Chief Executive Director) has announced the title of its new permanent exhibition, supervised by media artist and University of Tsukuba associate professor Dr. Yoichi Ochiai, will be "Digitally Natural - Naturally Digital" and will open to the public on Thursday, November 14, 2019 in the "Create your future" permanent exhibition zone. This exhibition asks how our world view, and view of nature will change in a future where computers and the artificial intelligence running on them has advanced significantly.
Humans progressed from a hunter-gatherer society, to an agrarian, industrial, and then information society. The progression predicts the arrival of a fifth future society in which real and virtual spaces are fused at a high level -- "Society 5.0," presented as the 5th Science and Technology Basic Plan. As digital devices such as computers and software methods develop, the dense, detailed data of the worlds they create will surpass the limits of human senses. The differentiation and separation between the natural and the artificial, which until now taken for granted, may become indistinguishable, or even become a thing of the past.
This new permanent exhibition presents a world where the natural and the artificial have melded together, and both digital and analog enhance the characteristics of the other, which is the "new natural" to the people of the future. With a variety of exhibits in the first half of the exhibition outside one's normal daily experience, you can experience a new world view. The second half of the exhibition increases your understanding through hands-on exhibits and video content of technological and historical backgrounds, and how they will influence future societies and cultures.
This exhibition presents a new vision of the future born from a Japanese view of nature, in which computers and nature coexist in harmony. A number of the exhibits are based on traditional Japanese culture, such as calligraphy, pottery, and flower arrangement.
Overview of Exhibition
The permanent exhibition "Digitally Natural - Naturally Digital" is made up of two main areas. The first half, the "Area for Experiencing New World View", has exhibits where you can experience or intuitively understand a world view of a fusion of real and virtual worlds. The second half, the "Area for Understanding", has exhibits and videos where you can experience for yourself and learn about the technology supporting this world view, and its progress. The names and content of the areas and exhibits are subject to change.
Area for Experiencing New World View
This area, an introduction to the world view of this exhibition, has a number of exhibits combining computer technology with objects you see in your daily life, which will make you question your understanding and perceptions, in a space like a grove of trees reflecting light.
Mirror Box Collection
As a warm-up to understanding the world view and technological background of this exhibition, there are 20 collections. High-resolution videos of tropical fish swimming that seem no different from the real one at first glance, and experiences from daily life such as the sound of wind chimes are replicated by a variety of technologies, shaking visitors' confidence in their perception. There are also exhibits where visitors can observe and experience methods used to support machine learning technology, such as support vector machines and decision trees. Through these collections, you can prepare to accept a new nature not bound by your life and senses up until this point.
Digitally Natural - Naturally Digital
The center of the exhibition area is two exhibits which are the symbol for the exhibition as a whole.
One is an ikebana flower arrangement using trees and flowers symbolizing nature, with beautiful morpho butterflies resting on them. However, these butterflies are a mix of real ones (preserved specimens) and artificial ones made using the latest structural color printing technology. The robot arm, symbolizing artificial objects, picks up fallen leaves, expressing a world combining computers and nature.
*The above concept image is from Dr. Yoichi Ochiai's piece, Perspective of Digital Nature I The other exhibit uses monitors to display various images created using machine learning methods, which create new images based on learning from a large quantity of data. At first glance, these seem to be words that someone wrote by hand or photographs taken somewhere, but they are all images generated by computers, representing computers and nature.
Area for Understanding
These exhibits are to help increase your understanding of the development of the technology that will support the world view of this exhibition, and of what possible futures will look like.
"Kokoroe", Manners for Resolution
This exhibit allows you to experience the differences between analog and digital in handling information. You can learn instinctually about how information is processed to create the resolution of time and space that is the new nature, made possible by representing phenomena using numbers and equations.
"Emaki", Illustrated Scroll of Human Progress
This animation in the style of a historical emaki illustrated scroll will look back on how humanity has advanced information processing. Based on five themes of "calculation," "telecommunication," "images," "music," and "mobility," the evolution of humanity and information will be followed through the different ages, from the past all the way to the post-AI age of the future. You should realize how the ages cycle between "ages of experience" when technology advances through collecting and systematizing large quantities of information, and "ages of rule" when technology advances by discovering basic principles and analyzing them.
"Ukiyo -Banashi", Computing Tales of Pioneers
In the last part of the exhibition, you will see examples of the influence the concepts introduced in the Illustrated Scroll of Human Progress have had on our society and culture. Pioneers of their age such as the Heian poet Ki no Tsurayuki, the feudal warlord Takeda Shingen, and the modern voice synthesizer software and virtual singer Hatsune Miku will speak through monitors about the innovation which has occurred again and again through the advancement of technology. There may be hints on how to face technology in the future hidden in their tales.
Comment from Maholo Uchida, Curator, Division Manager of Project Planning & Development Division, Miraikan
"In this exhibition, our goal was to exhibit a vision of the future based on a Japanese view of nature. In Japan, we have a culture that accepts people and machines as being part of the same world, without discrimination. I believe a world view in which technology and nature has fused and unified is something that we can exhibit well because this is Japan. As we worked together with various artists, traditional Japanese art appears in many of the exhibits. I hope that visitors will be able to abandon at least one of their preconceived notions by viewing this exhibition, and imagine the nature of the future.
About Miraikan's permanent exhibitions
Miraikan's permanent exhibitions are based around three themes: "Explore the frontiers," "Create your future," and "Discover your Earth." As science and technology progress, Miraikan continues to update its permanent exhibitions. This update to the exhibitions will involve changing approximately one third of the floor space on the third floor.
Credit
Supervisor

Yoichi Ochiai(Media artist / Associate professor, University of Tsukuba)
Scientific Advisors

Asa Ito(Associate Professor, Institute for Liberal Arts, Tokyo Institute of Technology)▽Shinpei Kato(Associate Professor, Graduate school of Information Science and Technology, The University of Tokyo, Founder/CTO, Tier IV, Inc.)▽Masataka Goto(Prime Senior Researcher, Information Technology Research Institute, National Institute of Advanced Industrial Science and Technology (AIST))▽Masashi Sugiyama(Director, RIKEN Center for Advanced Intelligence Project / Professor, Graduate School of Frontier Sciences, The University of Tokyo)▽Daiyuu Nobori(Associate Professor, Headquarters for International Industry-University Collaboration, University of Tsukuba / Director of IPA Cyber Technology Research Laboratory)
Space Design

noiz
Production

TASKO inc.▽TSUMURA KOGEI Co., Ltd.▽Hoedown Inc.
Contributing Artists

Hikaru Ichijo(Illustrator)▽SISYU(Japanese calligraphic artist)▽16th Raku Family Head Raku Kichizaemon(Ceramist) ▽YUKI TSUJI(Ikebana Artist)▽Kei Hagiwara(Illustrator)
Contributing Scientists

Satoshi Iizuka(Assistant Professor, Faculty of Engineering, Information and Systems / Center for Artificial Intelligence Research, University of Tsukuba)▽Takeshi Imai(Professor, Graduate School of Medical Sciences, Kyushu University)▽Nobuyuki Umetani(Project Lecturer, Graduate School of Information Science and Technology, The University of Tokyo)▽Robert Ono(Senior Assistant Professor, Japan College of Social Work)▽Hiroyuki Shinoda(Professor, Graduate School of Frontier Sciences, The University of Tokyo)▽Ikuo Takeuchi(Emeritus Professor, The University of Tokyo)▽Jun Mitani(Professor, Faculty of Engineering, Information and Systems, University of Tsukuba)▽Tsukasa Murayama(Professor, Faculty of Marine Science and Technology, Tokai University) ▽Peter MacMillan(CEO, The Moon is a Boat Co.)▽Tao Morisaki(Shinoda & Makino Lab., Graduate School of Frontier Sciences, The University of Tokyo)▽Hironori Yoshida(User Interface Research Group Igarashi Laboratory, Graduate School of Information Science and Technology, The University of Tokyo / Researcher, Preferred Networks, Inc.)▽Maria Larsson(Researcher User Interface Research Group Igarashi Laboratory, Graduate School of Information Science and Technology, The University of Tokyo)
Contributing Companies and Organizations

AIQ Corporation▽YUKI TSUJI + Plants Sculpture Studio Inc.▽Digitalartisan inc.▽DENSO Corporation▽DENSO WAVE Incorporated▽Murata Manufacturing Co., Ltd.▽Kansai University Museum▽CRYPTON FUTURE MEDIA, INC.▽TAKEDA CASTLE RUINS MUSEUM▽Artist Sisyu's Atelier▽Takayanagi Memorial Hall, Shizuoka University▽Toppan Printing Co., Ltd.▽Newly Corporation▽Pixie Dust Technologies, Inc.▽Miracle Mile Inc. ▽Raku Museum
Overview
Title

Digitally Natural - Naturally Digital
Opening Date

Thursday, November 14, 2019
Opening Hours

10:00–17:00 (Admission ticket sales end 30 minutes before the closing time of the museum)
Days Closed

Tuesdays
Location

Miraikan - The National Museum of Emerging Science and Innovation, 3F
Exhibition Area

Permanent exhibition "Create your future" zone (approximately 130 square meters where "The Drive Force of Innovation" was previously exhibited)
Entry Fee

Adults: 630 yen, 18 or younger: 210 yen
Planning and Production

Miraikan - The National Museum of Emerging Science and Innovation
---
Inquiries about Miraikan

Miraikan – The National Museum of Emerging Science and Innovation
2-3-6 Aomi, Koto-ku, Tokyo 135-0064
TEL: 03-3570-9151
FAX: 03-3570-9150
Inquiries about this press release

Public Relations section, Miraikan – The National Museum of Emerging Science and Innovation
TEL: 03-3570-9192
FAX: 03-3570-9150
Contact Us