Major Renewal of Permanent Exhibitions for the 1st Time in 7 Years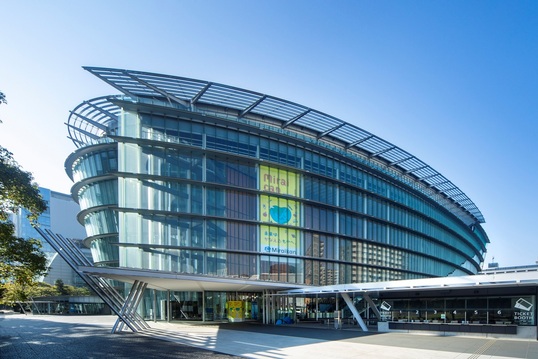 On November 22, 2023 (Wed), new permanent exhibitions will open to the public on three themes: Robots, Global Environment, and Aging. This is the museum's first major renewal in 7 years since its large-scale renovations in 2016. The new exhibition aims to realize the Miraikan Vision 2030: "At Miraikan, together with you, we 'Open the Future,'" announced in April 2021. We encourage each individual to view the future visions and issues of society brought about by advanced science and technology as their own, and to think about the future through discovery of issues, the exploration of ideas, and the sharing of opinions. Due to the renovation, at the end of August this year some of permanent exhibitions will close to the public.
At the new "Robots" permanent exhibition, visitors will consider how to deal with robot technology by exploring a future city where robots are integrated into daily life. Visitors will learn about research that is just getting underway, and interact with robots. At "Global Environment," we'll look at what we can do about environmental issues, starting with climate change that is already underway. At the "Aging" exhibition, visitors will simulate the physical changes that occur to everyone as they age, and explore how to deal with their own aging. At each exhibition, visitors will uncover problems and search for ideas to solve them, and visitors will share ideas with other visitors to gain deeper insights. This is an arena that contributes to the exploration and STEAM education that nurtures the problem-solving skills necessary for this new era.
Opening Day

November 22, 2023 (Wed) (planned)
Permanent exhibitions closed to the public due to construction of new exhibitions

Until August 31 (Thu): "Promoting Medicine Together," "Songs of ANAGURA: Missing of Researchers & their remaining Devices," "Visionaries Lab."
Until mid-November: "Android: What is human?"
*Other exhibitions will also be temporarily closed or will be open to the public in temporary locations. Details will be announced on the website at a later date.
Details
Theme: Robots
The setting is a futuristic city where robots are more integrated into daily life than they are now. Visitors will use tablet-style devices as they walk through the city-like exhibition space and experience the story of humans and robots played out by the unique residents. Imagining a future specifically in which robots live together with us, and imagining what it would really be like if it were you or someone close to you living in that future, may unsettle your own assumptions about technology and people's values. At the end of the experience, there will also be a segment where visitors can share their feelings with one another, make new discoveries, and find deeper insights. Through this experience, visitors will gain a sense of a future holds as many different possibilities and ways of interacting with technology as there are people. In addition, we also plan to have an exhibition showcasing the latest in robotics research and an exhibition where visitors can directly interact with robots.
Theme: Global Environment
 The global environment that supports life continues to worsen, such as the inability to obtain the diverse blessings of nature due to the unstable climate caused by the impact of climate change. Through a variety of experiences, this exhibition aims to encourage visitors to rethink how each individual can get involved in solving environmental issues. In addition to experiencing the current reality of regions affected by climate change through powerful images on a large screen, visitors will get an overall picture of how the social and economic systems that support our daily lives are connected to climate change, biodiversity loss, and environmental pollution.  Let's explore together what we can do to improve the global environment based on practical examples. We will also tackle the environmental impacts of the exhibition space itself as we design it.
Theme: Aging
Advances in science and technology as well as social changes are significantly altering how we perceive aging and what it means. Aging is in everyone's future. In order to envision a desirable future lifestyle for yourself, it is important to have a scientific understanding of the changes that occur in the body as it ages.  This new exhibition simulates the changes that occur in their visual, auditory, motor, and cognitive functions, and allows visitors to picture what happens as the body changes over time. In addition, visitors will explore how to deal with their own aging through exhibitions covering current and future options available in response to these changes.