Special Exhibition "One year since Hayabusa2's return: A grand unveiling of the capsule and a 'fragment' from Ryugu" [Saturday., December 4 to Monday., December 13, 2021]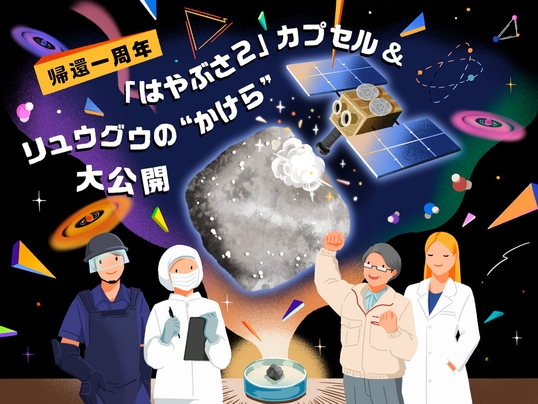 For the first time ever, the capsule of the Hayabusa2 asteroid probe, which returned to Earth in December 2020, will be shown to the general public, alongside a portion of the asteroid sample the probe brought back. This exhibition traces Hayabusa2's journey, while simultaneously showcasing the actual analysis and research of the sample that is currently underway.
After undertaking a space journey of around 5.2 billion kilometers, Hayabusa2 successfully delivered to Earth an approximately 5.4-gram sample collected from the Ryugu asteroid. With the cooperation of the Japan Aerospace Exploration Agency (JAXA), this exhibition features a one to two-millimeter sized fragment from the Ryugu asteroid. Alongside will be the instrument module that housed components such as the special receptacle for storing the sample, and the parachute, as well as the onboard electronic devices section, which could be described as the capsule's "brain". Also displayed will be a replica of the front heatshield that protected the capsule from heat when it reentered the atmosphere, and other items.
The Ryugu asteroid is said to be relatively unchanged from the conditions that existed in the early days of our solar system. Analyzing this sample is expected to advance our understanding of the origins of the solar system. This exhibition features a panel display presenting the latest research results brought to light in the initial analysis, as well as showcasing the efforts of a dedicated working group at JAXA responsible for the "curation" work, which involves sorting and categorizing the distinctive features of the sample that Hayabusa2 brought back.
Having such a large number of researchers involved in analyzing this small sample may present us with a new picture of our solar system.
Overview
Title

Special Exhibition "One year since Hayabusa2's return: A grand unveiling of the capsule and a 'fragment' from Ryugu"
Period

Saturday, December 4 to Monday, December 13, 2021; 10:00 to 17:00
*Closed on Tuesday., December 7
Location

Special Exhibition Zone 1F, Miraikan
Admission fee

Permanent exhibition admission fee only: Adults: ¥630; 18 years old and younger (including elementary school students): ¥210; Preschoolers: Free
*Visitors aged 18 years old and younger can enter free on Saturdays
*Admission tickets are on sale until 16:30
Cooperation

Japan Aerospace Exploration Agency (JAXA)