24th Japan Media Arts Festival Platform Award [Entry Period: August 3 - October 20, 2020]
Entries are now open for the 24th Japan Media Arts Festival, Festival Platform Award. This year's event is based around concepts that use the characteristics of Miraikan's Geo-Cosmos and Dome Theater spherical imaging systems. Award-winning entries will be screened at the Media Arts Festival's film exhibition.
Note: The Festival Platform Awards are open to public participation. New exhibition proposals utilize the characteristics of facilities and equipment owned by groups that collaborate with the festival. Awards are presented to the most outstanding works.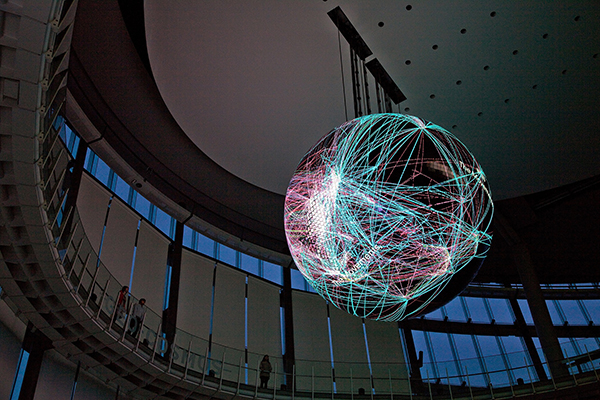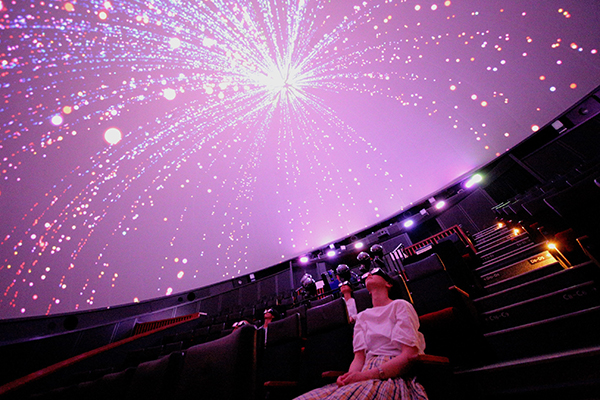 Two spherical imaging systems
Miraikan has been working to develop visual methods of expression using spherical objects. In 2019, Miraikan began collaborating with the Agency for Cultural Affairs to solicit entries that use spheres as a form of expression. Entries can use the museum's symbolic Geo-Cosmos exhibit (a spherical display) or Dome Theater GAIA (a full-height, three-dimensional video system).
How to Apply
Video Image Concept
Sharing a New World: Crossing Borders
In 2020, humankind has undergone an exceptional experience: the entire world is facing the same problem, a problem that has spread beyond the borders of nations and regions. Society and technology were changing with blinding speed until the brakes were slammed; many people have taken a long, hard look at the world stopped in its tracks. We encourage you to take advantage of the defining characteristic of the displays of the Miraikan—their spherical shape—to depict the world that unfolds around us without dividing it into sections, and to pioneer the expression of new viewpoints that change our global awareness.
Categories
Geo-Cosmos Category
For this category, we solicit video works and application programs designed for screening and viewing from multiple viewpoints on Geo-Cosmos, the signature exhibition of Miraikan.
[Screening of sample video]
For the artists considering to submit their work for the Festival Platform Award, we will screen a sample video at Geo-Cosmos.
Screening period: Monday, August 3, 2020 to Monday, October 19, 2020
Show time: from 10:10 / from 16:45 (about 3 minutes each)
You can see the works that won the past Geo-Cosmos Content Contest organized by Miraikan
Dome Theater Category
What is Dome Theater GAIA?
Dome Theater GAIA is a spherical video system that can project full-dome images in 4K resolution in both 2D and 3D onto a dome-shaped screen with a diameter of 15.24 m and 23° angle of inclination.
Entry Period
Monday, August 3 - Tuesday, October 20, 2020 (18:00 Japan Standard Time)
Awards
Festival Platform Award
Geo-Cosmos Category: Certificate, trophy, 500,000 Japanese yen
Dome Theater Category: Certificate, trophy, 500,000 Japanese yen
Screening Criteria
Concept: Does the work capture and incorporate the video image concept?
Expression: Is the video expression polished and aesthetically pleasing?
Technology: Does the work account for the respective characteristics of Geo-Cosmos or the Dome Theater?
Originality: Does the work incorporate the artist's distinct viewpoint in an appealing way?
Viability: Can the work be completed in a manner suited to the designated format?
How to Enter
Contact
24th Japan Media Arts Festival Contest Office c/o CG-ARTS Festival Platform Award
---
About Japan Media Arts Festival Contest
The Japan Media Arts Festival is a comprehensive festival of Media Arts (Media Geijutsu in Japanese) that honors outstanding works from a diverse range of media – from animation and comics to media art and games. The festival gives awards in each of its four divisions: Art, Entertainment, Animation, and Manga. It also provides a platform for appreciation of the award-winning and other notable works. Since its start in 1997, the festival has recognized significant works of high artistry and creativity, and in addition to a yearly Exhibition of Award-winning Works, has held other events, such as symposiums, screenings, and showcases.
The 23rd Festival received 3,566 entries from 107 countries and regions around the world, demonstrating its continuing evolution as an established annual international festival. Award-winning Works are exhibited both within Japan and abroad through various projects and events organized by The Agency for Cultural Affairs, Government of Japan which aims to develop and promote the creation of Media Arts, focusing on the new generation.