Outline of exhibition
″Visionaries Lab″ pays attention to the power of drawing a new vision and the innovation created from that vision.
Advancing ″neurointelligence″ Brain Observers and Creators
This exhibition has guests investigate the massive potential of the human brain through fresh insights from brain research and artificial intelligence (AI), which together provides new perspectives on intelligence.
Researchers have coined the term ″neurointelligence″ to describe a new research area that explores the roots of intelligence, examines the brain, and produces AI technologies from these discoveries. This exhibit allows guests to experience the latest methods in brain investigations, to work with AI, and experience leading research through both visual and hands-on experiences. How far can neurointelligence research expand the possibilities of humans and AI, and what visions of the future can be produced? Explore these topics together with researchers through an adventure into neurointelligence!
Genre

Lab
Location

3F (Create your future)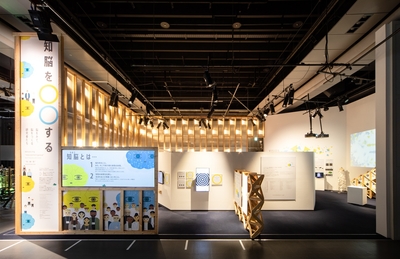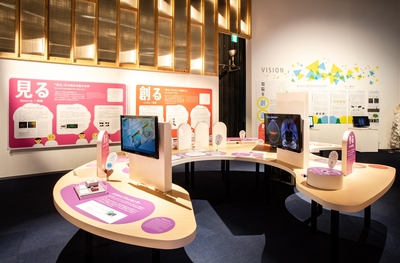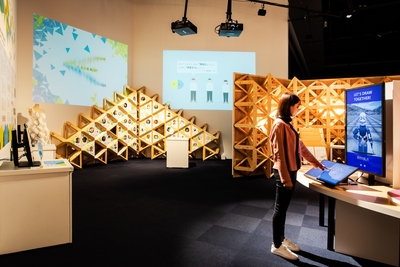 Close
Close
[Credits]
Visionaries Lab
Planning and Produce

International Research Center for Neurointelligence The University of Tokyo Institutes for Advanced Study
NOMURA Co., Ltd.
Miraikan
Supervising & Cooperation

The University of Tokyo Institutes for Advanced Study (WPI-IRCN)
Takao Hensch (Director) Laboratory
Aihara Kazuyuki (Deputy Director) Laboratory
Kano Masanobu (Deputy Director) Laboratory
Emoto Kazuo (Deputy Director) Laboratory
Mingbo Cai (Principal Investigator) Laboratory
Zenas Chao (Principal Investigator) Laboratory
Gotoh Yukiko (Principal Investigator) Laboratory
Kasai Haruo (Principal Investigator) Laboratory
Kasai Kiyoto (Principal Investigator) Laboratory
Arthur Konnerth (Principal Investigator) Laboratory
Nagai Yukie (Principal Investigator) Laboratory
Ohki Kenichi (Principal Investigator) Laboratory
Okada Yasushi (Principal Investigator) Laboratory
Sugiyama Masashi (Principal Investigator) Laboratory
Takeuchi Shoji (Principal Investigator) Laboratory
Tsuji Sho (Principal Investigator) Laboratory
Watanabe Takamitsu (Principal Investigator) Laboratory
Yazaki-Sugiyama Yoko (Principal Investigator) Laboratory
Kantaro Fujiwara (Data Science Core)
Kondo Satoru (Imaging Core)
Okada Naohiro (Human fMRI Core)
Ukai Hideki (ES Mouse/Virus Core)
Ishii Shin (Affiliated Faculty) Laboratory
Kohno Takashi (Affiliated Faculty) Laboratory
Nakayama Hideki (Affilicated Faculty) Laboratory
Sakai Kuniyoshi (Affiliated Faculty) Laboratory
Miyamoto Hiroyuki (Project Associate Professor)
Tanaka Gouhei (Project Associate Professor)
Wu Chien Te (Project Associate Professor)
Daikoku Tatsuya (Project Assistant Professor)
Kuroda Masafumi (Project Assistant Professor)
Uematsu Akira (Project Lecturer)
Yasuda Hiroyuki (Associate Research Fellow)
Planning&Design, Production

Watanabe So, Suzuki Atsushi, Horikoshi Sayaka, Abe Reimi, Fukao Nozomi, Shigyo Akihiko (NOMURA Co., Ltd.)
Matsuya Ryosuke, Ozawa Atsushi, Iwasawa Daichi, Miyahara Yumi, Takahashi Rieko (Miraikan)
Satake Mayuki, Ijiri Yuko (IRCN)
[Planning] Watanabe So, Abe Reimi (NOMURA Co., Ltd.), Ryosuke Matsuya (Miraikan)
[Space Design/ Art Direction] Suzuki Atsushi, Horikoshi Sayaka (NOMURA Co., Ltd.)
[Graphic Design] Endo Kouta (HARAPEKO)
[Production]NOMURA DUO Co., Ltd.
[Vision Contents Direction] Matsuyama Shinya, Akashi Serina (siro)
■Experiencing ″neurointelligence″ : When you look at this white box, what do you see?
[Scriptwriter/Producer] Kirino Mutsumi
[Actor] Fujita Hayato, Morikawa Yumiko
■Experiencing ″neurointelligence″ : What would you do?
[Production] Educational program development committee for the improvement
of junior high school students' mental health and resilience 
■Exploring ″neurointelligence″ : Biohybrid sensor
[Collaboration] Kanagawa Institute of Industrial Science and Technology(KISTEC);
[Collaboration] TORAY ENGINEERING Co.,Ltd
Innovating ″neurointelligence″ : Collaboration between humans and A.I.
[Collaborative Research] RIKEN Center for Advanced Intelligence Project (AIP)
[Collaborative Research] Institute of Industrial Science(IIS), The University of Tokyo
[Collaborative Research] Ema Rie (Fashion Designer/EMarie)
[Collaboration] RIKEN Medical Sciences Innovation Hub Program (MIH)
[Collaboration] Rikuzentakata City Museum
Close