Outline of exhibition
″Visionaries Lab″ pays attention to the power of drawing a new vision and the innovation created from that vision.
Microbes actually are all around
In this exhibit, we focus on the microbes around us, in order to jointly consider future lifestyles in which microbes and human beings coexist and prosper.
A massive amount of invisible microbes exist in our surroundings, including bacteria, fungi, viruses and protozoans. A diverse range of microbes inhabit our homes, our schools, and our own bodies as well, and they create their own unique ecosystems while maintaining a perfect balance.
Discover essential information about microbes and the importance of microbes to people, and experience how microbes inhabit our living environments via a full-scale living space and living plants. This exhibit presents ideas for enhancing the diversity of microbes, and hints for lifestyles that make coexisting with microbes possible.
Together, let us consider a vision for an ideal city where human beings coexist with microbes.
Genre

Lab
Location

3F (Create your future)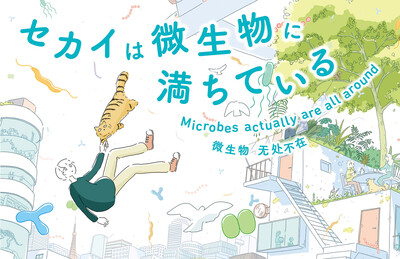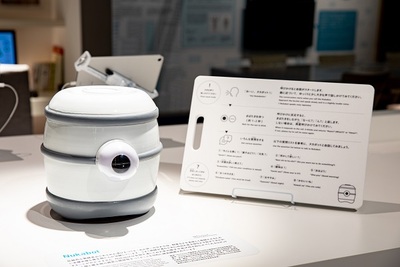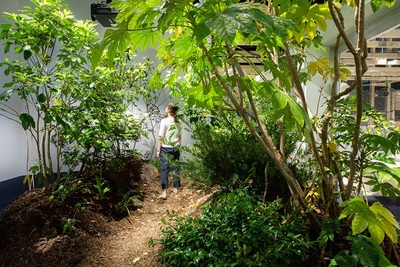 Highlights and details 
Exhibition Composition
Chapter 1: What are microbes?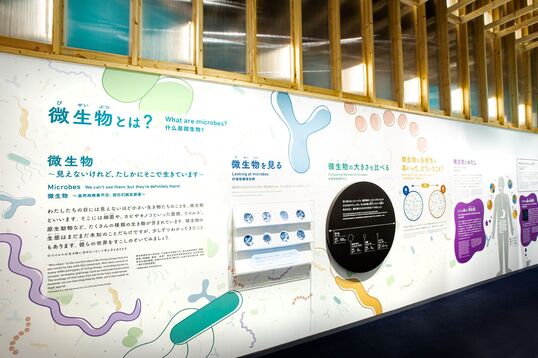 Here we introduce basic information about microbes, such as the microbes themselves and the relationship between humans and microbes. In addition to the posted text explanations, there are also enlarged photographs taken via electron microscopes that show the details of microbes, an tangible exhibit where visitors can touch and compare the size of microbes to the diameter of a human hair, along with illustrations and other materials that shows how microbes live in different locations both inside and outside the body. This chapter allows visitors to experience the diversity of microbes, living both inside and outside our bodies, and the inseparable relationship between humans and microbes.
Chapter 2: Daily environment and microbe diversity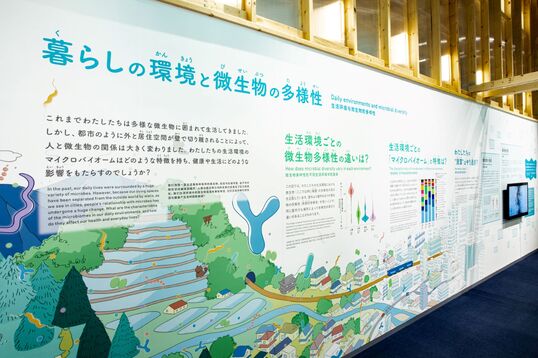 This chapter explains the difference in microbial diversity by location in urban areas, etc., based on a large-scale, meta-analysis of urban microbial data, and provides a sense of how the relationship between humans and microbes changes as lifestyles change. This chapter also introduces the "hygiene hypothesis,". It proposes that reduced contact with microbes may influence the onset of allergic diseases, as well as the risk of "drug-resistant bacteria" that have arisen in the battle between pathogenic microbes and humans over antibiotics.
Chapter 3: Living with microbes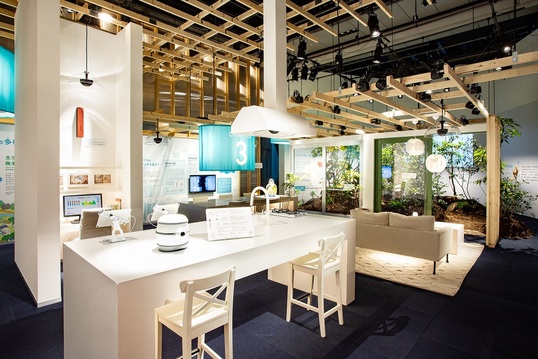 A full-scale model room is set up in the center of the exhibition space. Black lights reveal the presence of microbes that are normally invisible to the naked eye, so in this space visitors can feel the presence of microbes up close. In addition to the ideas proposed by the Visionary (Ito Kohei) to increase the diversity of microbes in living spaces, the exhibition also features ideas from a variety of collaborators to rediscover and reconstruct the relationship between microbes and humans. By placing planting areas adjacent to living spaces, he proposes an ideal outdoor environment in living spaces. Additionally, visitors can also read and listen to a science fiction story set in this living space. By overlapping the model room with the actual living space, visitors can reflect on their own lifestyles and discover hints for a lifestyle that enables live with microbes together.
Chapter 4: Towards the future where people and microbes live together
Visionary Ito Kohei's vision is introduced through illustrations, along with the transition of his concept, from his student days to the present. There is also an animation that shows an ideal city where microbes and people live in harmony.
Exhibition Introduction
Nukabot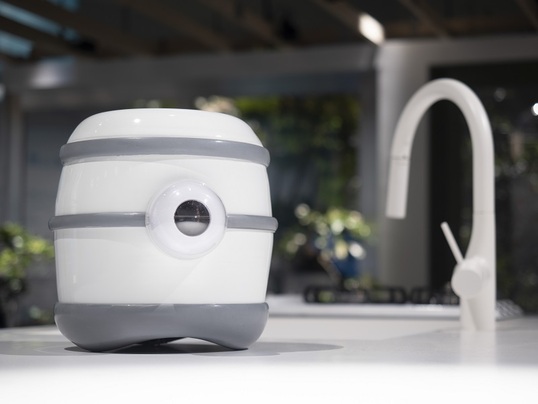 Nukabot, a robot that can interact with the microorganisms in nukadoko (a type of fermented rice bran mixture used to make Japanese preserved vegetables), is on display. Nukabot is operated with an actual bed of rice bran and that has vegetables in it, and visitors can talk with Nukabot in real time about the status of the vegetables and rice bran, thereby letting visitors consider the possibility of communication between humans and microbes.
[Credit]
Ferment Media Research
Dominique Chen (Faculty of Letters, Arts and Sciences, Waseda University), Young ah Seong (Faculty of Engineering and Design, Hosei University), Kazuhiro Jo (Faculty of Design, Kyusyu University), Kiichi Moriya (KIICHI / Studies inc.), Naoto Sekiya (Designer), Yuto Mitani (Engineer), Hiraku Ogura (Fermentation Designer)
Flower Compost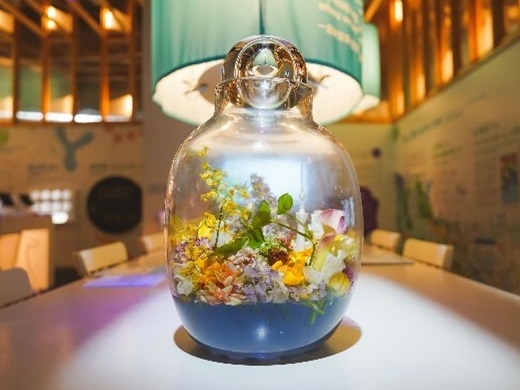 This work of art visualizes how microbes decompose colorful flowers that were sealed in a glass container. The daily changes in the flowers' appearance and the ecology of the "decomposing" microbes allow visitors to experience the existence of this small, invisible symbiosis.
[Credit]
Mikiko Kamada (Artist/Pants Director)
[Changes in Flower Compost]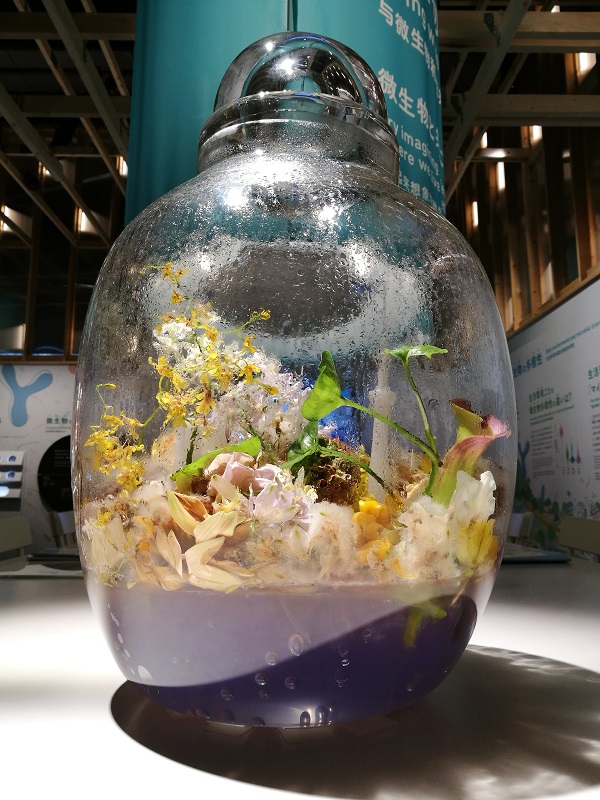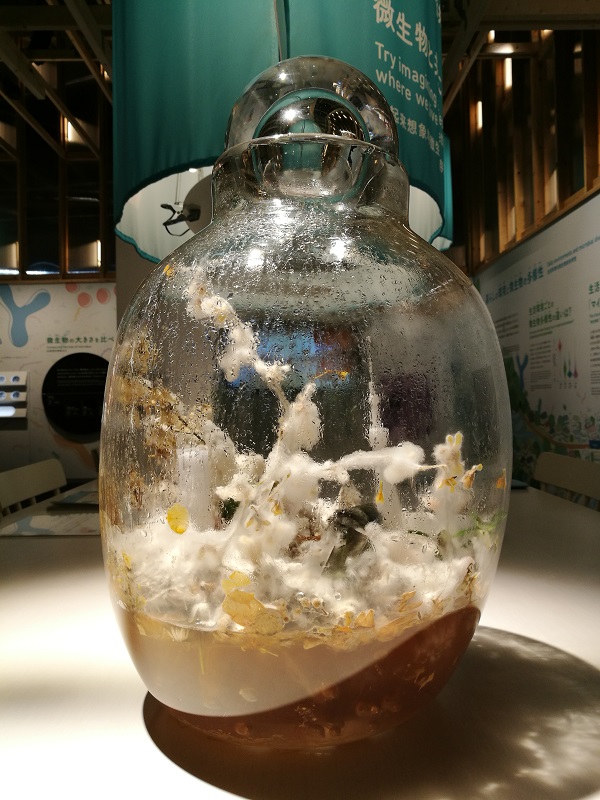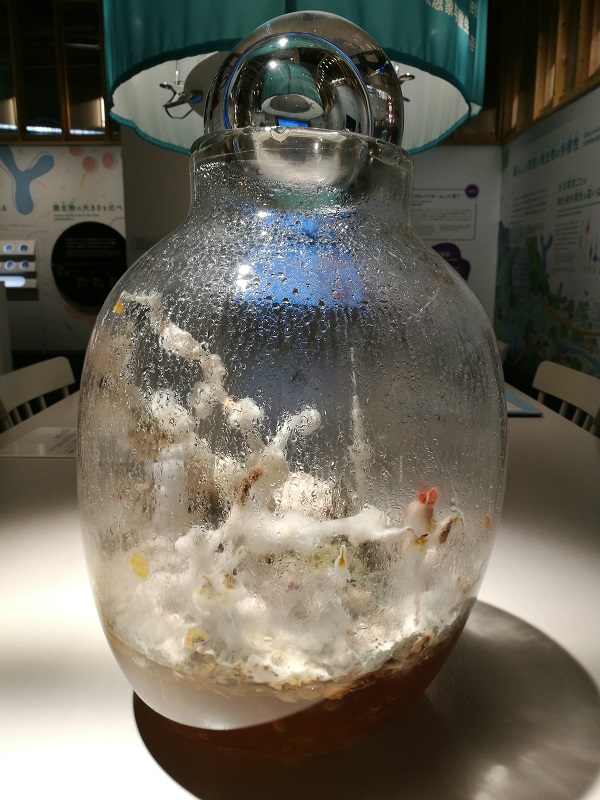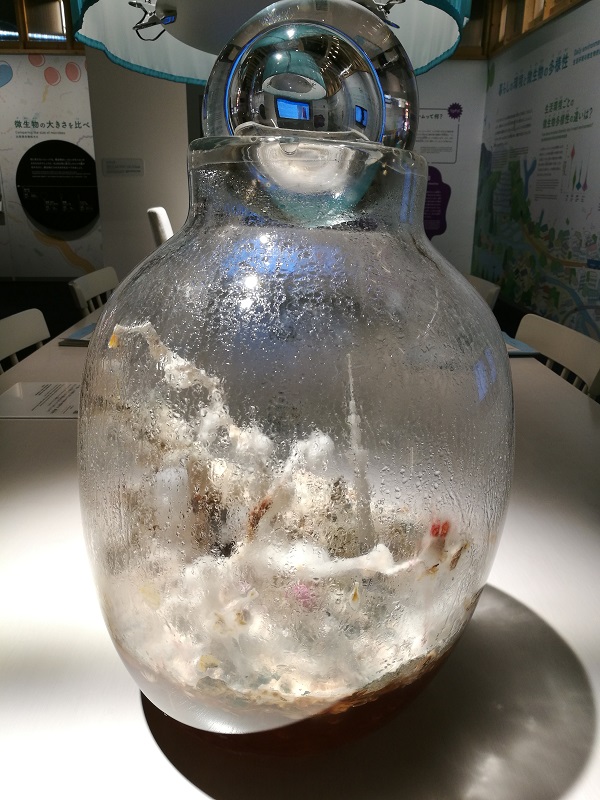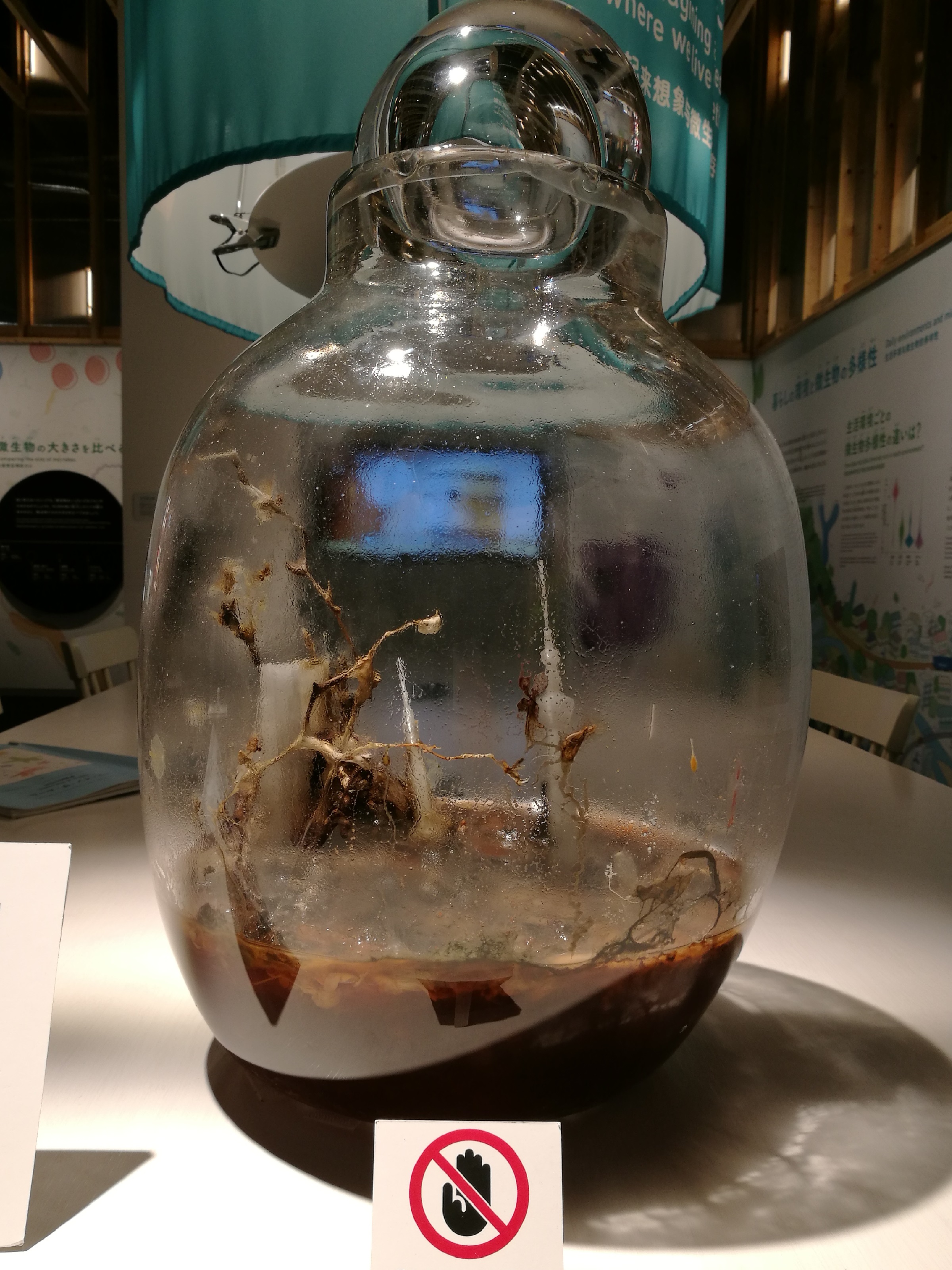 Coco in the room   Written by Shin Aoyama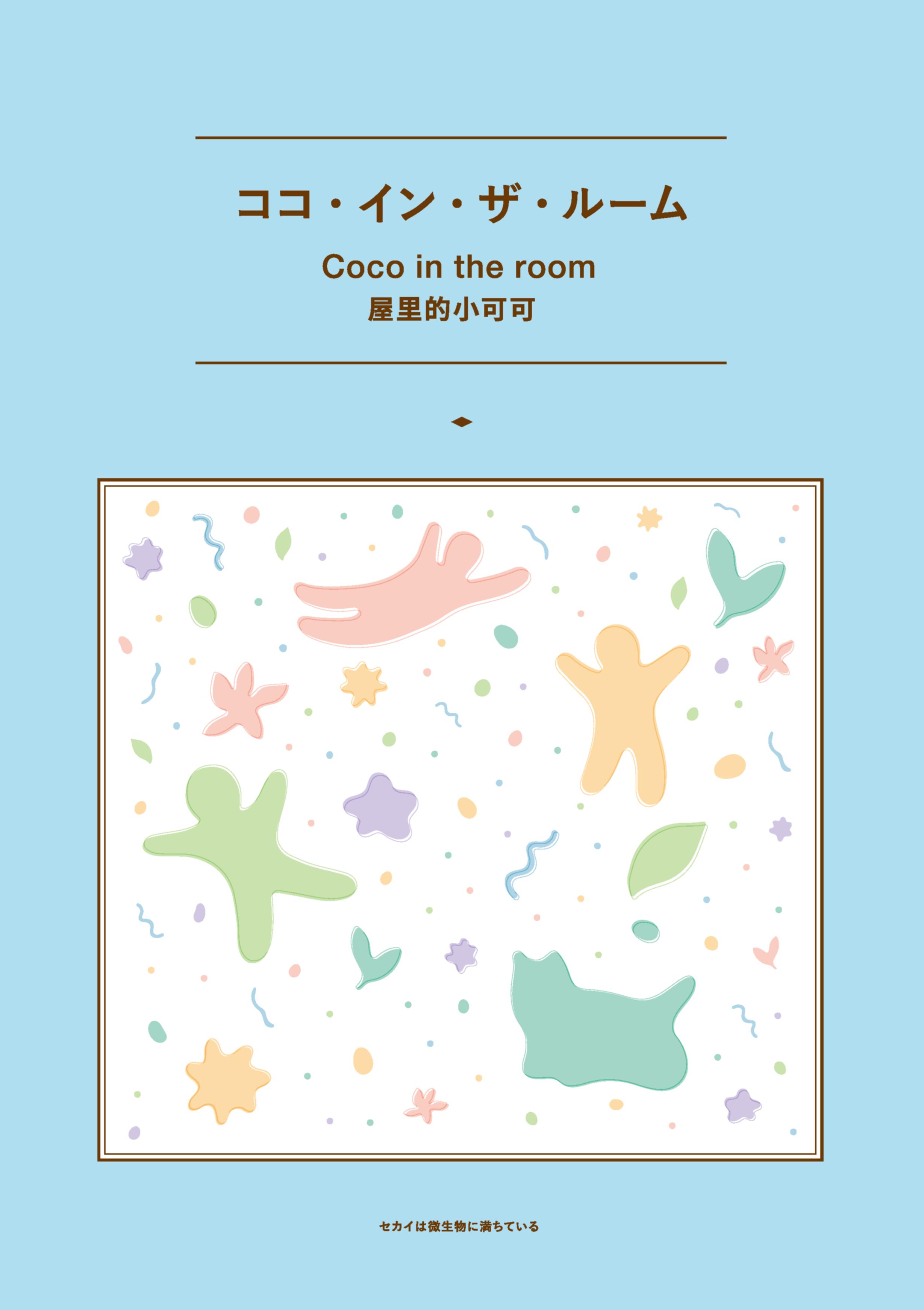 This science fiction story is about a future city where a new generation of "microbe natives" has emerged, with a broader awareness of the microbial environment. The story is available as a pamphlet in the exhibition, and as an audio novel that can be listened to while walking around the exhibition space.
It tells the story of a future in which people reside in the living space within the exhibition. Enjoy it, while imagining the scenery that unfolds in your daily life with microbes.
coco in the room
*The audio of the story can also be listened to by clicking on the below link (in Japanese only).
https://youtu.be/5HsD5bGJYyU
Planting Display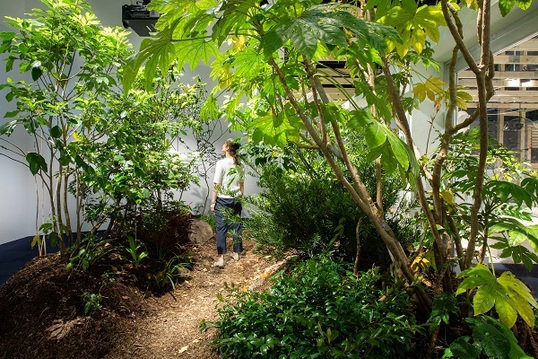 Outdoor vegetation can be an important source of microbes in a residential environment, and is represented here in the form of actual plants and plantings. This exhibit provides ideas for a residential, outdoor environment that is based on the concepts of "extended ecosystems" and "multispecies."
[Credit]
Kosuke Katano, Christoph D. D. Rupprecht (Department of Environmental Design, Faculty of Collaborative Regional Innovation, Ehime University), AOI Yoshida (AOI Landscape Design), Yosuke Nishio (Koshiji Garden Co., Ltd.)