December 17, 2012 Guest
Guest : H. E. Mr.Woravat Auapinyakul, Minister of Science and Technology, Thailand
Dr.Pichai Sonchaeng, President, National Science Museum, Thailand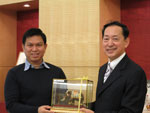 Mr. Woravat Auapinyakul (Minister of Science and Technology, Thailand) who was in Fukushima to attend the Fukushima Ministerial Conference on Nuclear Safety, paid a visit to the Miraikan along with Dr. Pichai Sonchaeng (President, National Science Museum, Thailand) along with seven other guests. 
Discussions with Miraikan's Executive Director Dr. Mamoru Mohri touched on lessons to be learned in the wake of the Fukushima nuclear accident during the Great East Japan Earthquake, and what purpose science and technology and science museums are to serve. All solidly agreed on the necessity for "activities for the purpose of contributing to future society," such as those which call attention to "the connection between man and all kinds of life" and "looking at the past, present, and future from a larger chronological perspective."
In the exhibition space, the guests viewed the High Sensitivity Seismograph Network Japan "Hi-net" and the "Geo-Scope" where they could observe data related to the Great East Japan Earthquake. They also looked at specimens of the "iPS cell" (supported by: CiRA), the much talked about technology which won the Nobel Prize in Physiology or Medicine in fall 2012. Discussions touched on such subjects as "how society is to embrace such new technology" and the need for "opportunities to hold open citizen discussion" pertaining to this issue.
Also viewed was the "ASIMO" demonstration, which poses the many possibilities of how man can coexist with cutting-edge robots as they find their way into various fields. The guests also enjoyed a test drive on the "UNI-CUB," a personal mobility device under a joint demonstration experiment with HONDA, and the "Songs of ANAGURA," an exploration of spatial information science. Seeing specific possibilities for the future society provided further inspiration and understanding as to what the future may bring.
All in all, it was a very warm and friendly visit, which comes as no surprise considering the fact that Thailand is known as "the land of smiles." We do hope that we can further strengthen cooperation with our Asian neighbor.
(Science Communicator: Masami Terada)