October 15, 2012 Guest
Guest : Mr. Masayoshi Nataniya (Parliamentary Secretary for Education, Culture, Sports, Science and Technology)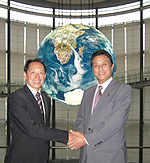 Mr. Masayoshi Nataniya, Parliamentary Secretary for Education, Culture, Sports, Science and Technology, visited National Museum of Emerging Science and Innovation (Miraikan) for inspection, and viewed permanent exhibitions and demonstrations. One of the themes of demonstrations that were started at Miraikan in relation to the 2012 Nobel Prize is the "Reprogramming of the Cells" by the Nobel Prize winners in Physiology or Medicine, Dr. Shinya Yamanaka and Dr. John Gurdon. Mr. Nataniya, along with general visitors, listened to Science Communicator Keiko Suzuki as she gave explanations using images and models. Then, through a microscope, Mr. Nataniya carefully viewed iPS cell specimens as well as retina cell sheet specimens created from iPS cells.
At the permanent exhibition "This is ISS, go ahead," Dr. Mamoru Mohri, Chief Executive Director of Miraikan, led Mr. Nataniya into the Space Habitation Module, where they talked about exposure to cosmic radiation and the actual experience of having meals in space. In front of the Symbol Exhibit Geo-Cosmos, Mr. Nataniya was deeply impressed as he said, "This is what the real Earth would look like if viewed from space," and also touched on the difficulty of global environmental issues.
Mr. Nataniya, who was originally an elementary school teacher in the City of Yokohama, introduced an episode of a science experiment that he had conducted as a teacher. He pleasantly talked about how he won the hearts of children, including the time when he handcrafted a Gundam model in his class to teach serial and parallel electrical connection by using miniature bulbs for the eyes for a glowing effect. He believes that exposure to real things and inspirational experiences are important, which comes in line with the activities that Miraikan is aiming to achieve.