October 12, 2012 Guest
Guest : Mr. Ian Blatchford (Director, Science Museum Group) and Ms. Susan Fisher (Director of Development, Science Museum Group)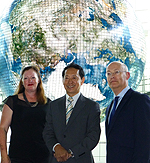 Mr. Ian Blatchford and Ms. Susan Fisher from the United Kingdom took time from their busy schedule to visit the Museum, saying that they had definitely wanted to come to Miraikan if they visited Tokyo.
They showed keen interest in Japan's robot technology. At the ASIMO Demonstration, they joined about 200 other audience members in watching ASIMO move in various and different ways under excellent balance control. They also rode on the "UNI-CUB," similarly developed by HONDA, and their conversation reflected great hopes for the society of the future.
At the Digital Human Research Center of the National Institute of Advanced Industrial Science and Technology (AIST) established within Miraikan, they became subjects for experiments including "Path Planning by Robots" and "Localization and Separation of Sound Sources Using Microphone Array," and enjoyed interacting with the researchers.
Mr. Blatchford and Ms. Fisher were most impressed and struck by the experience of viewing the "Geo-Cosmos" exhibit while lying on beds, at the Symbol Zone on the first floor. For approximately 10 minutes, they viewed various scenes of the Earth. They expressed that they used to conceive of the Earth as having "up, down, left, and right" sides, but watching the Earth while lying down made them realize that it was in fact different from their perception.
After the tour of the exhibits, they had a talk with Mahoro Uchida, who is responsible for developing exhibitions at Miraikan. They introduced the various initiatives undertaken by the Science Museum, including nighttime operating hours, which draw crowds of up to 5,000 per night. They also exchanged views on topics such as Miraikan's "TSUNAGARI" project, and the science and technology that had originated from Japan's manga (comic book) culture.
Established in 1851, the Science Museum continues to gain the support of not only British citizens, but also of visitors from around the world. What impressions did our visitors have of Miraikan, which has only entered its 12th year? As partners in the creation of the future, we certainly hope that the two sides can continue to deepen mutual exchanges going forward.
(Science Communicator: Masami Terada)