October 10, 2012 Guest
Guest : The Honourable Gary Goodyear (Minister of State for Science and Technology, Canada), and his wife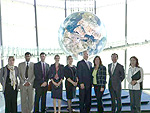 Chief Executive Director of Miraikan, Dr. Mohri, paid a courtesy call to Mr. Goodyear in 2011 on a visit to Canada for the commemoration of the 25th anniversary of science and technology cooperation between Japan and Canada, hosted by the Ministry of Foreign Affairs, prompting this visit by Mr. Goodyear. Dr. Mohri introduced Mr. Goodyear to Miraikan exhibits, including "Promoting Medicine Together," "This is ISS, go ahead," and "Geo-Cosmos."
By chance, the exhibit on iPS cells in the "Life" area of Miraikan has been expanded on the same day of the visit to coincide with the confirmation of Dr. Shinya Yamanaka as a winner of the 2012 Nobel Prize in Physiology or Medicine two days ago. Mr. Goodyear touched on the subject of science and technology cooperation between Japan and Canada, and viewed the iPS cells on exhibit with great interest.
He also appeared to have been struck by the beauty of the Earth, as shown in the Geo-Cosmos exhibit, and remarked several times that it was "beautiful." He also shared the sentiments in the concept of the "TSUNAGARI" project.
In Robot World, Mr. Goodyear rode the personal mobility device "UNI-CUB," took a look through a glass pane at the movements made by ASIMO, and showed interest in the potential of humanoid robots.
As it happened to be the last day of his visit to Japan, Mr. Goodyear appeared to have enjoyed his visit in a relaxed atmosphere. It is hoped that the visit would serve as a bridge to interaction on science and technology between Japan and Canada.
(Science Communicator: Nao Ishikawa)