September 5, 2012 Guest
Guest : Mr. Kosti Manibe Ngai (Minister of Finance and Economic Planning, Republic of South Sudan)
Mr. Akuouch Daniel Ding (Ambassador, Ministry of Foreign Affairs, Republic of South Sudan)
Mr. Abraham Diing Akoi (Advisor for Economic Policy and Media Relations, Republic of South Sudan)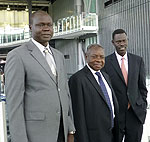 From the Republic of South Sudan, Mr. Kosti Manibe Ngai, Minister of Finance and Economic Planning; Mr. Akuouch Daniel Ding, Ambassador, Ministry of Foreign Affairs; and Mr. Abraham Diing Akoi, Advisor for Economic Policy and Media Relations visited Miraikan.
Immediately after their arrival at the main entrance, the guests moved to the demonstration venue of ASIMO, a well-known humanoid robot. We told them that the aim of the development of ASIMO is to unlock the secrets of biped walking of humans, and to investigate how the appearance of robots would change the way people live. The guests watched the demonstration with a smile on their face as ASIMO made various moves. They also listened in earnest as we explained how the therapeutic robot "Paro" played an active role in the affected areas after the earthquake last year.
The guests also showed interest in the space design centering on the Geo-Cosmos, in particular the admission-free Symbol Zone, and talked about the characteristics of Miraikan such as its location in Odaiba and the diverse visitors.
At the "Challenger to Space," where the portraits of past astronauts are displayed, the guests paid attention to the dog Laica that fell victim to the adventurous spirit of humankind. At the International Space Station (ISS) residence module, the guests turned their thoughts toward life in a weightless space, such as how the astronauts take a shower in space. At the exhibition "Endoxa," that asks visitors about both the positive and negative aspects brought about by the development of science and technology, the guests paid attention to the questions as well as the responses of visitors.
All three guests showed interest in the microscope corner. They said, "The border between reality and unreality tends to be ambiguous today, but Japanese children are lucky to have the opportunity to be exposed to real things." They also mentioned that now that relations beyond national borders have become strong, the development of Japan is a contribution not only to one country but to the entire world, and the Republic of South Sudan, that achieved independence in July last year, will continue to pay great attention to Japan. We are looking forward to having more visitors from South Sudan and other African nations to talk about the future together.
(Science Communicator: Asako Hasegawa)