May 9, 2012 Guest
Guest : Mr. Nihat Ergun (Minister of Science, Technology and Industry, Turkey)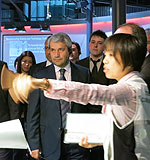 Mr. Nihat Ergun, Minister of Science, Technology and Industry in Turkey visited Miraikan with an entourage of more than 20 people. Miraikan was his first destination during his short and busy stay in Japan.
A Science Communicator-guided tour started at the seventh floor and toured each relevant floor to the third floor while enjoying the view of the Odaiba scenery through Miraikan's glass walls. In the exhibition area, "Create the Future", Mr. Ergun first carefully looked at the Halluc II exhibit (a potential future vehicle) and Inter-Robot, that aids human verbal communication. As he has requested and looked forward to the ASIMO demonstration, he seemed to enjoy the show with a smile, and surprise on his face. He and his group were then led and to a bench in front of the Geo-Cosmos and they "felt" the Earth and Space. They also watched a simulation of global warming on the Geo-Scope. 
Throughout the tour, Mr. Ergun intensely examined a variety of exhibits in different areas. He expressed the idea that Miraikan-like science centers that introduce cutting-edge science are needed in Turkey. He shared his desire to collaborate with Japanese science centers like Miraikan to educate active young people in Turkey to be science researchers.
After the tour Mr. Ergun met with Dr. Mohri, Miraikan's Chief Executive Director. Knowing that Dr. Mohri enjoyed seeing the eclipse when flying on the space shuttle, Mr. Ergun posed an interesting question, asking if there was a relationship between an eclipse and an earthquake. Mr. Ergun's inquisitive character and leadership skills will make it possible to increase the number and the quality of science researchers within Turkey in near future.
(Science Communicator: Megumi Murashima)