April 4, 2012 Guest Visit
Guest : Mr. Francois Oubida (Ambassador of Burkina Faso in Japan)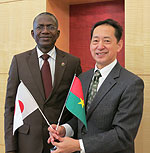 Mr. Francois Oubida, Ambassador of the West African country Burkina Faso in Japan, and Mrs. Oubida paid a visit to Miraikan. With a surprised and curious look, they viewed the bi-ped robot ASIMO that walks with perfect balance and a hands-on model of the Internet that allows visitors to experience the transmission and receipt of packet data.
In front of the exhibition of genetically modified plants, Ambassador Oubida talked enthusiastically about crop production and food demand and supply. He made an effort to explain about the life of people in Burkina Faso that has a very short rainy season.
Burkina Faso is a country experiencing significant economic growth, and which has cooperative relations with Japan in various fields including agriculture and technology. More than 50 Japan Overseas Cooperation Volunteers are playing active roles in the country every year. Japanese science and technology are expected to continue to make an international contribution.
(Science Communicator: Tomonori Hayakawa)