March 29, 2012 Guest
Guest : H.E. Dr. Sebastián Piñera Echenique (President of the Republic of Chile), and Mrs. Cecilia Morel, the First Lady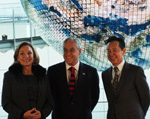 The President of the Republic of Chile, Dr. Sebastián Piñera Echenique, and his First Lady visited Miraikan as part of his itinerary on his visit to Japan during his Asia tour, during which he also held a leader's meeting with Prime Minister Noda and visited earthquake-ravaged areas. After his chat with Miraikan Director, Dr. Mamoru Mohri, he enjoyed a demonstration of the bi-ped robot ASIMO together with more than 200 museum visitors. The First Lady also had a hands-on experience at the exhibit, "A Hands-on Model of the Internet." She appeared astounded by the simulation of information transmission through the use of balls, which represented electric signals, and seemed to have gained a deeper understanding of how the Internet works.
The President and the First Lady were touched by beauty of the symbol exhibit Geo-Cosmos, which is a visual recreation of the earth floating in space. In particular, they showed a keen interest when videos of earthquake-prone regions and simulation of tsunamis were shown, asking questions and participating in lively discussions.
As it was in the midst of the spring vacation, Miraikan was crowded with children on holiday. The First Lady asked some Japanese elementary school girls if they knew where Chile was located, and partook in photograph sessions with the children. The visit began and concluded amidst a genial atmosphere.
The friendly and approachable nature of both President and Mrs. Piñera is surely the bridge helping to develop friendly ties and connections between Japan and Chile.
(Science Communicators: Moeko Tabata, Yuko Okayama)