February 19, 2012 Guest
Guest : Mr. Hirofumi HIRANO (Minister of Education, Culture, Sports, Science and Technology)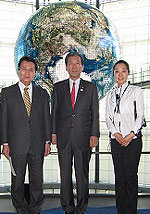 He then looked at the High Sensitivity Seismograph Network for Japan (Hi-net), which displays the hypocenter distribution of earthquakes over the past year, relaying just how much of an "earthquake nation" Japan is. He paid particular attention to the proximity of earthquakes to oceanic trenches. He also also showed interest in the oceanic trench investigations and other information presented by Shinkai 6500 and Encounter with Earth, both of which have been open since immediately after the Great East Japan Earthquake.
He then carefully looked over the new-concept, "membrane ceiling," noting just how heavy the former plaster boards were. Stopping by "Message from the Nobel Prize Winning Scientist in Chemistry ? Dr. Hideki Shirakawa and the Science Workshop-," he watched elementary school children, the veritable scientists of the future, building "organic LED elements." The Minister left us with the encouraging message, "aiming for the best is important."
Miraikan serves to share and inform about the dual nature of science and technology ? both the light shone and the shadow cast. The Minister's visit served to remind us that it is invaluable for people from various backgrounds to unite in conversation to solve the problems currently facing Japan and the world.
(Masami Terada, Science Communicator)