February 18, 2012 Guest
Guest : Ms. Mieko KAMIMOTO (Parliamentary Secretary for Education, Culture, Sports, Science and Technology)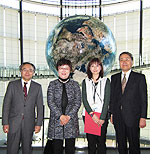 Ms. Mieko KAMIMOTO, the Parliamentary Secretary for Education, Culture, Sports, Science and Technology visited the National Museum of Emerging Science and Innovation (Miraikan).
The Parliamentary Secretary toured the museum after participating in the opening ceremony of The First Science in College Research Presentation, hosted by the Ministry of Education, Culture, Sports, Science and Technology.
She was impressed by the Symbol Exhibit Geo-Cosmos, which expresses the beauty of the earth on a level beyond that of any two-dimensional map.
Moving along to Geo-Scope, she looked at the display of fluctuations in the concentration of carbon dioxide in the atmosphere over the past 30 years. She was amazed by how easy the data was to view and expressed her impression that visualization of earth observation data in this fashion in the educational field could inspire children's deeper interest in the past, present, and future of the earth.
She then visited the cloud chamber on the 5F, which allows visitors to observe the paths of radiation. She expressed great interest in the Miraikan's efforts concerning radiation following the Great East Japan Earthquake and explained the importance of improving our basic understanding of radiation.
While she did not have very much time this trip, she expressed her interest in each exhibit she viewed. She warmly said that she wanted to come again with her family and enjoy the Miraikan at a more leisurely pace.
(Natsuko Ohori, Science Communicator)