October 13, 2011 Guest
Guest : Hon. Ms. Hanny-Sherry Ayittey (Minister of Environment, Science and Technology, Ghana)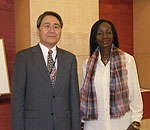 Hon. Ms. Ayittey, the Minister of Environment, Science and Technology, Ghana, visited the National Museum of Emerging Science and Innovation (Miraikan).
The meeting with Executive Director Motohide Konaka touched upon the uniqueness and concepts behind the activities of Miraikan, focusing on its cutting-edge science and technology exhibitions and Science Communicators. The following tour of Miraikan by the Science Communicators introduced the entire Permanent Exhibition floor, including demonstrations by ASIMO and Geo-Cosmos. At the Geo-Scope display, which allows visitors to access various Earth observation data, she browsed world land classification maps and earnestly viewed the various state of land usage around the globe, including Ghana.
Moving on to the display of mutant morning glories, she was surprised at the many different varieties of the flower.
As the purple Kokei Standard morning glory is most common in Ghana, she gazed gently at the photographs on display of the vibrant, unique varieties of morning glory.
Asked which displays she was impressed by, she responded, "They were all wonderful," reaffirming her deep interest in the whole field of science and technology. It is Miraikan's earnest hope that science and technology surpasses the boundaries of academic fields or the barriers of the world to become a culture common to mankind.