October 5, 2011 Guests
Guest : Dr. Ene Ergma, President of the Riigikogu
Ms. Anneli Entson, Advisor to the President of the Riigikogu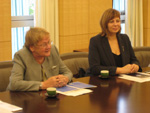 Dr. Ene Ergma, President of the Riigikogu, visited the National Museum of Emerging Science and Innovation (Miraikan). At the outset, Chief Executive Director Mamoru Mohri explained the global role of Miraikan, which has marked its ten-year anniversary, while the Science Communicator described its social mission. Dr. Ergma acknowledged that the dissemination of science and technology to young people leads to national development, after which he held an exchange of opinions regarding Estonia's position within the European Union (EU) and its policies with Miraikan's Science Communicator.
Continuing on, he then inspected the Symbol Exhibit Geo-Cosmos and the exhibition floor. Dr. Ergma, who is a doctor of science, was enormously interested in the Nobel Prize in Physics, which was announced the day before, and enthusiastically discussed the configuration of the cosmos that it had revealed in front of the exhibition describing the expansion of the universe.
This year the AHHAA Science Center located in Estonia's capital city of Tartu introduced the MEGASTAR that is currently in use at Miraikan's Dome Theater GAIA. Both countries are united in their desire to reproduce the actual night sky and the Earth, and so Miraikan expects that cooperative relations will develop further between them.