September 30, 2011 Guests
Guest : Mrs. Pavithra Wanniarachchi (M.P., Attorney at Law, Hon. Minister of Technology and Research, Sri Lanka)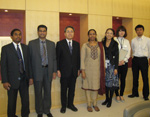 Mrs. Pavithra Wanniarachchi, Hon. Minister of Technology and Research of the Government of Sri Lanka, paid a visit to Miraikan. She wanted to learn about Miraikan's unique exhibition content, approach, and methodology prior to setting out plans for the establishment of a new museum of science in Sri Lanka. Sri Lanka suffered enormous damage from the tsunami caused by the earthquake off the coast of Sumatra in December 2004, and in the meeting she asked a number of different questions regarding the damage from the earthquake on March 11. In addition, she also listened eagerly and attentively to the introduction of the Conference on Reconstruction by High School Students that Miraikan held in Rikuzentakata City in which local high school students made proposals regarding new urban development.

Ms. Wanniarachchi also inspected exhibits within the museum like the details of the tsunami from March 11 via Geo-Cosmos as well as the Spatial Information Science Exhibition "Songs of ANAGURA," and expressed her admiration for Japan's manufacturing technology at the Special Exhibition "Making of Tokyo Sky TreeR."

On the opportunity offered by this visit to Japan, the links between these two countries with their common experiences are sure to continue to deepen hereafter in both a scientific and a cultural sense.