September 29, 2011 Guests
Guest : Peter Maurer (State Secretary, Federal Department of Foreign Affairs of Switzerland)
Urs Bucher (Ambassador of Switzerland to Japan, Embassy of Switzerland, Tokyo)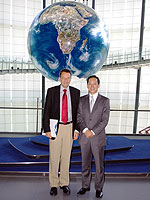 Peter Maurer, the State Secretary of the Federal Department of Foreign Affairs of Switzerland, visited the National Museum of Emerging Science and Innovation (Miraikan). In the meeting with Chief Executive Director Mamoru Mohri, he began by introducing an overview of the social background and transitions of Miraikan, which has marked its ten-year anniversary. Director Mohri described the sort of course that Miraikan has charted under national policies, primarily the Science and Technology Basic Policy, and the direction it is aiming to head in for the future, while also touching on the Miraikan Message 2010 (Miraikan's course of action with a view to the next ten years that it announced at last year's International Advisory Board). Upon hearing this, the Ambassador discussed with Director Mohri issues such as the difficulty of combining policies while demonstrating his understanding of the close connection between politics and science.

After the meeting, they were given a tour of the museum by Miraikan's Science Communicator, who guided them around the particle physics corner with its cloud chamber, Super-Kamiokande, and particle accelerator. Upon seeing this, they talked about the European Organization for Nuclear Research (CERN), which is located in Switzerland and is equipped with world-class experimental facilities, and enthusiastically looked around the area while discussing recent topics. They also took the time to take a look at Geo-Cosmos, which they enjoyed in a leisurely manner while asking questions and receiving answers. Through the tour they made an exhaustive inspection of the museum, including the Permanent Exhibition, Research Lab, Special Exhibition, and Entrance Hall.

There are also numerous Japanese researchers taking part in the CERN experiments. Miraikan expects that both countries will continue to go about building cooperative relations in the future that exceed the boundaries of science and politics.