September 28, 2011 Guests
Guest : The Commonwealth of Australia Mr. Bruce Miller (Ambassador, The Australian Embassy)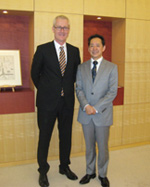 Mr. Bruce Miller, Australian Ambassador to Japan visited Miraikan. Mr. Miller expressed his condolences to the victims of the Great East Japan Earthquake in his meeting with Chief Executive Director Mamoru Mohri, and listened intently to the 10-year goals of the Miraikan. Mr. Miller also talked about the telescope Australia is developing in partnership with New Zealand, describing the latest developments in astronomical research using enormous antennas.

Mr. Miller also explored the ASIMO and Geo-Cosmos demonstrations. The Geo-Cosmos demonstrated how the tsunami unfolded after the Great East Japan Earthquake, and the Geo-Scope showed seasonal changes in the ecology and seismic activity data   around the globe. Mr. Miller expressed particular interest in the aerial view of Tokyo, several times viewing the transition of the metropolitan area over these past 50 years.

Questacon, Australia's National Science and Technology Centre, is in close relations with Miraikan, and has jointly hosted Miraikan's 10th Anniversary in July. The Miraikan anticipates further cooperation and exchange with Questacon in the years to come.