October 31, 2007 Guests
Guest : H.E. Dr. Peter Bieri-Luthiger (President of the Swiss Council of States)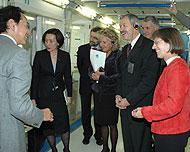 President of the Swiss Council of States, H.E. Dr. Peter Bieri-Luthiger and the members of the Swiss Council of States, have inspected Miraikan. >From the Swiss Confederation, Head of the Federal Department of Home Affairs, Vice President, Mr. Pascal Couchepin also visited Miraikan for inspection in July.
The president, who is also a doctor of agriculture, showed a great deal of interest toward the "Ine (grain)" area of the genome exhibition and toward the explanations on the microorganisms in the "UNDERGROUND Exhibition." He viewed them eagerly as he asked questions on how the people in Japan felt about genetically engineered food.
In the discussion session, the president noted the popularity of the Swiss astronaut Mr. Claude Nicollier among the people in Switzerland. Mr. Nicollier is an astronaut who went through training at NASA with Director Mohri and has also visited Miraikan for the 18th Planetary Congress of the Association of Space Explorers that was held in October 2003.