September 15, 2007 Guests
Guest : Dr. Suvit Yodmani (Minister of Tourism and Sports, Kingdom of Thailand)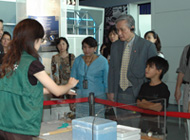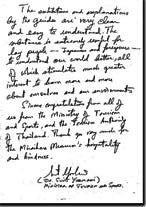 The year 2007 is the 120th anniversary of the friendship treaty between Japan and the Kingdom of Thailand and is also the year of exchange for tourism between Japan and Thailand. During this term, various events and exchange programs will be held in different places throughout both countries. The Minister of Tourism and Sports of the Kingdom of Thailand, Dr. Suvit Yodmani, who visited Japan for the promotion of tourism of Thailand and for the inspection of various facilities in Japan, has also visited Miraikan for a tour.
Since the minister has a strong interest in environmental problems, he enthusiastically viewed the exhibits of "Think about Ecology" and the symbol exhibit "Geo-Cosmos" which projects a simulation of global warming. In the talk, which he had with the science communicator who offered explanations, he mentioned how there are biodegradable plastic containers made of Tapioca in Thailand. He added that he is also thinking of introducing these bio-friendly products in an upcoming athletic event for Southeast Asia which will be held this year in Thailand.
At the end of his inspection of the museum, Dr. Suvit Yodmani left us a warm message that included his positive impression about his experience with Miraikan:
"The exhibitions and explanations by the guides are very clear and easy to understand. The substance is extremely useful for lay people -- Japanese and foreigners -- to understand our world better, all of which stimulates much greater interest to learn more and more about
ourselves and our environments.
Sincere congratulations from all of us from the Ministry of Tourism and Sports, and the Tourism Authority of Thailand. Thank you very much for the Miraikan Museum hospitality and kindness."