July 23, 2007 Guests
Guest : Mr. Akihiko Noro (Governor of Mie Prefecture)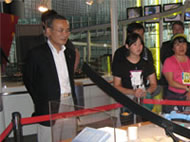 Governor Akihiko Noro, who is currently working on the realization of his vision of the establishment of his prefecture's new museum, has visited Miraikan for the purpose of inspection and fact finding.
The governor commented that he wished the new museum could become "'a basis for knowledge' which stimulates creativity toward the future of the people starting with the children of the prefecture" and eagerly asked many kinds of questions regarding the management of Miraikan.
As he received explanations from each researcher concerning the site of the "Humanoid Robots Project" and the "Daily Activity Sensing for the Prevention of Accidents and the Fundamental Technology of Computation Theory (children's accident prevention engineering) Project" at the research building within Miraikan, he carefully listened as he asked questions. The governor nodded strongly as the interpreter made these comments: "If what's here is something which is one of a kind and something real and something truly No. 1 in the world, it will create a strong attractive force as an exhibit."