July 11, 2007 Guests
Guest : Mr. Pascal Couchepin (Head of the Federal Department of Home Affairs, Vice President of the Swiss Confederation in 2007)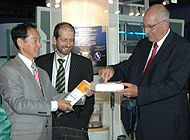 Mr. Pascal Couchepin, Head of the Federal Department of Home Affairs, Vice President of the Swiss Confederation, visited Japan for the signing of the Agreement between the Government of Japan and the Swiss Federal Council on Cooperation in Science and Technology. During his stay, the vice president visited various facilities in Japan and viewed the exhibits presented by Miraikan.
As Director Mohri explained the ongoing efforts by Miraikan in the improvement of understanding toward science and technology, there were questions from Vice President Couchepin on the advanced technology of Japan in the field of energy, and opinions were exchanged on a wide range of topics.
He showed interest especially toward vehicles which utilize fuel cells and hydrogen energy, demonstrations of superconductivity which explains the mechanisms of the floatation of the linear motor cars and the well defined, fluid movements of Paro and ASIMO. Furthermore, he seemed to enjoy communicating with the public as he cheerfully approached child visitors in elementary and junior high school and enthusiastically inquired as to how they were enjoying their visit.