June 19 - June 22, 2007 Guests
Guest : Participants attending ASPAC 2007: Approximately 120 members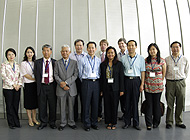 The annual meeting of ASPAC (Asia Pacific Network of Science & Technology Centres) for the year 2007 was held at the National Museum of Emerging Science and Innovation and was attended primarily by approximately 120 members comprised of science museum officials from 17 districts and countries across the Asian Pacific region. The main theme for this event's gathering was "Bridging Gaps in Innovative Ways." Directors of science museums from Australia, Singapore and Malaysia and participants from Europe and the U.S. introduced their know-how in dealing with environmental problems and exhibition designs.
In general, meetings are held for 3-4 days once a year at a select member museum and topics are discussed ranging from basic issues such as the mission of science museums, to specific know-how, including exhibition methods.
Director Mohri was appointed ASPAC's Vice President for the 2006-08 term and as such this meeting was hosted by Miraikan. At the opening ceremony we welcomed Nobel Laureate Dr. Leona Esaki (physics) and participants received warm encouragement from his keynote speech. In addition to the 4 day event, participants enjoyed exhibits and unique events presented by Miraikan.