April 16, 2007 Guests
Guest : YBM Datuk Seri Tengku Adnan Tengku Mansor (Minister of Tourism, Malaysia)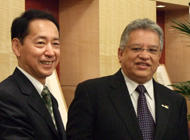 The year 2007 is the 50th anniversary of the independence of Malaysia and which coincides with the campaign year for tourism called "VISIT Malaysia 2007." Various events will be held celebrating this memorable year. YBM Datuk Seri Tengku Adnan Tengku Mansor, Minister of Tourism, Malaysia, has visited Miraikan to see its content and to promote tourism for Malaysia.
As one of the events of "VISIT Malaysia 2007" The Malaysia International Aerospace Adventure 2007 (MIA 2007) will take place at the Subang airport from June to August. In fall of this year, the first Malaysian astronaut is expected to travel into space and the interest of people is rising. Minister Mansor carefully viewed the Space Habitation Module and the LE-7A Engine which is used for the H-IIA rocket.
Furthermore, the science technology of Malaysia will be introduced in the Special Exhibition "Science News! from Asia - Power of Asia, Power of Science" from June at Miraikan. Also, a hands-on event which introduces the culture of Malaysia is planned to take place during the Malaysia Week from June 2 (Sat.) through 10 (Sun.).