April 2, 2007 Guests
Guest : H.E. Prof. Turner Timinipre ISOUN (Honourable Minister of Science and Technology, Federal Republic of Nigeria)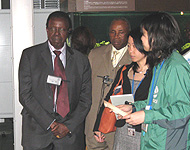 Nigeria, one of Africa's major economic powers, is rich in natural resources, starting with oil, and has a vast landmass with different climates depending on the particular area.
On this occasion, Prof. ISOUN, Honourable Minister of Science and Technology of Nigeria, visited Miraikan. The minister's special field is pathology but he is knowledgeable across many fields of science. In the discussion he had with deputy director Nakashima, he listened carefully to the explanations on the management of science museum.
He seemed impressed as he saw the advanced motion of running displayed by the new type ASIMO that has started working as an interpreter from this day onwards. Furthermore, since there was a big earthquake at the Solomon Islands on this day, he listened carefully to the explanation of the "Hi-net," a supersensitive seismic network, on the 5F. He seemed strongly interested in the "Endoxa (an area within the Medicine area for exchanging opinions)" in addition to exhibits relating to the medical field which is his special area of expertise.