March 8, 2007 Guests
Guest : Mr. Toshiei Mizuochi (Member of the Upper House/Parliamentary Secretary for Education, Culture, Sports, Science and Technology)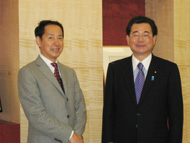 Mr. Toshiei Mizuochi of the upper house member has assumed the position of Parliamentary Secretary for Education, Culture, Sports, Science and Technology for the cabinet of Prime Minster Abe.
He expressed how he hoped Miraikan will actively and widely promote its activities toward school organizations as he listened to director Mohri, who expressed the situation of how training for teachers regarding upgrading of their skills through actual practices with science communicators are taking place at Miraikan and how essential it is for children to actually see and come in contact with science in order to respond to the growing trend among children who seem to be avoiding science.
He eagerly toured the museum and his view as a ministerial aid related to education and rooted in everyday life was impressive. He displayed a warm smile as he saw a group of children in kindergarten waving their hands to ASIMO during that demonstration.