February 19 - June 21, 2007 Guests
Guest : Dr. Emlyn Koster (President & CEO of Liberty Science Center, USA)
Professor Graham Durant (Director of Questacon, Australia)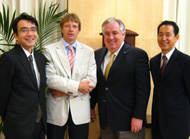 We have welcomed the directors of science museums located in the USA and Australia for peer consultation for Miraikan for a period of 3 days.
Dr. Emlyn Koster is the director of the Liberty Science Center in New Jersey, USA. The Liberty Science Center is a large science museum located in front of the Statue of Liberty in NY. Currently a large scale remodeling which will take almost a year to complete is on target to be finished for the renewal opening that will take place in July this year.
Professor Graham Durant is the director of the National Science and Technology Centre (Questacon) in Canberra, Australia. Questacon and Miraikan are in a very close relationship as both museums are under a cooperative agreement and also Professor Durant himself has appeared on the simultaneous reporting segment from Australia for the Antarctica relay event that was held in January this year.
Concerning peer consultation, the two guests have exchanged opinions with the staff of each department of Miraikan, as well as the board members such as director Mohri and deputy director Nakashima, on the actual state of Miraikan, and on the tasks and directions for the future. As both of them enjoy Japanese culture, they seemed to have heightened levels of anticipation regarding Miraikan.
* Peer Consultation: Science Museum Evaluation System held by 2 directors of museums overseas to provide analysis and advice for the current situation of Mirakan through a third person's point of view.