February 11, 2007 Guests
Guest : Dr. Pichai Sonchaeng (President of National Science Museum, Thailand)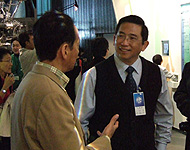 The relationship between the Kingdom of Thailand and Miraikan is so close that director Mohri was invited as the keynote speaker during the Thai science week which was held in August 2006. Also in that same month, Her Royal Highness Princess Maha Chakri Sirindhorn visited Miraikan. Futhermore, in January of this year, a relay event connecting the 4 distant locales of Antarctica, Miraikan, the Questacon National Science and Technology Centre of Australia and National Science Museum, Thailand was held.
In Thailand, there is a plan to build a water museum to educate the citizenry on the importance of river improvement, which is one of the projects advocated by the King. Thus, in connection with this important initiative, members of National Science Museum, Thailand visited Miraikan in addition to making a study tour in Japan.

Since this year is the 120th anniversary of the friendship treaty between Japan and the Kingdom of Thailand, further collaborative efforts between Thailand and Miraikan are anticipated.