October 1, 2003 Guests
Guest : Sir Stephen Gomersall (British Ambassador)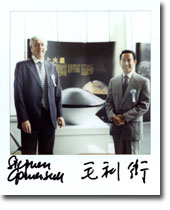 Ambassador Gomersall and Director Mohri have joined the opening ceremony for "The Journey of the Beagle 2: From Earth to Mars - Space Probe for Life on Mars" Exhibition, held at the National Museum of Emerging Science and Innovation. Ambassador Gomersall has surprised many visitors by greeting in fluent Japanese.
In this exhibition, the British's space probe for life, "Beagle 2" is introduced to reveal answers of questions such as whether there were lives on Mars, or whether there are. After it is exhibited at Miraikan until October 6th (Mon.), it is planned to travel all over the country. 
The Research Area where the latest research developments take place, and the "INTO SPACE" exhibition held till the end of November, were inspected after the ceremony. Based on his own experience, Director Mohri answered to the ambassador's eager questions.