September 11, 2003 Guests
Guest : Dr. Donald A. Thomas (NASA International Space Station Program Scientist, Astronaut)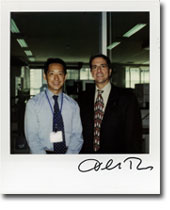 As the person scientifically and technically in charge of the International Space Station at NASA, Dr. Thomas makes adjustment of the staff members and conducts public relations, etc. towards the general crowd.
Dr. Thomas with 4 times of experience as an astronaut has conducted experiments on killifish with Dr. Chiaki Mukai during his flight in 1994. He seemed to have recollected his memories as he saw the experimental device and the offspring of the killifish during that time at Miraikan's space relating exhibition area on the 5th floor.
In his reunion with Dr. Mohri, they both talked about the Planetary Congress of the Association of Space Explorers, which will be held in October in Japan, and about Dr. Thomas's feelings for losing his mates in the accident of the space shuttle Columbia, which he was on board for 3 times. Also they both discussed their future dreams towards space.