July 2, 2003 Guests
Guest : Mr. Junichiro Koizumi (Prime Minister of Japan)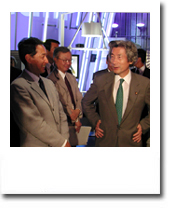 The Meeting of the IT Strategic Headquarters by the IT Security Office, Cabinet Secretariat was held at the 7th Floor of the National Museum of Emerging Science and Innovation (Miraikan). Miraikan was visited by a number of Ministers, starting with Prime Minister, Junichiro Koizumi.
Director Mohri explained, "Miraikan is a place where it is trying to introduce and produce the scientist version of baseball player "Ichiro." In order to continue presenting scientists like Ichiro, it is important to know the thought of those scientists during their childhood.
Also, a variety of simulations were conducted at Miraikan's symbol exhibit Geo-Cosmos. At the moon, the place where the astronauts of Apollo landed was explained, and at Mars, the North Pole and the South Pole were pointed out. The lively conversation of Director Mohri and Prime Minister Koizumi went on.