May 14th, 2003 Guests
Guest : Lord Sainsbury (Department of Trade and Industry/Minister for Science and Innovatio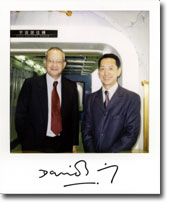 A large-scale campaign, designated "Innovation UK," has been held by the British Embassy to introduce aspects of UK, a pioneer of science and technology to Japan. This opening ceremony was held in Miraikan. Since Lord Sainsbury, who has made an announcement for this commencement, and director Mohri have already met in the UK last year, the ceremony opened with an unreserved atmosphere.
The video message by the British Prime Minister, Tony Blair, the appearance of the main character of Tomb Raider, Lara Croft and a two-story ("Double Decker") bus, filled the Miraikan with a British atmosphere.
The Double Decker bus will actually be operating on the streets of the metropolitan area starting today (May 14th) for 3 days, so look forward to it!
Additionally, there was a speech concerning cooperation for science and technology between the UK and Japan, and introductions regarding the innovative scientific initiatives of the UK, such as Dolly the sheep, research on holes in the ozone layer, etc.