February 18, 2003 Guests
Guest : Patrick Kociolek (Curator of the California Academy of Sciences)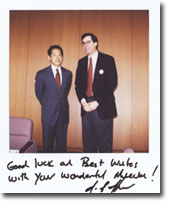 The California Academy of Sciences in San Francisco comprises the National History Museum, the Steinhart Aquarium, and the Morrison Planetarium. The museum has a long history and receives 1.5 million visitors a year.
After meeting Director Mohri, Curator Kociolek spent about an hour looking around the museum.
He seemed to be especially impressed by Geo-Cosmos as he stopped walking along Oval Bridge to gaze at Geo-Cosmos.
Although he is the curator of a museum with a history that goes back 150 years, Mr. Kociolek is very friendly and at times he looked like a child in his excitement over various exhibits.